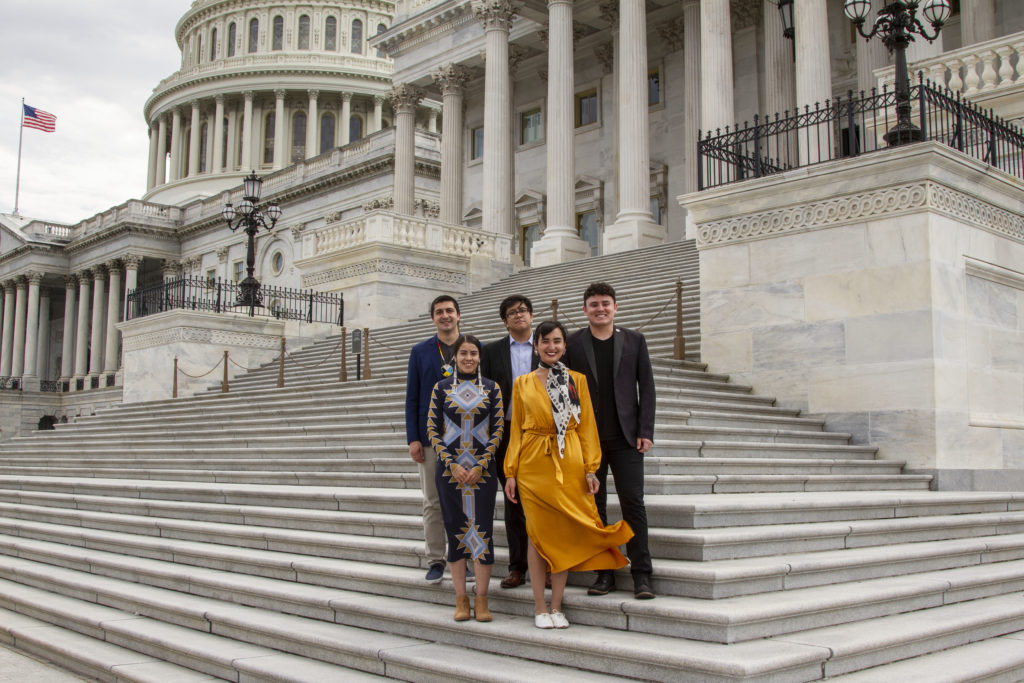 2019 MBF D.C. Convening
May 7-9, 2019 – The Center for Native American Youth welcomed the inaugural class of the Movement Builder Fellowship to Washington D.C. for their final convening. Austin Weahkee, Jarrette Werk, Maka Monture, Michael Charles, and JoRee LaFrance participated in various training sessions on advocacy, communications, press and media, project management, and grassroots fundraising
The fellows began their week at Ogilvy, a leader in global communications and advertising. They were welcomed by the Managing Director of Ogilvy's D.C. Office, Kathy Baird. Kathy is Lakota/Oneida, a member of the Rosebud Sioux Tribe of Indians and a member of the Native American Journalists Association. They were also joined by Sarah Beccio, founder of Indigecomms, a female Native-owned strategic communications & public relations company.
The fellows focused the conversation on narrative change and how portrayals of Native people in media are often the only representation of Natives that non-Natives may see.
After having lunch with Aspen Institute staff outside, the MB Fellows were joined by CNAY staff, Nikki Pitre and Joshua Bertalotto, for a chat on the importance of youth networks and the upcoming launch of a brand-new Generation-Indigenous network site.
On Wednesday morning, the MB Fellows started their day with a communications strategy session with Andrea Purse of The Hub Project. Andrea previously served as Director of Broadcast Communications for the Obama Administration. Andrea delved into the best practices for interviews, the power of storytelling, and effective ways to broaden social impact through media.
The day continued with a session on project management with Krystle Starvis of Weave: The Social Fabric Project. Krystle worked with the fellows on scaling-up programs, long-term vision planning, as well as providing her personal experiences with project management.
The morning ended with a lunch and discussion with Juan Martinez, Community and Youth Leadership Fellow at The Aspen Institute. Juan shared his background, his work creating organizational partnerships and the power of networking in his life and career. The MB Fellows joined Juan for a walk in Rock Creek Park following their lunch and session.

After their lunch in the park, the MB Fellows gathered with Mea Geizhals of RESULTS, which is an organization working to promote voices and political decisions aimed at ending poverty. Mea led a session on grassroots fundraising and spoke of her fundraising efforts at RESULTS. Mea worked with the MB Fellows to develop strategies and methods to articulate stories for fundraising.
The day wrapped up with a session on creating concept paper for fundraising with CNAY Executive Director Erik Stegman. Erik demonstrated the process behind concept papers, including an overview of the fundraising landscape. Erik helped the MB Fellows to gain this tangible skill that will assist them in future fundraising campaigns for their own initiatives and organizations.
On Thursday, the MB Fellows prepared to welcome representatives from multiple non-profit, policy, and advocacy organizations for a collaborative roundtable discussion aimed at developing strategies that integrate Native youth leaders into broader social change movements.

The roundtable kicked off with introductions from the MB Fellows. Maka began the discussion by asking participants to search the internet for images of Native Americans, demonstrating to participants that Native narratives are often frozen in the past.
"If we reclaim our narratives and the way we tell our stories, and how strong our ancestors were, we can reflect their resilience and the strength that we inherited in our DNA and our stories," said Maka.
"We grew up not seeing Native role models in media," added JoRee. "We couldn't turn on the TV and see a Native on there. Things are changing and we seeing a resurgence, we are reclaiming our narrative."
Joe Greaney of the Millennial Action Project talked about the impact that youth have on their bipartisan issue advocacy.

"One thing we've seen in our work is that young people are moving beyond political affiliations," said Joe. "They focus on solutions and leave behind inherited ideologies."
The roundtable participants turned the discussion back to the MB Fellows by asking what they believe organizations can do to bring more youth into their work.
Michael introduced the goal of the MB Fellows' project, which will highlight Native social advocates to demonstrate that there are modern leaders and change-makers shaping the future of Indian Country.
"There's a lot of space for people to learn and be excited about new leaders. It just took a small amount of enthusiasm to get a huge amount of change. And some real role models," said Austin.
The MB Fellows posed a question to the group, asking what each of their organizations is doing to actively engage youth from diverse backgrounds.
Christian Weaver of the National Congress of American Indians mentioned the great impact that Native youth have on their advocacy work.
"Young people show up and do great work through advocacy," said Christian. "Whether it's creating dialogue, creating statements, testifying on Capitol Hill."
"Food always brings people together. Ask youth what they want and don't structure an agenda that is so cookie-cutter that there's no space," said Maka. "Go to the communities where youth live, breathe that air, walk that space."
Following the roundtable discussion, the MB Fellows traveled to Capitol Hill to learn how to most effectively advocate for their initiatives with government representatives. The Fellows met with Naomi Miguel, professional staff for the House Committee on Natural Resources for Rep. Raul Grijalva (D-AZ), and Alex Blankensopp, special advisor to Sen. Elizabeth Warren (D-MA) to discuss their initiatives and receive feedback.
Naomi and Alex each spoke about their experiences with advocacy groups and took questions on the best ways to move initiatives forward. The Fellows asked questions about the process of gathering support from government representatives and how Native youth can impact the legislative process.
From communications to fundraising to advocacy, the MB Fellows left D.C. on Friday with a new set of tools to move their amazing work forward.
Learn more about the 2018-2019 Gen-I Movement Builders Fellows here.
Find more photos from the MBF Convening on the Generation Indigenous Facebook here.