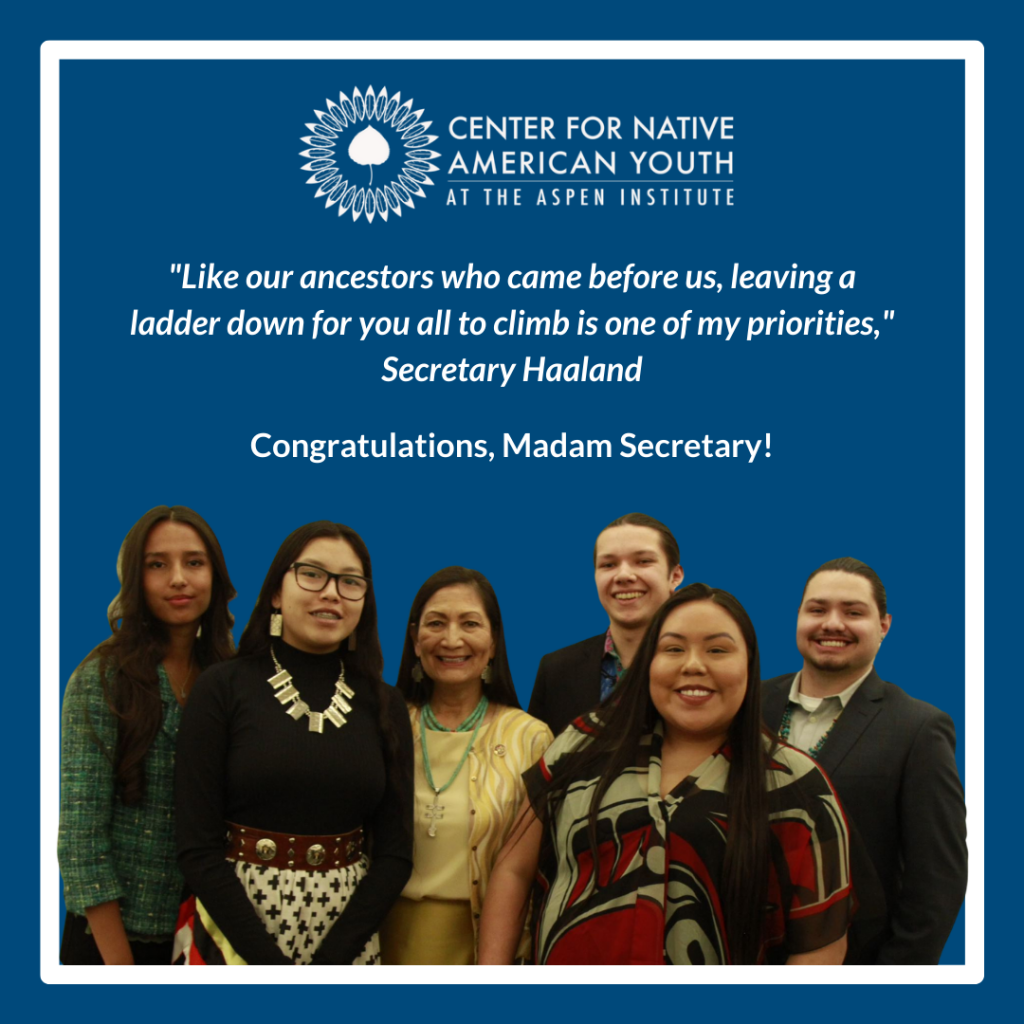 CNAY Celebrates Haaland's Historic Confirmation as the Next Secretary of Interior
FOR IMMEDIATE RELEASE
Washington, DC, March 15, 2021 — Moments ago, the Senate voted to confirm Rep. Deb Haaland as the next Secretary of the Interior Department. Haaland is the first Indigenous woman to lead Interior.
In reaction to the vote, Nikki Pitre (Coeur d'Alene Tribe), Executive Director of the Center for Native American Youth said:
For the first time in history, a United States President will have the voice of an Indigenous person in his cabinet! Secretary Haaland's voice is that of our ancestors, our youth, and the future generations.
As Interior Secretary, Haaland will play a monumental role in improving the federal government's relations with Indian Country. Secretary Haaland is a living representation of a future of Indigenous communities in this country.
Native youth are proud to join the fight for clean air, clean water, healthy wildlife, and the protection of sacred lands. As Secretary Haaland states: Like our ancestors who came before us, leaving a ladder down for you all to climb is one of my priorities.
Congratulations, Interior Secretary Haaland! Native youth are ready to climb that ladder and honor the foundation Secretary Haaland continues to build for all of us.
# # # # #
About Center for Native American Youth
The Center for Native American Youth is a national education and advocacy organization working to improve the health, safety, and overall well-being of Native American youth ages 24 and under. Founded by former US Senator Byron Dorgan, Center for Native American Youth is a policy program within the Aspen Institute, headquartered in Washington, DC. While a part of the Aspen Institute, Center for Native American Youth is also overseen by a Board of Advisors. We strive to bring greater national attention to the issues facing Native American youth while fostering community-driven solutions, with special emphasis on youth suicide prevention. https://live-cnay.pantheonsite.io/