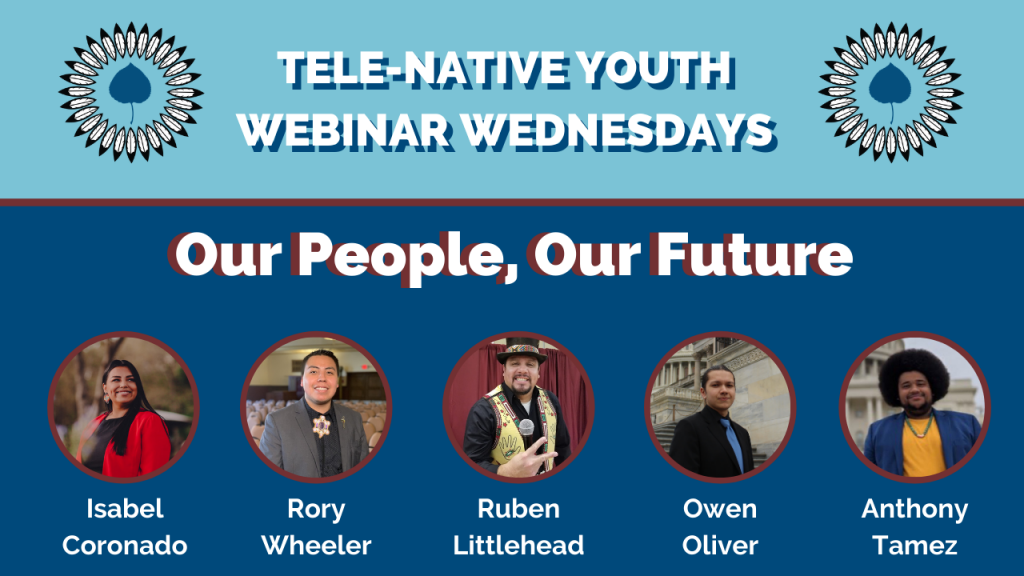 Tele-Native Youth: Our People, Our Future
On January 27th, we resumed our "webinar Wednesday". We had an outstanding panel of young leaders who conducted an open discussion about our Nation. We asked each panelist what about their hopes for our Nation, and what systems need to be dismantled and changed. And of course, the grounding statement to set the mood, I stated that with a lot of our native youth that are within leadership roles in Indian country, and being recognized locally and nationally, it is evident that education is growing and proceeding in a very positive manner to which we are finally seeing results and witnessing outcomes for the greater good. LIfe is beautiful!
Isabel Coronado is a Muskogee Creek tribal member, originally from Oklahoma, a former Champion of Change and a policy entrepreneur that possesses a deep passion for change and native education. She expressed her concern for native issues and offered the advice, "don't be complacent, keep adding and keep involved with community work".
Rory Wheeler is a member of the Seneca Nation of New York. He is a current CNAY youth advisor and American Indian Affairs board member. During his time in Washington DC, he was able to witness first hand Nation to Nation relations and work alongside policy makers. He is very much in tune with his traditional teachings of the Haudenosaunee Confederacy, and his advice to the youth was to, "be the person you needed during the tough times you remember, and set your ambition high!"
Owen Oliver is Quinalt and Iseleta Pueblo from the Northwest of Seattle, Washington. He is a current Champion of Change and CNAY youth advisor. Owen is no stranger to Tele-Native Youth, and he is always a great speaker and panelist. Owen demonstrates his passion through his work and traditional teachings. He quoted the knowledge and referenced Shane Wilson's work about the "3 R's" and admired the courage and dedication of Colleen Echohawk in her future endeavor for mayor of Seattle. Owen's advice to the youth was "learn how to dream for the future, what is the next step, and stay connected to education". Owen has some wise words for a young man!
Anthony Tamez is a Wuskwi Siphink First Nation Cree and Lakota from the Chicago, Illinois. He is a former Champion of Change and current CNAY board member serving as Vice Chair. Anthony shared his personal experiences with law enforcement and some of the current fears of being a person of color within the judicial system. He believes the criminal justice system needs to be dismantled and changed. Anthony wants the Native vote and representation to be included in all activities within policy and decision making. His advice to the youth was, "leave space for native people, and don't be afraid to question them, even the elders!". I enjoyed Anthony's company and his intellect.
In Conclusion, it was yet another Awesome Webinar Wednesday, and a big shout out to the Center for Native American Youth for bringing the intellectual conversations and round table discussions to all native youth and educators throughout the Nation and more! As always, I am grateful to host and facilitate the hour of power for CNAY, and look forward to the next one!
Yours truly,
Ruben Little Head Sr.