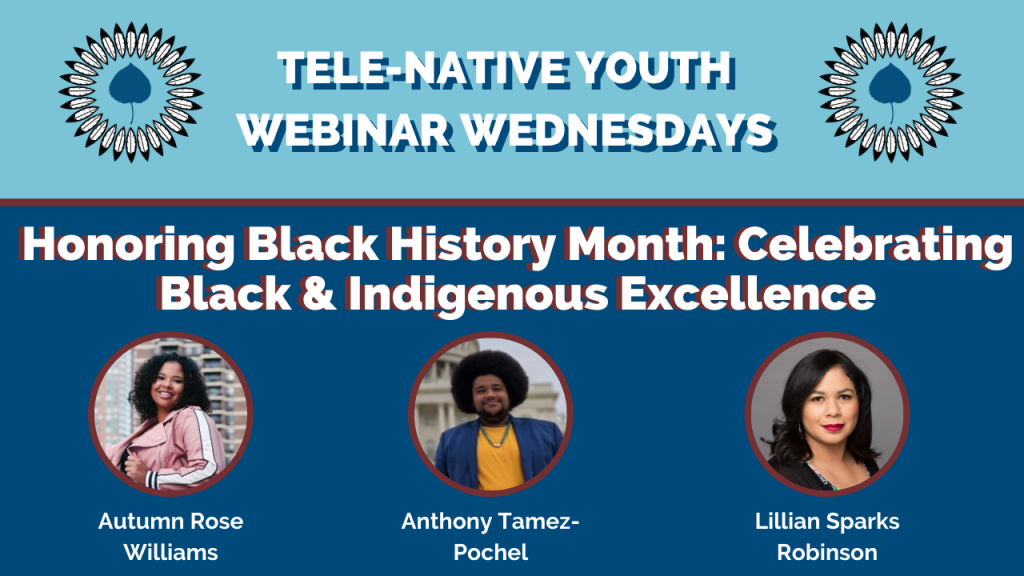 Tele-Native Youth: Celebrating Black & Indigenous Excellence
Center for Native American Youth
Tele-Native Youth: Celebrating Black & Indigenous Excellence
In celebration of Black History Month, the Center for Native American Youth (CNAY) hosted a webinar, "Celebrating Black & Indigenous Excellence" through Tele-Native Youth.
CNAY Youth Advisor Board Vice-Chair, Anthony Tamez-Pochel moderated the webinar. Former Miss Native American USA Autumn Rose Williams, and Owner and CEO of Wopila Consulting Lilian Sparks Robinson, joined as panelists. During the webinar, the panelists examined the relationship between their Black and Native cultural identities, notions of community recognition, activism, and empowerment.
Thousands of people in the United States identify as Black-Indigenous/Afro-Indigenous. As discussed on the webinar, the community often faces issues such as colorism and the erasure of their identity. Their experiences raise essential questions about conceptions of Indigeneity, revealing the complex and often vexed relationships between cultures in the Americas.
The webinar shared how erasure and perceptions impact their identity. Anthony, who was raised in an Indigenous household in Chicago shard that he was often viewed by others in his community as "just a Black man." When he shared his Indigenous identity with others, people often told him that he didn't "look like the Black Hawks." The Blackhawks are a Chicago-based professional hockey team that utilizes a stereotypical Indigenous mascot. The other panelist shared this same sentiment. Both Lilian and Autumn spoke to how most people can't identify their racial identity as Black and Indigenous women.
To address the chronic erasure of their identities, each panelist spoke of various platforms they used to challenge legacies of colonial disempowerment. Autumn uses multiple platforms to educate others on her culture, advocate for Black Lives Matter issues, and empower others to embrace, love, and celebrate all aspects of their identities. Similarly, for nearly 20 years, Lilian has devoted her career to supporting Native American students' educational pursuits, protecting Indigenous peoples' rights, and empowering tribal communities.
Reflecting on their journeys, the panelist shared words of advice and encouragement to empower youth who may be of multiple cultures or identities as they learn to navigate and embrace their identity. "Love your entire self," stressed Lilian. "You did not have to choose one part of your identity over the other."
During the webinar, Anthony, Autumn and Lillian shared their experiences and the pride in their identities. Autumn uses this pride to encourage others to embrace and love all parts of their identity. "People will always try to put you in a box," said Autumn. "You can combat that by being proud of who you are, being strong in who you are, and remember that you are enough."
You can watch this and all other Tele-Native Youth webinars on the Center for Native American Youth's website under the Tele-Native Youth tab, or on CNAY's Facebook page.