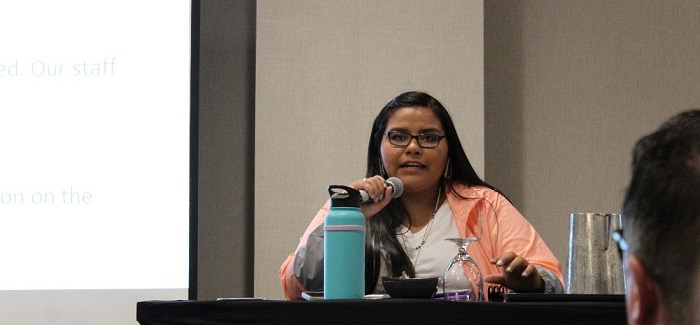 CNAY Roundtable: Family First Prevention Services Act
Jade Tillequots describes the positive impact of being close to kin and culture during her foster care experience.
Last week, the Center for Native American Youth at the Aspen Institute (CNAY) hosted a panel presentation entitled "Child Welfare in Tribal Communities:     Implementing the Family First Prevention Services Act" as a part of our Policy and Resource Roundtable series. Additionally, CNAY simulcasted this convening as a first-of-its-kind webinar, which can be viewed here.
Passed as part of the most recent appropriations package, the Family First Prevention Services Act (FFPSA) will significantly restructure federal child welfare revenue streams, provide new accountability mechanisms to tribes, and ensure that more children in foster care are placed with families. CNAY's roundtable explored how state, federal, and tribal governments can best coordinate in implementing FFPSA. We also discussed the most pressing unanswered questions about the new law and identified strategies together to support tribes and tribal organizations in its successful implementation.
Held in tandem with Casey Family Programs' annual Tribal Leader Meeting, the roundtable was attended by tribal leaders, child welfare professionals, service providers, federal agency officials, state officials, and Native American youth, among other stakeholders.
The panel featured Jade Tillequots, a Native youth advocate from Washington State; John Sciamanna, Vice President of Public Policy at the Child Welfare League of America; Jack Trope, Senior Director of Indian Child Welfare Programs at Casey Family Programs; and Sherril Kuhns, Federal Policy and Resources Manager for Oregon State's Child Welfare Program.
The meeting ended with a fantastic discussion and Q&A segment involving both in-person and webinar participants. CNAY will publish notes from the meeting soon on the Policy and Resource Roundtable page of our website. Click here to view social media posts from the meeting.
If you'd like to continue the discussion on how the Family First Prevention Services Act impacts Native Americans, or engage in other CNAY policy work, please contact Aaron.Slater@aspeninstitute.org.
---
This blog post was contributed by Aaron Slater.