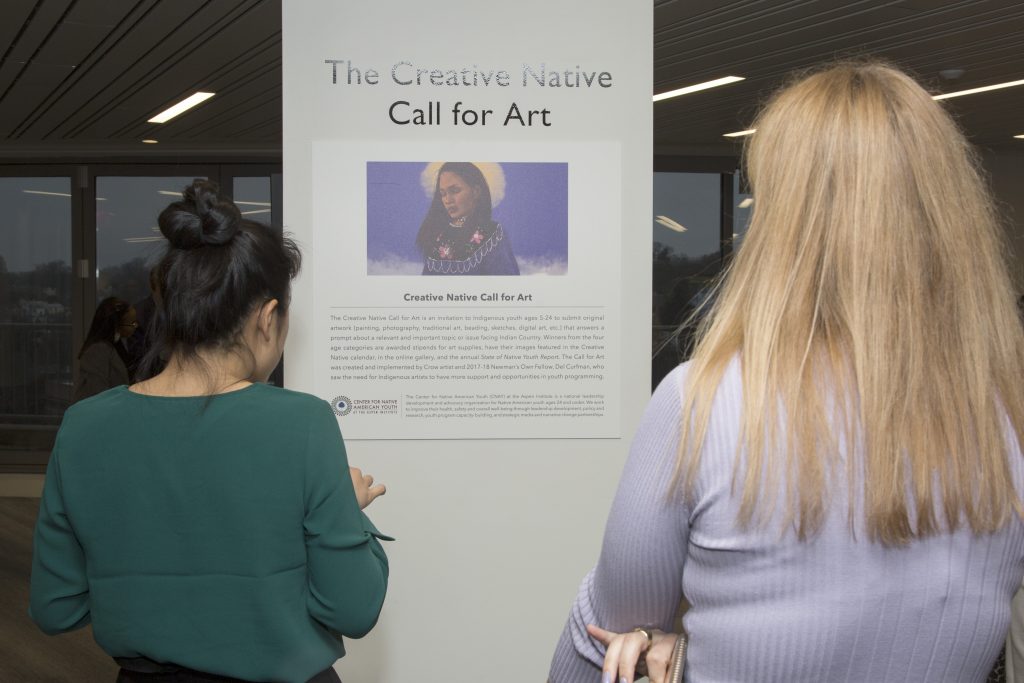 Creative Native Art Exhibit
In 2018, the Center for Native American Youth launched its first ever Creative Native call for art to support Indigenous artists ages 5-24 years. On February 26, 2020, the Aspen Institute celebrated the opening of the new Creative Native art exhibition, which will be housed on the 8th floor of The Aspen Institute in Washington, DC.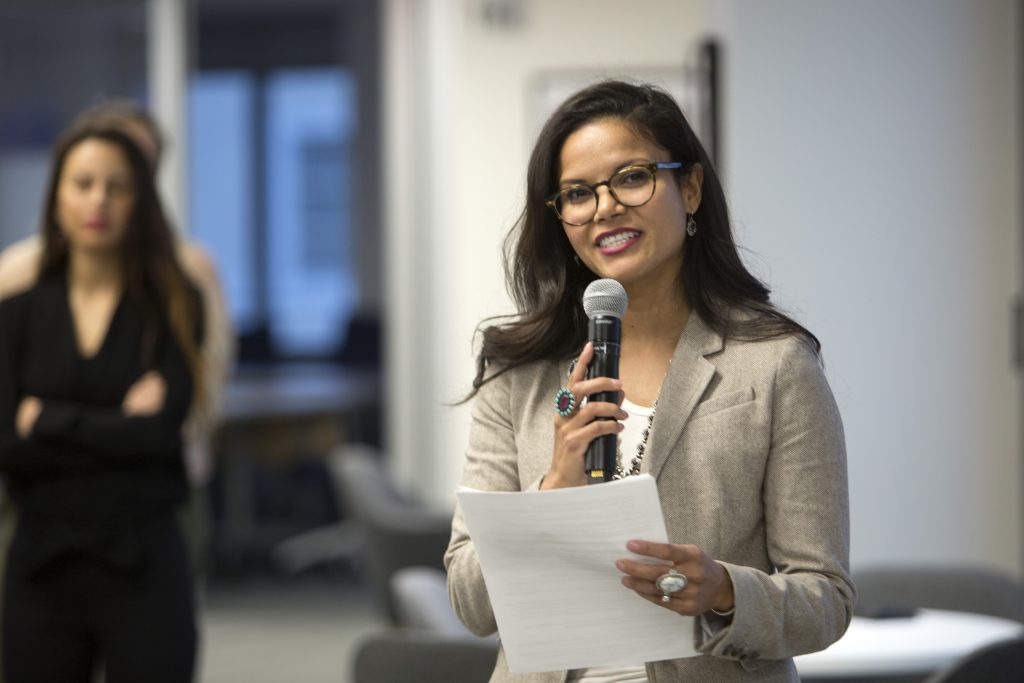 "Stepping onto the eighth floor everyday, we are being reminded that Indigenous culture is not historical," said CNAY Acting Executive Director Nikki Pitre. "This art is a reminder that we are contemporary and a strong contribution to society."

Creative Native call for art was created for Indigenous youth to submit artwork relevant to issues facing Indian Country by Apsáalooke artist, Del Curfman who, as a Newman's Own Foundation Fellow, saw the need for Indigenous artists to have more support and opportunities in youth programming.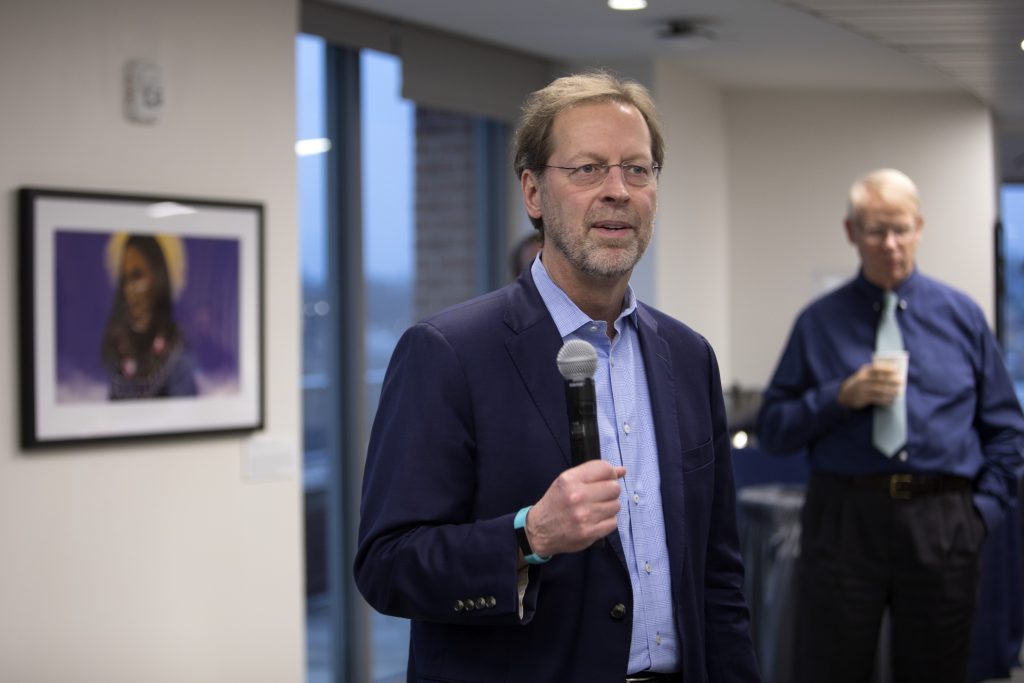 Dan Porterfield, President and CEO of the Aspen Institute, opened the event by by welcoming 19 year old Joelle Joyner (Meherrin, Cherokee Nation, & Blackfeet), one the four Indigenous contest winners from the 2019 Creative Native Call for Art, and thanking her for traveling to DC for the event.

"This is my artwork of a Kauwets'a:ka woman who is under the moon wearing our traditional regalia," explained Joyner, of the artistic choices behind her piece. "I use purple to represent the colors of the Haudenosaunee flag. The moon is here because our calendar follows the lunar cycle. I gave her mixed Afro-Indigenous features to showcase that multi-racial peoples count as well in the Native community. Many times, people who aren't federally recognized feel as if they don't count."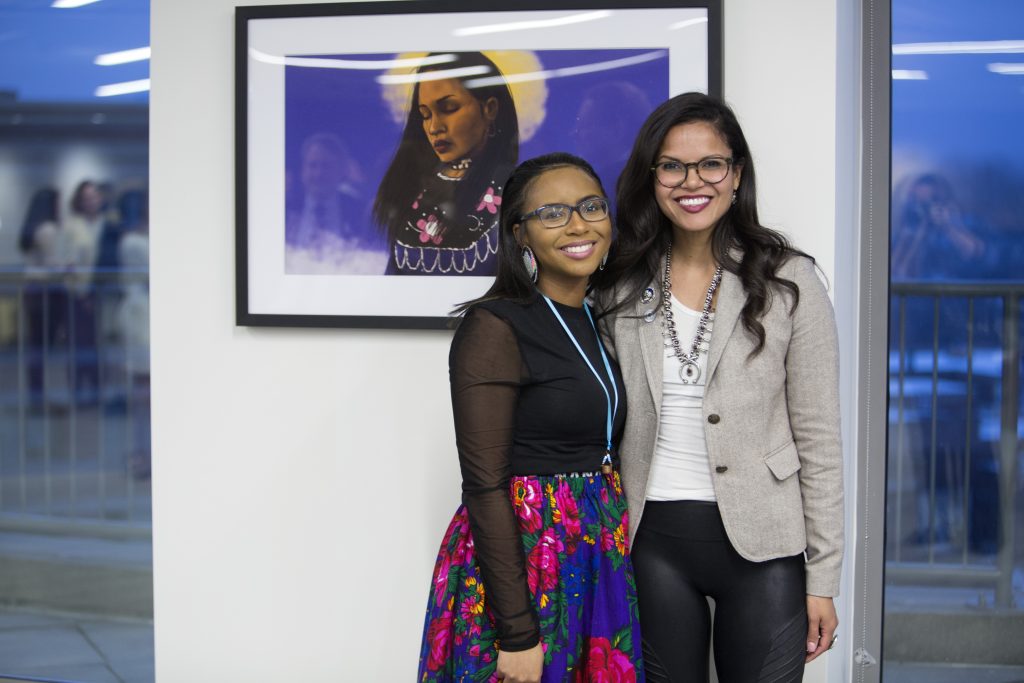 Joyner added "If you are from a non-federally recognized tribe you are part of Native society. If you are a biracial Native, you are part of Native society."

She went on to thank her family for their encouragement and CNAY for the support and opportunity to visit the Aspen Institute to personally visit her artwork.

After the event, guests mingled on the 8th floor, where the seven selected works now decorate the walls of the Aspen Institute.