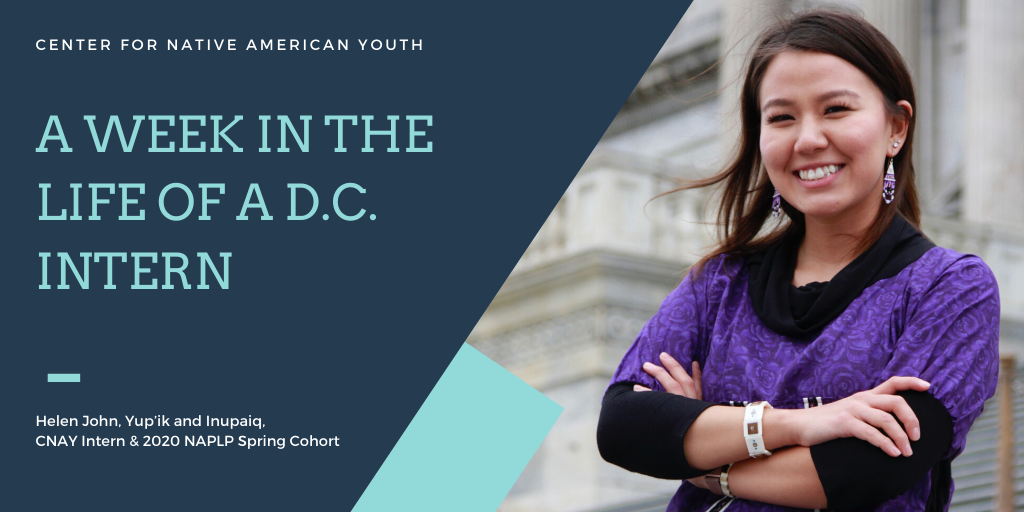 A Week in the Life of a D.C. Intern
The week of Feb. 24 to 26, 2020, CNAY intern Helen John, attended various meetings on the Hill to learn more about issues being discussed and their connection to Native communities.
On Monday, John attended "a Security Threat Assessment of Global Climate Change" which discussed various social, political, and humanitarian aspects of society that will be impacted by climate change and what that might look like.
The panelists were calling attention to the necessity of governmental and societal action concerning climate change. Various scientists on the board of panelists argued that we need to act now so that the impacts of climate change can be limited.
"As Indigenous people, we know that the effects of climate change are already impacting tribal communities," said John, "forcing some villages off the coast of Alaska and Washington State to relocate as soon as possible."
"Our people and communities have been advocating and calling attention to how climate change is impacting our way(s) of life and the work is not done yet," John said.
On Tuesday, she met with Heidi Todacheene (Navajo Nation), Representative Deb Haaland's legislative assistant on Indian Affairs.
Todacheene received her Juris Doctorate degree from University of New Mexico Law School in 2015. She has worked for various organizations including the Navajo Nation, and has worked in Rep. Deb Haaland's office since she was elected to congress in 2018.
In the meeting, key aspects of writing good policy and differences between other legislation and legislation connecting to Indigenous communities were the main topics of discussion.
Rep. Haaland (Laguna Pueblo) is currently working on a few different bills concerning Missing and Murdered Indigenous Women and the re-authorization of Violence Against Women Act and is working hard to improve the safety of our Native people.
On Wednesday, Helen attended a hearing on "Destroying Sacred Sights and Erasing Tribal Culture: The Trump Administration's Construction of the Border Wall" held by the Subcommittee for Indigenous Peoples of the United States (SCIP).
For the past few months, the Tohono O'odham Nations scared lands continue to be imposed upon by the Trump Administration's border wall construction by the Department of Homeland Security (DHS). Indigenous Peoples' ancestral lands extend beyond the Reservations that Native people have been put on.

After listening to the hearing, and doing research, John learned that the Tohono O'odham have been protesting the construction of the border wall across their tribal lands since Trump's election in 2016.
The Tohono O'odham have people on both sides of the border, and part of their cultural traditions include voyaging across the lands which will have devastating impacts by the creation and further construction of the border wall Erasing Tribal Culture: The Trump Administration's Construction of the Border Wall,' hearing held by the Subcommittee of Indigenous Peoples of the United States (SCIP).

While Native Nations across the US share common issues such as MMIP and complicated relationships with the federal government, all Indigenous communities are unique and have issues that are distinctive to their location, traditional practices, and tribal sovereignty.
"As Indigenous people, and youth specifically, we need to continue to support one another in creating a better future for our communities," said John.
Helen John is a current participant of the Native American Political Leadership Program (NAPLP) at the George Washington University here in Washington, DC. Upon completing her Internship with CNAY and semester program at GW, Helen will be graduating with a BA in Political Science with a minor in American Indian studies from the Central Washington University.