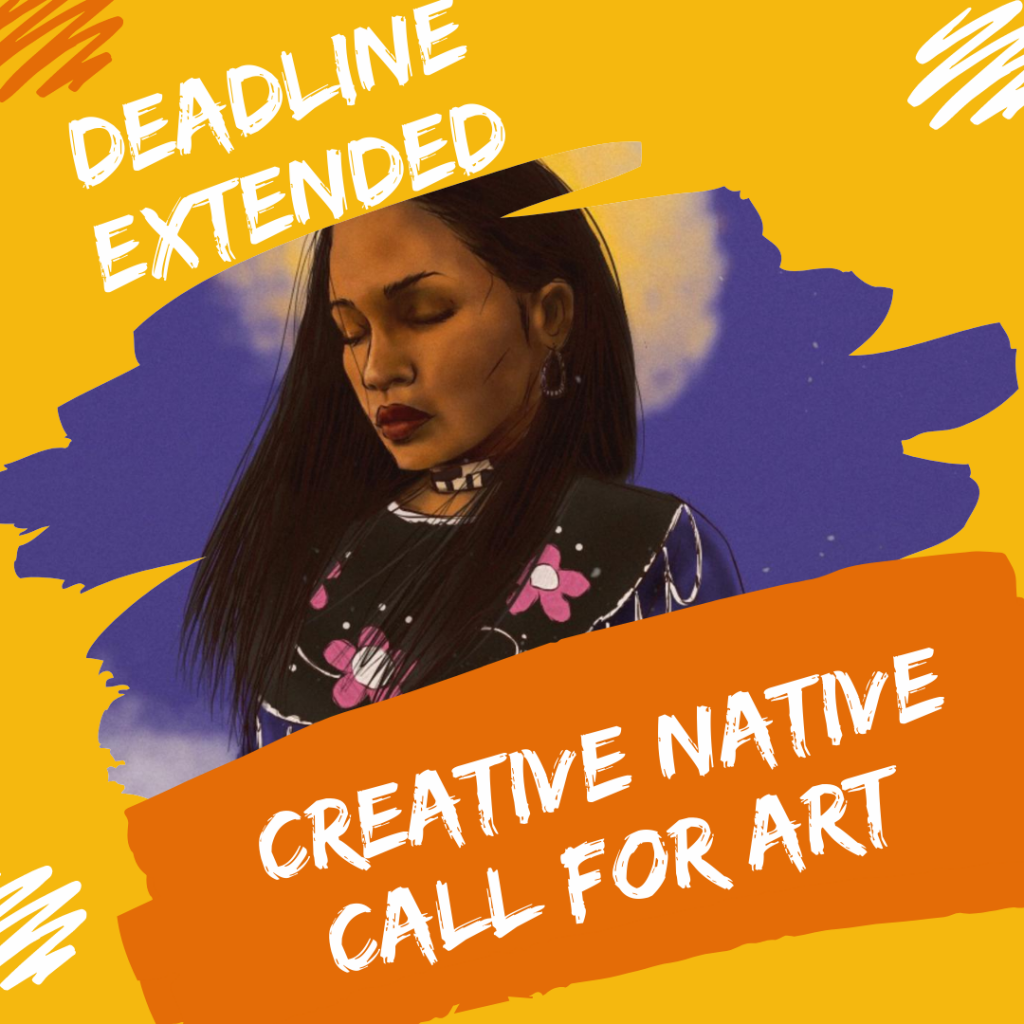 Creative Native Call For Art
DEADLINE EXTENSION!
The 3rd Annual Creative Native Call for Art is sponsored by the Center for Native American Youth (CNAY) and the National Congress of American Indians (NCAI).  The deadline has been extended to September 18, 2020.  
ABOUT CREATIVE NATIVE
Creative Native is a call for art that supports young Indigenous artists ages 5-24 years old by providing them an opportunity to receive national recognition, funding for art supplies, and award of $200. An artist between ages 15-24 will also be recognized as the grand prize winner and have their art featured on the cover CNAY's 2020 State of Native Youth report. The cover artist will be flown to Washington, D.C. to participate in the report release event in November pending CNAY's current operating status amid COVID-19. Please read the Contest Rules and Guidelines regarding contest prizes and COVID-19.
Elizabeth Morgan (Kiowa Apache) was recognized as our 2019 Grand Prize winner and attended our annual State of Native Youth Report release event in Washington, D.C. After being asked to reflect on her experience, Elizabeth shared, "since then it has opened so many doors for me as far as my art career and future endeavors for schooling. It's a great way to point you in the right direction and it's scary at first because it was out of my comfort zone, but I encourage anyone to come out there and show what they can do."
Click here to read about last year's cover artist and the other winners.
Creative Native also presents a new and exciting way to engage youth in the Generation Indigenous National Native Youth Network. The Gen-I initiative is focused on removing barriers that stand between Native American youth and opportunities to succeed. Artists who submit to the Creative Native Call for Art will have their submissions counted as their Gen-I Challenge activities and those over 14 will be recognized as Gen-I Ambassadors. As Ambassadors, the artists are invited to join our network of Native leaders and get continued access to exclusive leadership and advocacy opportunities. Click here to create an account and log into the NEW Gen-I Network portal.
SUBMITTING YOUR ARTWORK
Art submissions must be inspired by the prompt: Native youth are medicine.
Where do you get your strength from? This year's theme focuses on what strength and resilience mean to Native youth.
Submissions will be accepted electronically through the Creative Native Entry Form.
Examples of submissions are, but not limited to: paintings, poetry, drawings, photography, sculptures, beadwork, carvings, sewing, baskets etc.
Eligibility:
Self-identify as Indigenous;  
Be between the ages of 5 and 24 years old by the application deadline;  
Currently reside in the United States; and 
Submit a high-resolution image of art. 
*To be eligible for the State of Native Youth report cover art, artists must be between the ages of 15-24 years old.
**Each artist may submit one art submission to the 2020 Call for Art. Artists may submit up to three (3) images of their artwork, displaying alternate angles and perspectives if needed.
SUBMISSION SPECIFICATIONS:
· ORIENTATION: PORTRAIT
· DIMENSIONS: 8.5IN X 11IN
· QUALITY: 250 TO 300 PIXELS PER INCH (ppi)
· Format options: .png, .psd, .ai

For a front and back continuous cover page:
· Orientation: landscape
· Dimensions: 17in x 11in
· Quality: 250 to 300 pixels per inch (PPI)
· Format options: .png, .psd, .ai

Click here for a complete list of Rules & Guidelines and here to review our Frequently Asked Questions.
Submissions are due at 11:59 PM EST September 18, 2020. If you have any questions, please contact Jennifer Peacock at jennifer.peacock@aspeninstitute.org