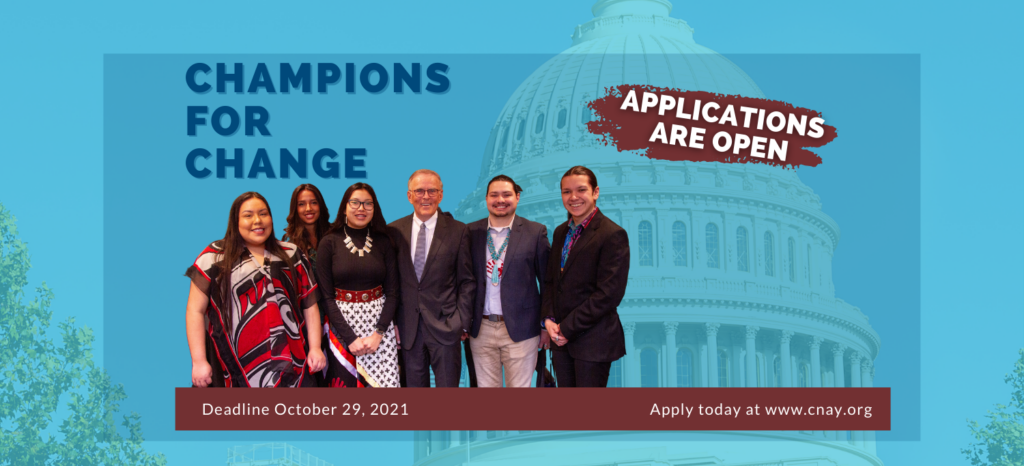 CNAY Launches 2022 Champions for Change Applications
FOR IMMEDIATE RELEASE: September 27, 2021
Washington, DC: Applications for the Center for Native American Youth's 2022 Champions for Change program are now open. The Champions for Change program recognizes Native youth leaders inspired to make positive change. All Native youth are invited to apply!
"Through Champions for Change, Native American youth leaders have spoken at national conferences, met with their members of Congress, mobilized their communities and continue to inspire us at the Center for Native American Youth," says Nikki Pitre, Center for Native American Youth Executive Director. "We look forward to welcoming a new class of 2022 Champions into the CNAY family."
Champions for Change commit to the Center for Native American Youth program for a minimum of one year. During this time, recipients enhance leadership skills through experienced based learning, tailored advocacy training, culturally immersive curriculum and by strengthening their network of support.
"(Champions for Change) allowed me to grow in my own way with constant guidance of Indigenous peers and mentors," said Owen Oliver, 2020 Champion for Change.
Application Deadline: October 29, 2021.
The application includes three parts:
An Essay
One Peer Recommendation (someone around the applicant's age)
One Adult Recommendation (18 years or older)
To be eligible youth must:
Self-identify as Native or Indigenous;
Be between the ages of 14 and 24 years old; and
Currently reside within the United States.
Questions? Please view our FAQ or email Program Manager Cheyenne Brady at cheyenne.brady@aspeninstitute.org