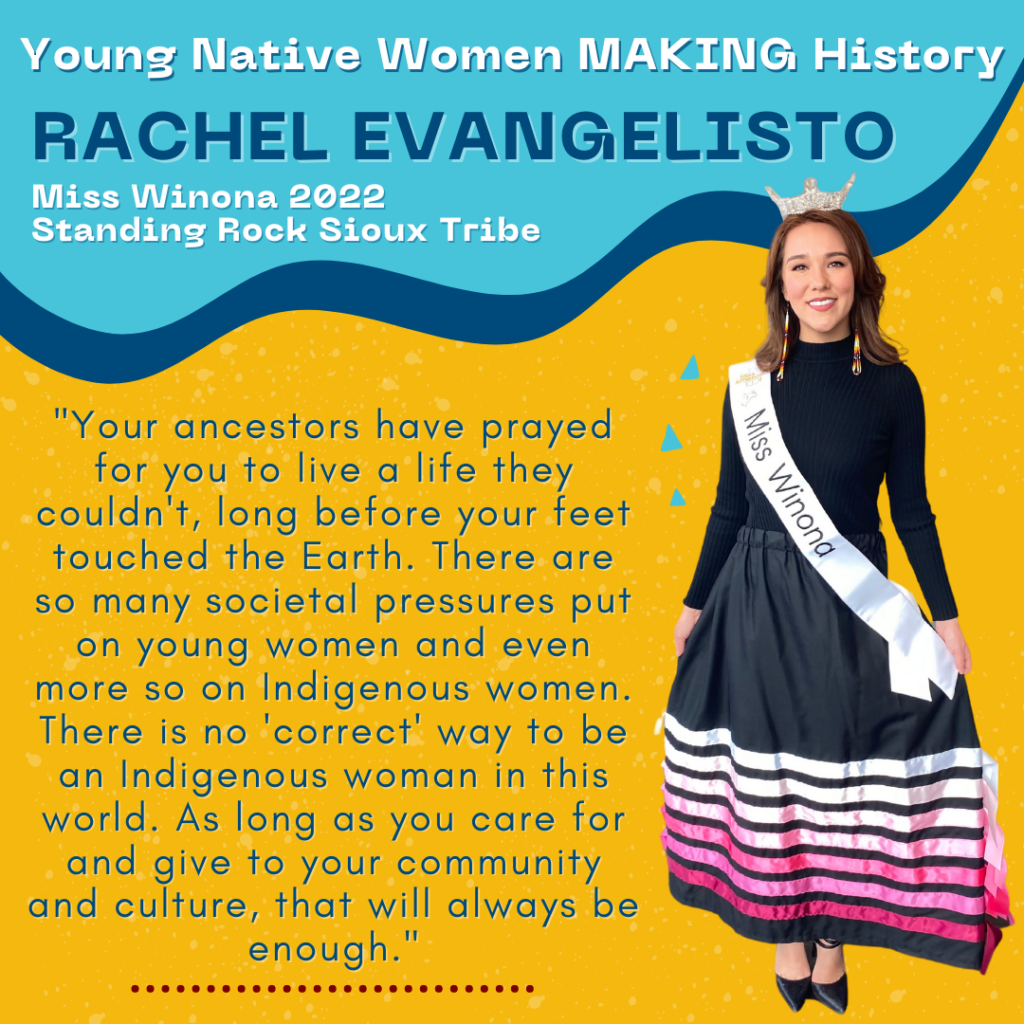 Cultural Advocacy & Representation 
Written by Rachel Evangelisto (she, her, hers) 
For the past three years, I had the opportunity to work under the Indian Child Welfare Act (ICWA) with the ICWA Division of Minnesota as a Guardian ad litem. Specifically, I am a court-appointed advocate that looks out for the best interest of Native youth involved in child protection and foster care cases. As you can imagine, it can be a challenging job, but it is essential, and I am honored to carry it out as a Lakota woman.
Minnesota is what we call the "best at the worst" regarding Native families and child protection. A 2018 Minnesota Department of Human Services Report found that Native American children were five times more likely to be involved in a maltreatment report1. The average Native child has a 60% chance of receiving a maltreatment report by the time they are one year old. Another report released in 2019 found that while Native children make up approximately 1.7% of Minnesota's youth population, they constituted nearly 26% of all children in foster care, which is the highest disproportionality rate in the country2. Beyond that, Native children are 16x more likely to experience out-of-home placements and frequently move placements3.
When I first learned about these statistics, I felt angry and helpless. What can I do in my job to make a difference for these children and their families? Why is there an over-representation of Native children despite ICWA being in place? Why does Minnesota, the state I call home, have such a high removal rate? I still find myself struggling to answer these questions. Rather than getting overwhelmed with the numbers, I focus on what I have control over and find small ways to make more significant impacts.
One of those ways has been by being a cultural advocate and educator. Many of the children and families I work with have dealt with generations of trauma and have not had the opportunity, connection, or money to be involved in their communities. I firmly believe that culture is medicine, and supporting cultural connections can lead to a path of healing. I take every opportunity to engage the families I work with in learning their languages, obtain small grants to make moccasins, regalia, ribbon skirts, or ribbon shirts, and share community events that they can go to and learn from. Additionally, I work closely with the tribal representatives on each case to ensure that families have the support to continue their cultural journey once our cases have closed. As someone who knows what it is like not to have someone there to support in reconnection and not knowing where to turn to, I'm grateful to be in a place and have a job where I can provide those opportunities for others.
Outside of my work, I continue my passion for cultural advocacy through volunteering with local organizations like the American Indian Family Center to make regalia and ribbon skirts for community members that need them. I have been able to host ribbon skirt workshops for young women and plan to host a mother-daughter workshop in the future. Additionally, I won the title of Miss Winona and will be competing for Miss Minnesota this summer. I'm the first Native American Miss Winona in our 75-year history and have high hopes of becoming the first Native American Miss Minnesota. For those who don't know, the town of Winona is on Dakota land, and the word "winona" itself is a Dakhota language word, "Winúna," meaning "firstborn daughter." I am a Winúna of my family and am immensely honored to represent this title and my Dakota/Lakota culture at Miss Minnesota.
As Miss Winona, I commit volunteer hours to a social cause that I want to support through a social impact initiative (SII). My career, community work, and love for advocacy lead me to create my SII, "Celebrating Culture & Driving Diversity." This three-part initiative seeks to:
1. Educate the public about contemporary Native Americans,
2. Engage Americans in open dialogue regarding racial inequality, and
3. Empower Native Youth to drive diversity and be agents of change.
I work with grades pre-k through 8th grade to educate all students on various cultural topics, from traditional cornhusk dolls to more interactive lessons in Indigenous sporting events. With adults, I lead discussions about equity and inclusion, share the present-day issues that Native people face within our state, and provide ways to create change and take action.
You can learn more about Rachel, her work, and her journey to Miss Minnesota at rachelevangelisto.com or follow along on her social pages.
Instagram: @MissWinona2021, and TikTok: @Mahlakhota.
Are you interested in writing a blog with CNAY? Visit our highlight form here or contact Communications Coordinator, Cheyenne Kippenberger at Cheyenne.Kippenberger@aspeninst.org. 
"Rachel is from the Húŋkpapȟa Standing Rock Sioux tribe and grew up in Rapid City, SD. Working under the Indian Child Welfare Act (ICWA) as an ICWA Guardian ad litem, Rachel advocates for native youth and cultural preservation in Minnesota. She is committed to keeping Native Youth out of the child protection system and is working on obtaining her Juris Doctorate in Native American law to support this mission further. She is passionate about Indigenous sovereignty rights, racial justice, advocating for the Indian Child Welfare Act, and Indigenous representation."
1.  MN'Dept of Human Services, Child and Family Serv., Minnesota's Child Maltreatment Rep., 2018, 15 (Dec. 2019),  https://edocs.dhs.state.mn.us/lfserver/Public/DHS-5408K-ENG.
2. NCJJ, AFCARS, Disproportionality Rates for Children of Color in Foster Care Dashboard,
http://www.ncjj.org/AFCARS/disproportionality_dashboard.aspx.
3.  MN Dep't of Human Services, Foster Care: Temp. Out-of-Home Care for Child (April 2021), https://edocs.dhs.state.mn.us/lfserver/Public/DHS-4760-ENG.