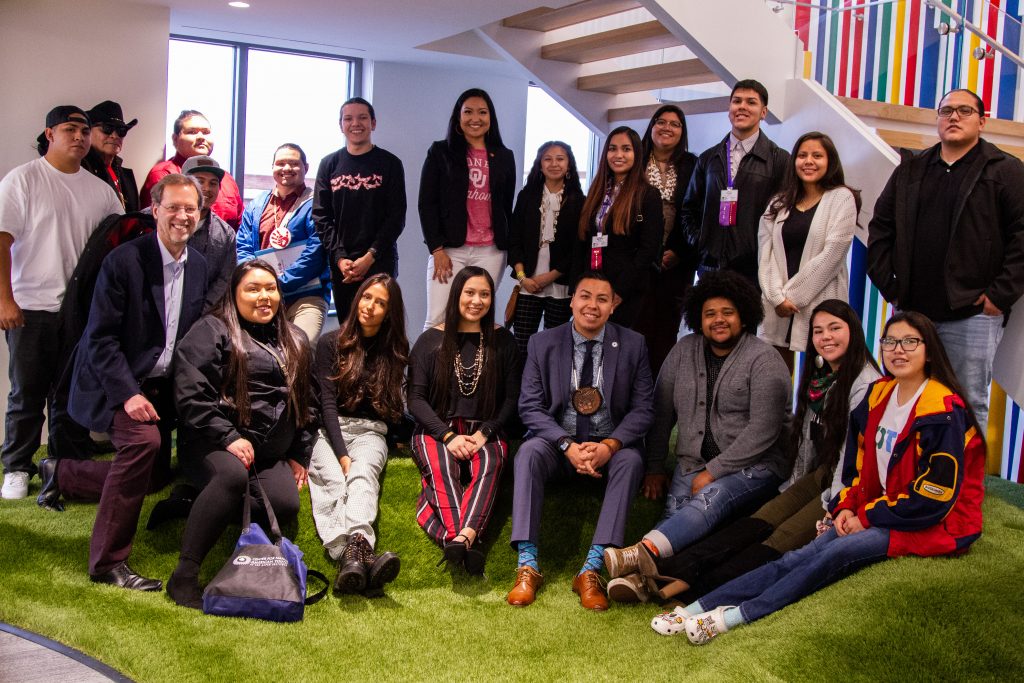 Day One: Champions for Change Week
Yá'át'ééh (hello), from Washington DC! Day one of Champions for Change week, here at the Aspen Institute, is officially in the books.
The Champions started off the morning with a workshop titled Historical Trauma: Reimaging of Tribal Communities through Post Traumatic Growth led by Dr. Billie Jo Kipp. Owen Oliver, a Champion from the Quinault and Isleta Pueblo nation, engaged in meaningful discussion asking questions such as "how do we reconcile natives who drink alcohol when we have been taught not to partake in those types of activities?"
The morning continued with the 2020 State of Indian Nations Livestream Watch Party. The Champions were joined by the National Congress of American Indian's Youth Commission at Aspen. The youth watched as Fawn Sharp, the president of NCAI gave her presidential address  that highlighted the unique status of Indigenous Nations in the United States, as well as spotlighted how federal inaction is destructive to Indigenous Tribal Nations.
Following the Watch Party, the NCAI youth and Champions took a break for lunch while debriefing the State of Indian Nations. Meaningful discussion from Champions ensued. They discussed issues within Indian Country such as MMIWG, climate change, and forging a way forward in tumultuous times.
The next workshop the Champions and NCAI youth worked on was Leading the WhyWorkshop facilitated by Rory Wheeler NCAI, Jen Peacock CNAY, and Tom LaBlancOyate Hotanin. The youth shared their narratives by writing down what their good medicine encapsulates on large poster paper using colorful markers.
The day closed with a Communications 101 workshop, which showed Champions and NCAI youth how to connect to social media platforms while also creating their "brand." The youth learned how to utilize Twitter, Facebook, and Instagram as a tool to create social change. They also learned tips and trick to effectively interview so they can best support their initiatives.
In the evening, the Champions and CNAY staff met Fred Fisher Director of Indian Child Welfare from the Casey Family Programs for dinner at Fogo De Chao.
Day two of Champs week will consist of the panel discussion with keynote remarks from US Senate Candidate-Idaho, Paulette Jordan, Coeur d'Alene. Following the panel discussion will be the 8th Annual Champions for Change Reception where Governor Stephen Roe Lewis will be named an Honorary Champion for Change.