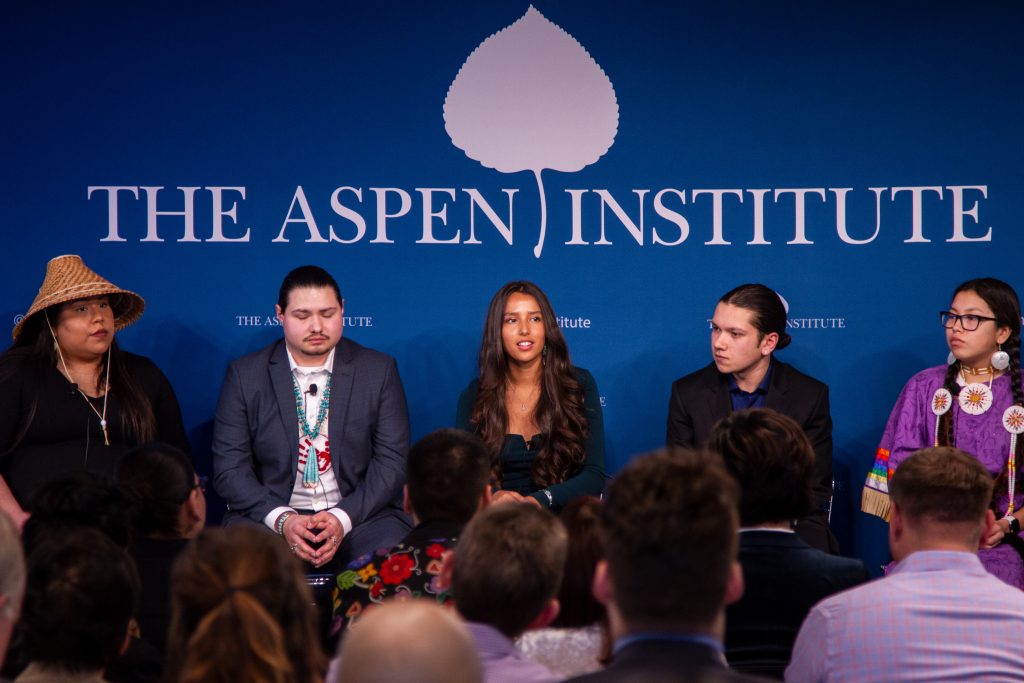 Day Two: Champs Week
On Tuesday morning the Champions joined Juan Martinez, director of Fresh Tracks and Christie Wildcat, a Youth Advisory Board member and 2016 Champion for Change. The pair facilitated a workshop titled Community Action Session. The Community Action Session is a workshop that is dedicated to creation action plans for potential projects. Many of the Champions focused on their platforms such as social change, Violence Against Women Act, suicide prevention, and language revitalization in their communities.
Juan Martinez shared his work which builds power network cross-culturally. He also shared the importance of breaking silos in social change work. Fresh tracks, like the name suggests, is an outdoor program designed for youth to engage in. The youth are from rural and urban areas. Native and non-native, and their common denominator is the outdoors.
Tom LeBlanc, Oyate Hotanin also joined the Community Action Session, and spent time sharing the value of intergenerational learning within civic action. He also explained to the Champions how to engage elders effectively within their communities.
Following their workshop with Community Action Sessions, the Champions sat one-on-one with Paulette Jordan to get acquainted before the public event. Paulette Jordan shared her experience and commitment to public service as a former Representative of Idaho. The Champions engaged Paulette by sharing their work and inspiring stories with her as well.
The Public Event at the Aspen Institute took place, with Paulette Jordan, Coeur d'Alene Tribe, as the keynote speaker. The Kiowa Singers, Carlisle "Thomas" Phillips Sr. and Thomas Phillips Jr. opened the event with a prayer. After the prayer, Paulette Jordan gave her keynote address which touched on climate change, forging a new way forward for Indian Country, and also highlighting the work of the Champions. Paulette ended her speech by telling the Champions, "I could see our ancestors through you (Champions)."
The Champions then took the stage for their panel discussion moderated by former Champions for Change, Christie Wildcat, Northern Arapaho, and Sam Schimmel, Kenaitze/St. Lawrence Island Siberian Yupik. Champions described their leadership efforts, perspective on priorities impacting their communities as well as answered questions from the audience. Wildcat asked Shavaughna Underwood, "What are your hopes for the next generation?" Shavaughna said "I want our youth to be prepared. I don't know what battles they will be facing in the future, but I want them to be prepared for what is to come."
Isabella Madrigal began discussing her platform involving theater and missing and murdered Indigenous women and girls, by telling the audience at Aspen "We don't heal by forgetting, we heal by remembering. We need to remember them (MMIW). This play I wrote is for them."
The Kiowa Singers, Carlisle "Thomas" Phillips Sr. (Kiowa Nation), and Thomas Philips Jr. (Kiowa and Hualapai Nation), who opened the event with a prayer also closed the event with an honor song. Members from the audience were able to come to the stage and thank the Champions individually for their hard work and dedication to their communities.
Following the Public Event was the 8th Annual Champions for Change Reception at the Capital Hilton, where the Champions were presented with medals for their selection. Governor Stephen Roe Lewis, Gila River Indian Community, was recognized for his dedication to Native youth and the betterment of Indian Country as the 2020 Honorary Champion for Change. After receiving his award, Governor Lewis shared his story and encouraged the Champions to continue to advocate for their communities.