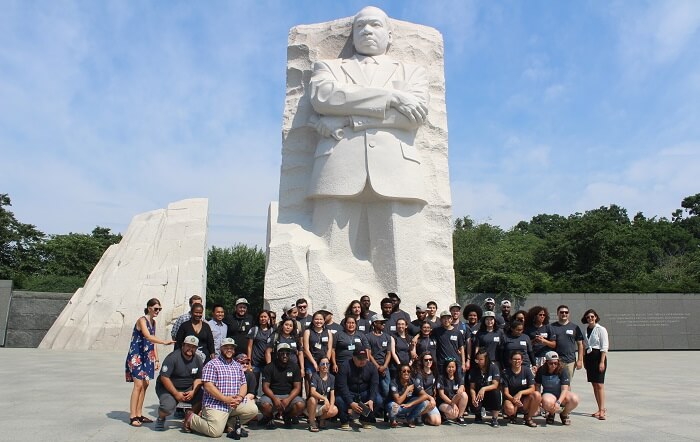 Fresh Tracks Program to Empower Urban and Native Youth
Major grant from Walmart Foundation will anchor funding for cross-cultural training expeditions in communities across the country throughout 2018 and 2019.
Washington, D.C. – Fresh Tracks, a leadership program that brings together emerging youth leaders from urban and Indigenous communities, is launching a milestone expansion funded in part by a one-year, $500,000 grant from the Walmart Foundation.
Inspired by the Obama Administration's commitment to connecting more young Americans to the outdoors, Fresh Tracks is a partnership between the Center for Native American Youth (CNAY) at The Aspen Institute, the My Brother's Keeper Alliance at The Obama Foundation, and the Children & Nature Network's Natural Leaders.
Fresh Tracks launched in 2016 with a pilot that took two cohorts of young adults from Los Angeles and Alaska Native communities on a two-week shared leadership expedition from southern California to the Arctic Circle. Since then, more than 100 young leaders ages 18-24 have completed Fresh Tracks training programs in Los Angeles, Alaska, Boston, and Washington, D.C.
"Fresh Tracks puts culture and the outdoors at the center of our strategy to build the next generation of leaders," said Erik Stegman, Executive Director of the Center for Native American Youth. "In a nation as divided as ours, we're proud to offer a program that helps Native and non-Native youth draw on the strength of their diversity to find innovative solutions to today's challenges."
"The Walmart Foundation is committed to helping advance solutions to bridge divides and build more inclusive, empathetic communities where all people have equal access to the tools and opportunities they need to reach their full potential," said Julie Gehrki, Vice President of the Walmart Foundation. "By supporting organizations working to build trust and foster cross-sector partnerships including the Center for Native American Youth, we're helping to build capacity for organizations and practitioners working on the front lines to help strengthen communities."
The Center for Native American Youth was selected from over 150 applicants that applied through an open RFP issued by the Walmart Foundation as part of their larger commitment to building more inclusive and vibrant communities.
Funding from the Walmart Foundation, REI, Casey Family Programs, and The Newman's Own Foundation, will allow Fresh Tracks to offer four regional training expeditions in 2018 and 2019 in cities across the country. Each expedition will give 50 urban and Indigenous leaders facing persistent opportunity gaps the cultural competency and civic engagement skills they need to drive social change, impacting an estimated 16,000 people total.
Kimberly Pikok, from Barrow, Alaska, has presented on her Fresh Tracks experience to audiences at the White House and at the Aspen Institute Opportunity Youth Incentive Fund Convening. "Fresh Tracks definitely changed the way I think about how I see the world and the issues communities face with stereotypes, wealth, and the wellbeing of society," says Pikok. "I also think Fresh Tracks contributed to me being more open with people and confident with my opinions and thoughts."
The core Fresh Tracks experience is a three-to-five day training expedition, which can be held in any region of the United States. Training expeditions leverage the outdoors as a background for transformative leadership development that continues through ongoing mentoring and peer-to-peer networking. Eligible youth may now apply to attend the next training expedition in Boston.