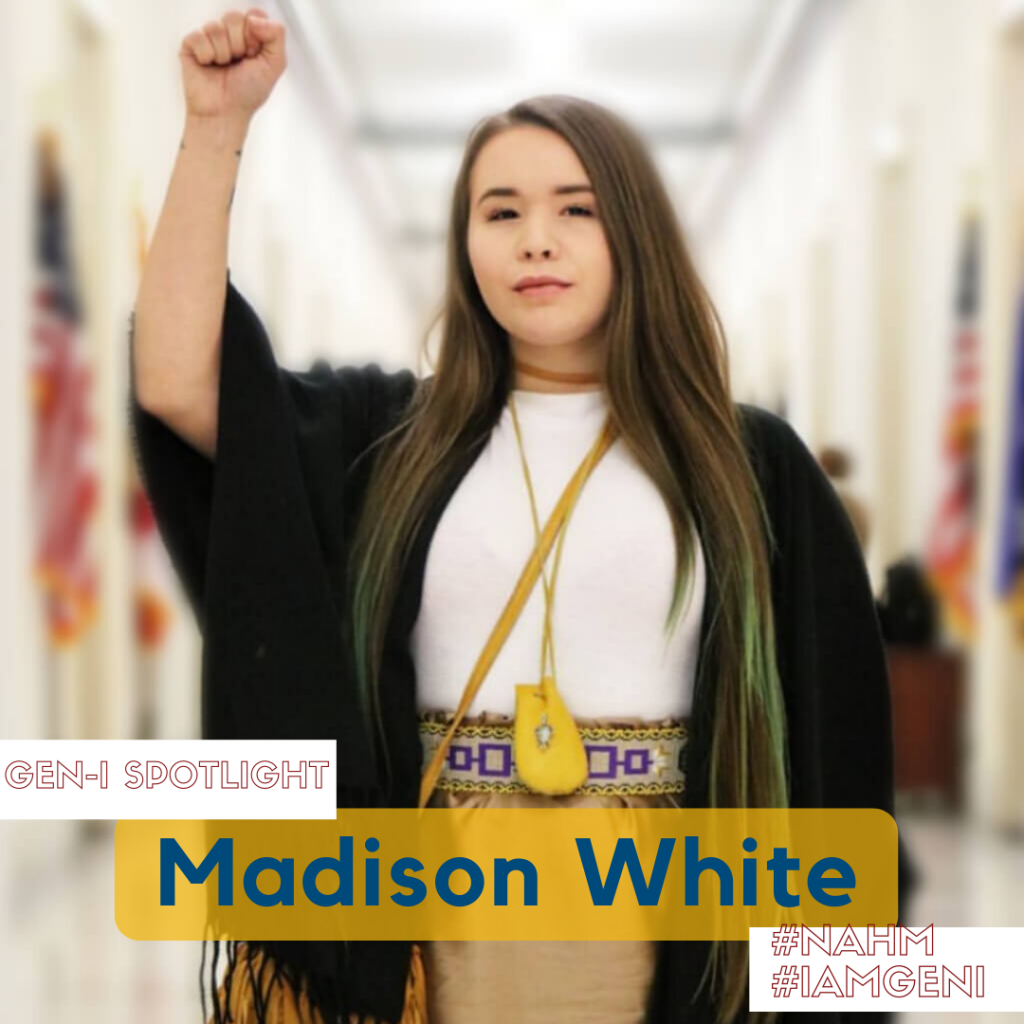 Generation Indigenous Spotlight: Madison White
As part of the Generation Indigenous Initiative, the Center for Native American Youth works to provide a platform to uplift and empower Native youth voices. We continue our celebration of Native American Heritage Month, with the Gen-I Spotlight series to share about the amazing youth from the Gen-I Network. Youth were asked to answer a few questions about why the think Native American Heritage Month is important and how they celebrate, as well as how they first got involved with CNAY. This week read and learn more about Madison White.
Name/Tribe: Madison White, Mohawk Nation 
About: Madison was raised and still resides on the Akwesasne Mohawk Territory, which is considered Ontario, Quebec and Upstate New York. However, it wasn't until college that she had an awakening that Native Americans are invisible minorities – in our own homes and on our own lands. A vast majority think we either are extinct or have no knowledge of us. That reality is disheartening for our people and especially our Native Youth, because it is an accomplishment on our oppressor's behalf that they strategically aimed for – for us to no longer exist. Madison comes from a very large family of activism and acknowledgment; she is a cousin of Richard Oakes (leader of Occupation of Alcatraz) and great granddaughter of Louis Levi Oakes (last living Mohawk Code-Talker) and many strong minded and strong-willed Mohawk Women who are legends in her community. She grew up with her language and learned ceremonies along the way, and eventually activism fell right in line with that as she became a woman and the current generation of land-bearers and life-givers. Madison is also a Full-Spectrum Doula for the Onkwehonwe Midwives Coalition in her community, a big sister to thirteen younger siblings, and a proud mother to a soon-to-be 3-year-old boy. In her free-time Madi likes to explore nature, give thanks, visit family, make moccasins and skirts, bead, and enjoy the busy life of a Lacrosse and Hockey mom! Everything in her being is directed to securing her sacred, ancestral ways of life for the next generation. 
Q: How did you get involved with CNAY? 
A: In June of 2018 I attended a Fresh Tracks training in Boston, where I was first introduced to the CNAY & Gen-I staff. This was a monumental moment for me because I was assisted by other native youth to highlight my personal narrative and how to get that message across, I was able to summarize my passions and be guided towards a clear objective. My favorite part was being immersed with urban, rural and indigenous youth, and coming to the conclusion of how similar our struggles are and how important the work is that we were doing. I will remember the training forever and made lifelong friends that I still keep in touch with! 
Q: Why is it important to celebrate Native American heritage Month? 
A: Native American Heritage Month is important for the well-being and existence of all generations. Our ancestors deserve this recognition, our youth deserve that inspiration, we deserve this healing, and the modern-day societies we live in need to know about us! What history has erased, we can start filling in the holes and writing chapters that involve our own narratives and realities. 
Q: How do you celebrate Native American Heritage Month? 
A: I celebrate Native American Heritage Month by teaching my son words and phrases in his language and refusing the English alternative of that. Overall, I like to focus on the importance of Indigenous Motherhood and the role that provides for my son. It is a simple step, but I like to think that is the biggest impact we can make, and to leave a strong legacy behind. Inter-generational trauma does NOT have to be inherited any longer. Let's raise our babies with their ancestor's languages. 
Madison's advice to Native youth: I cannot stress this enough – your existence is everything. Your life is valued, and it is answering prayers. I just want every Native Youth to acknowledge their strength and power simply by living. To become more involved in positive change, they must become their biggest advocate. The next step after that would be to meet with, visit and talk with elders in your community. They are the most valued source of information and insight, and they have a way of telling you what you need to hear. That is the ultimate Native Youth combination; confidence & ancestral wisdom! I cannot wait to see what our future holds – I'm here for you! 
Visit and talk with elders in your community.

-Madison White