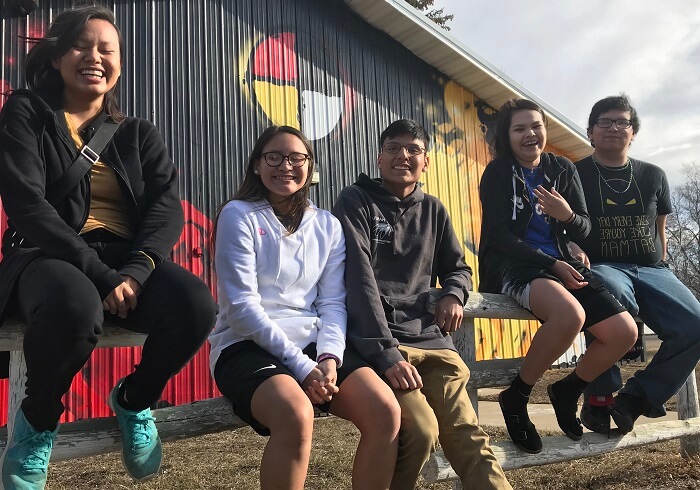 Growing Into Wowachinyepi Lakota Youth Leaders
Meet the five Lakota teens traveling to Washington, DC as part of the Cheyenne River Youth Project's Growing Into Wowachinyepi youth leadership program.
Claudia Iron Hawk is 18 years old and a student at Cheyenne Eagle Butte High School. Her initiative focuses on Lakota language and culture revitalization. To strengthen her ties to her culture and language, Claudia actively takes part in ceremonies and attends the annual Lakota Language Summer Institute. Her goals are to become fluent in Lakota, get a college degree, and come back to the Cheyenne River Sioux Reservation to teach the language to youth. She strongly believes that youth need to learn their language and culture, and she is proud to do her part.
Daniel Semon is 18 years old and a student at Cheyenne Eagle Butte High School. Daniel noticed that whenever suicide prevention flyers were posted at his school, all the paper tabs displaying help line phone numbers were taken by students almost immediately. Having lost people to suicide since he was young, Daniel knew he needed to do something. So Daniel created Guardians for At Risk Youth (G.A.R.Y.). His work with G.A.R.Y. seeks to break the culture of suicide and save lives. Daniel is determined to make a difference.
Jaymalee Turning Heart is 17 years old. She grew up on the Cheyenne River Indian Reservation and was constantly surrounded by suicide. In eighth grade, one of her best friends took her own life, and in the summer of 2017, Jaymalee lost a close cousin to suicide. She asked herself "what could I have done?". Jaymalee wants to end the suicide epidemic and let youth know that life is beautiful. She is aware of the daunting suicide statistics that plague Native American youth and is committed to stopping suicide. She looks forward to helping others and in turn, helping herself.
Randie Little Star is 16 and lives by the mantra: "Life doesn't get better by chance, it gets better by change". Randie grew up surrounded by family members and peers under the influence of drugs and alcohol. It wasn't long before she gave into the pressures to fit in, and got herself into trouble. Randie is not alone – unfortunately, she sees a lot of youth turn to drugs and alcohol because of a lack of resources and opportunities, and as a way to cope. Realizing she was hurting her health and physical well-being, Randie turned her life around. She chose to change. Randie believes that so many young people can change, and she's committed to providing them with the opportunity to do so. She is determined to set an example not only for her peers, but for future generations.
Oliver Miner is 17 years old and named his initiative "Healing Our Nation". On the Cheyenne River Reservation, he says that alcoholism can be perceived as normal. Oliver's work aims to change that, and to make those who suffer from alcohol addiction healthy again. Part of his work with "Healing Our Nation" is lobbying for rehabilitation centers in the community. This work is personal, as Oliver has lost family members to alcohol addiction. "We are sick," says Oliver. "We have a disease and we need help. It scares me, and I am committed to do better for our youth". Through Growing Into Wowachinyepi, Oliver looks forward to bettering his community.