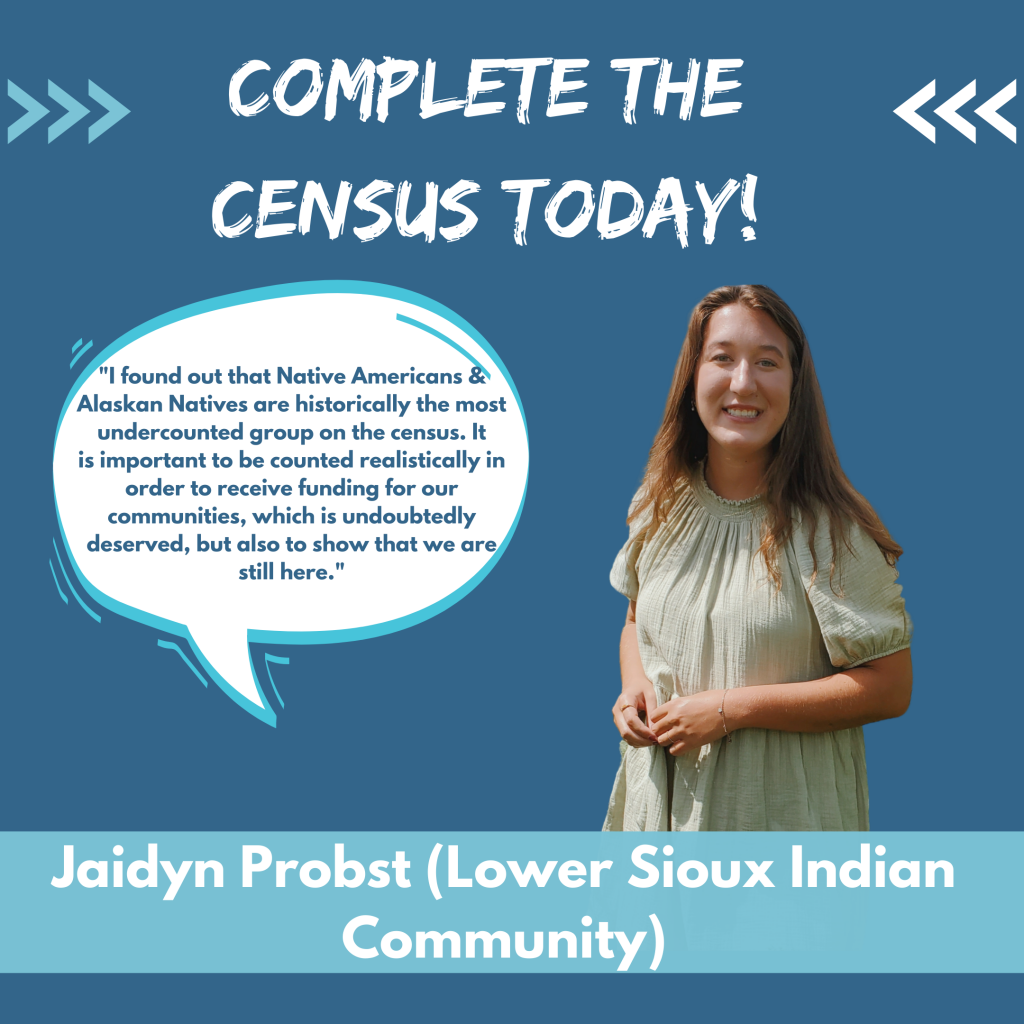 "I started to look into the census and what adequate representation means for our community."
We All Count: Boosting Indigenous Representation on the Census
Han mitakuyepi,
To be quite honest, the US Census was not something that I thought much about before this past year, which may be common for young adults my age. We were younger when the past census happened, and I think my biggest worry ten years ago would have been starting middle school. This past year, however, I started to look into the census and what adequate representation means for our community. I found out that Native Americans & Alaskan Natives are historically the most undercounted group on the census. It is important to be counted realistically in order to receive funding for our communities, which is undoubtedly deserved, but also to show that we are still here.
When I started educating myself further, I also began working on my census project in partnership with CNAY. My community specifically, the Lower Sioux Indian Community in southwestern Minnesota, has a very high population of youth under 18. This inspired me to take a social media approach to my project, in hopes of trying to get as many young people as I could involved. I did this by creating different resources and putting the linktree in my Instagram bio. I created an infographic of general facts surrounding the census, how undercounting affects us as Indigenous people in America, and information on how to register for the census/what the census needs from us. I incentivized this learning by reaching out to local Lower Sioux artists for beaded keychains and earrings, and also purchased two clothing items from B Yellowtail to raffle off. After educating themselves with the information I put together, I asked the participants to then complete a survey where they chose which items to be entered for, and also were asked to give one fact that they did not previously know about the census. My project has since wrapped up, with all of the items mailed out to the winners, and I had more entries than I had ever imagined, with entries from all across the country.
This shows that young people are willing to learn, and are interested in problems that our communities are facing today, and have been facing for years. Right now, I feel like young adults and teenagers are taking on the world. We are living through a pandemic, a civil rights movement, and so much more during our formative years, and still fighting for what we believe in. I am so proud of anybody doing work in their communities and working at whatever they are passionate about. I hope that anyone who participated in my project has since filled out the census, and I hope that you all will too.
Pidamayapi. 
Jaidyn Probst, Lower Sioux Indian Community