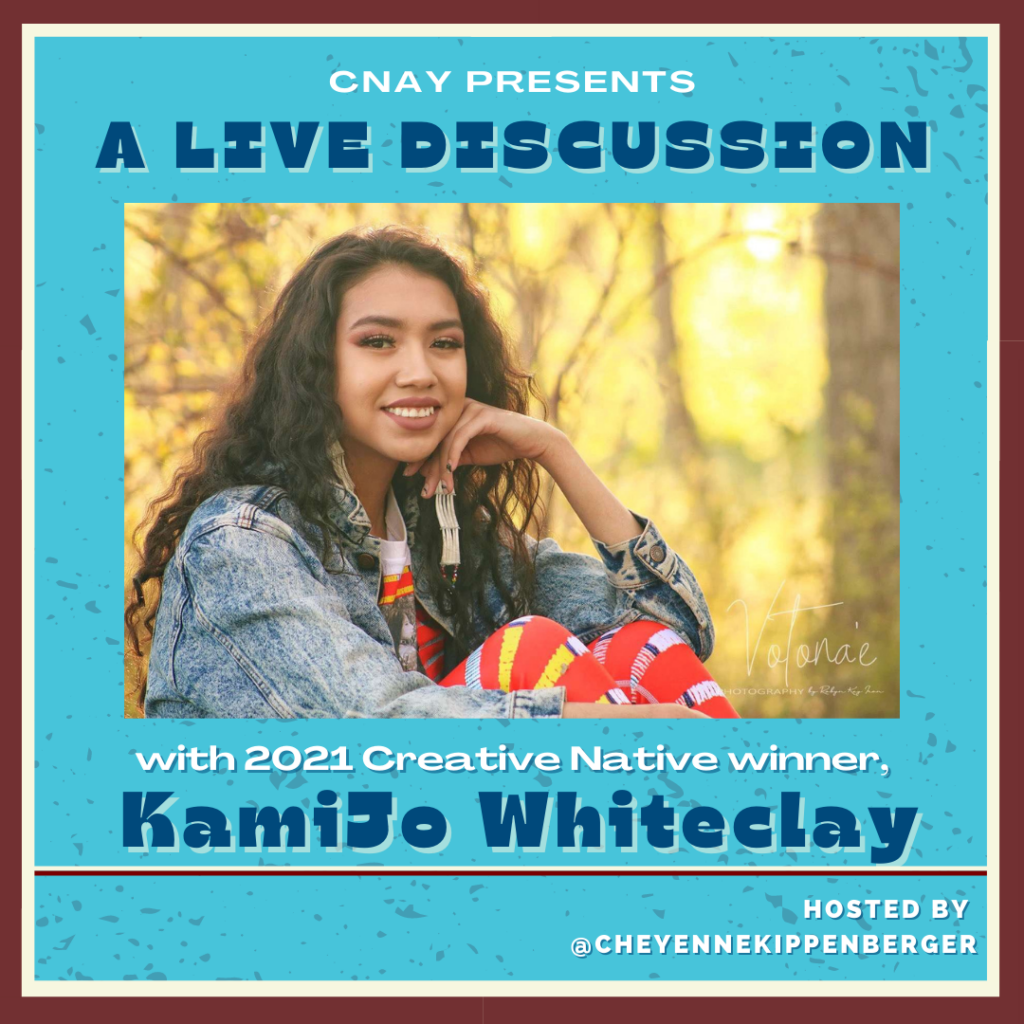 Instagram Live Discussion with Creative Native Grand Prize Winner, KamiJo Whiteclay
Every year the Center for Native American Youth (CNAY) hosts the Creative Native Call for Art competition founded by Crow artist and former CNAY Newman's Own Foundation Fellow, Del Curfman. Creative Native was created with the intention of providing a space and support for Indigenous artists ages 5-24 years old. In its fourth year, fifty Native youth submitted their artwork for the prompt: futurism. The goal of this prompt was to spark curiosity and inspiration for the future of their culture, their community, and themselves.
To celebrate another successful year of Creative Native, Cheyenne Kippenberger, CNAY's Communications Coordinator sat with 2021 Creative Native Grand Prize Winner, KamiJo Whiteclay (Crow Nation) for a live discussion on Instagram. Her award-winning art piece, titled, "Bear Medicine," focused on KamiJo's dreams and manifestations for the future of her community. "It is important to honor the traditions of the past to ensure a future of healing and resilience. The colorful floral bear represents a spirit helper that encourages healing through the dark times. The dark background and the 4-pointed stars show that our ancestors continue to guide us through darkness to a brighter future. The bear paw prints represent walking a good path for others to follow."
In their discussion, KamiJo and Cheyenne explored KamiJo's inspirations and creative process, and the importance of the arts in Native communities. KamiJo shared that the intertwining of culture and spiritualism was an important focus in her piece. She discussed that when creating for the prompt, futurism, she, "wanted it to come from a place of my own understanding and how I see things for our future." Her piece holds extensive symbolism, highlighting the vines that flow throughout the body represent the journey we must take to blossom. The florals indicate the journey to find healing and a good life. KamiJo reflected, "that's where I see Indigenous people in the future, living healed and good lives."
KamiJo is currently a student at the American Indian Arts Institute to pursue her creative path. From painting to beading, both Cheyenne and KamiJo recognize the deep connections between Indigenous people and diverse art forms. "I have always been artistically inclined. It is natural to Native people, it's part of our life. We are walking pieces of art honestly. It's very natural for us." She went on to share about the power of exploring our creativity and the benefits it holds, "the process of creating something is healing in itself."
Art has been a means of expression, beauty, and livelihood for Indigenous people since time immemorial. Young artists like KamiJo are exemplifying the use of culture and tradition as a foundation for their artistry. Young creatives are using their work as a way of healing themselves, their community, and to understand their world. You can view the live discussion here and view the 2021 Creative Native art gallery here.