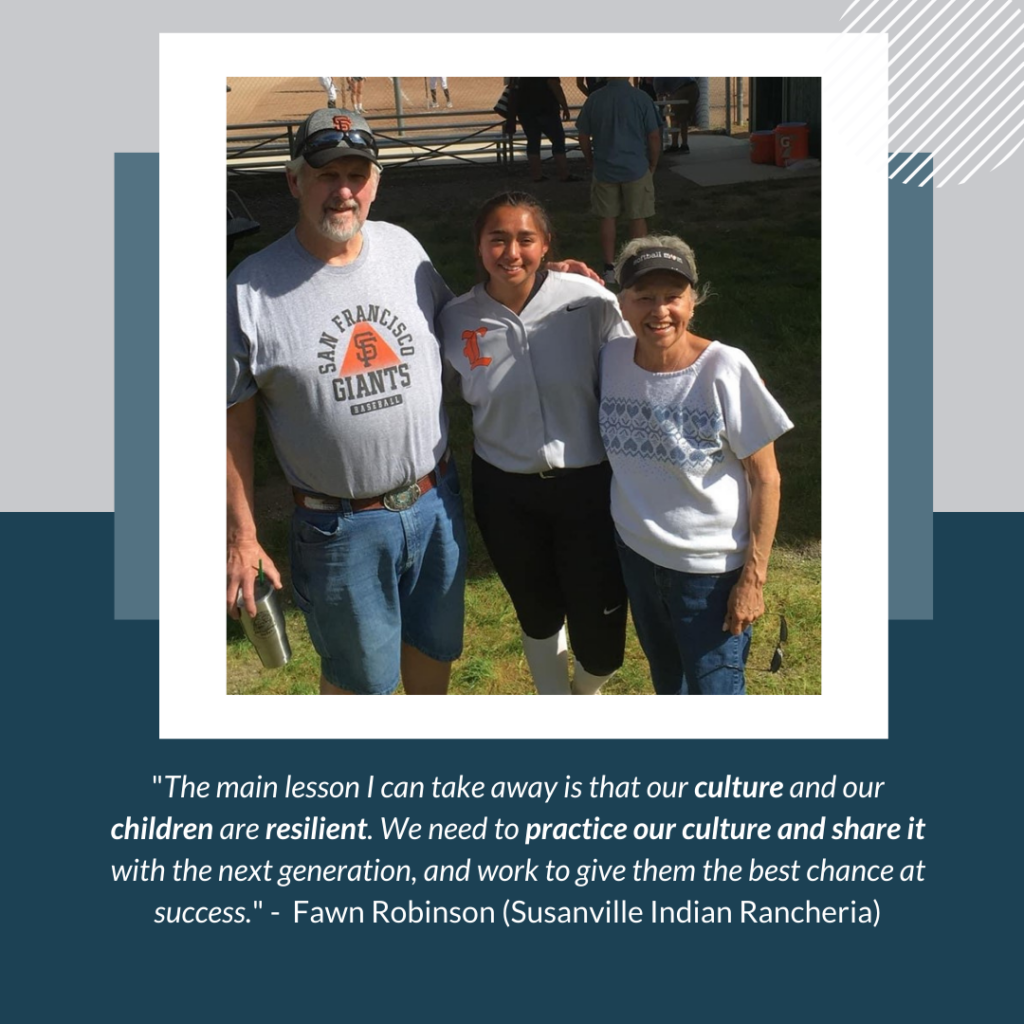 Leading Change: An Interview with Fawn Robinson
The Building Indigenous Communities of Hope Fellowship designed for Native American youth passionate about transforming the foster care system. This fellowship is done in partnership with the Center for Native American Youth, Casey Family Programs, NMCAN, and the Indian Child Welfare Act (ICWA) Law Center. We sat down with Fawn Robinson, a member of the inaugural cohort of fellows in recognition of National Foster Care Month. You can learn a bit more about Fawn and the program here.
Question One: Fawn, you are a member of your local Indian Child Welfare (ICWA) committee. Can you share why you got involved and what lessons you've learned since joining the committee?
Answer: My mom was a member of the ICWA Committee for many years. She is someone I look up to, someone who has inspired me, and the reason I wanted to be involved. My family is big with my dad, my mom, my ten siblings and I. The eleven of us kids were adopted by my parents, my brother, sister and I were able to be placed in my parents' care with the aid of the ICWA Committee.
I want to help children who are in the same situation in any way I can. Through the ICWA Committee I have found that opportunity to help. I am the youngest member of my local committee, because of that I am constantly learning from my elders. They have continued to provide support and a better understanding of ICWA and our role in our community. The main lesson I can take away is that our culture and our children are resilient. We need to practice our culture and share it with the next generation, and work to give them the best chance at success.
Question Two: You currently work for the Susanville Indian Rancheria as a Youth Program Advocate for the Teen Center. What is your vision for the future for the youth you work with?
Answer: My vision for our youth is that they become educated, learn and practice their culture, including language and tradition, so they themselves can become advocates for their people. My hope for them as people is that they succeed, in whatever way they would like, and they go through life knowing they have the potential to achieve their goals.
Question Three: You shared that you want to continue helping youth, specifically children and teens in foster care because of your lived experience being adopted. What recommendations do you have for law makers or advocates to improve the foster care system?
Answer: My recommendations would be that there be more preventative services offered and support to families to prevent future risk to children and teens. There is a higher number of minority children, teens, and families experiencing child welfare interventions. For us to improve this is by looking at effective strategies to gain a deeper understanding of cultural differences that impact our young people's care.