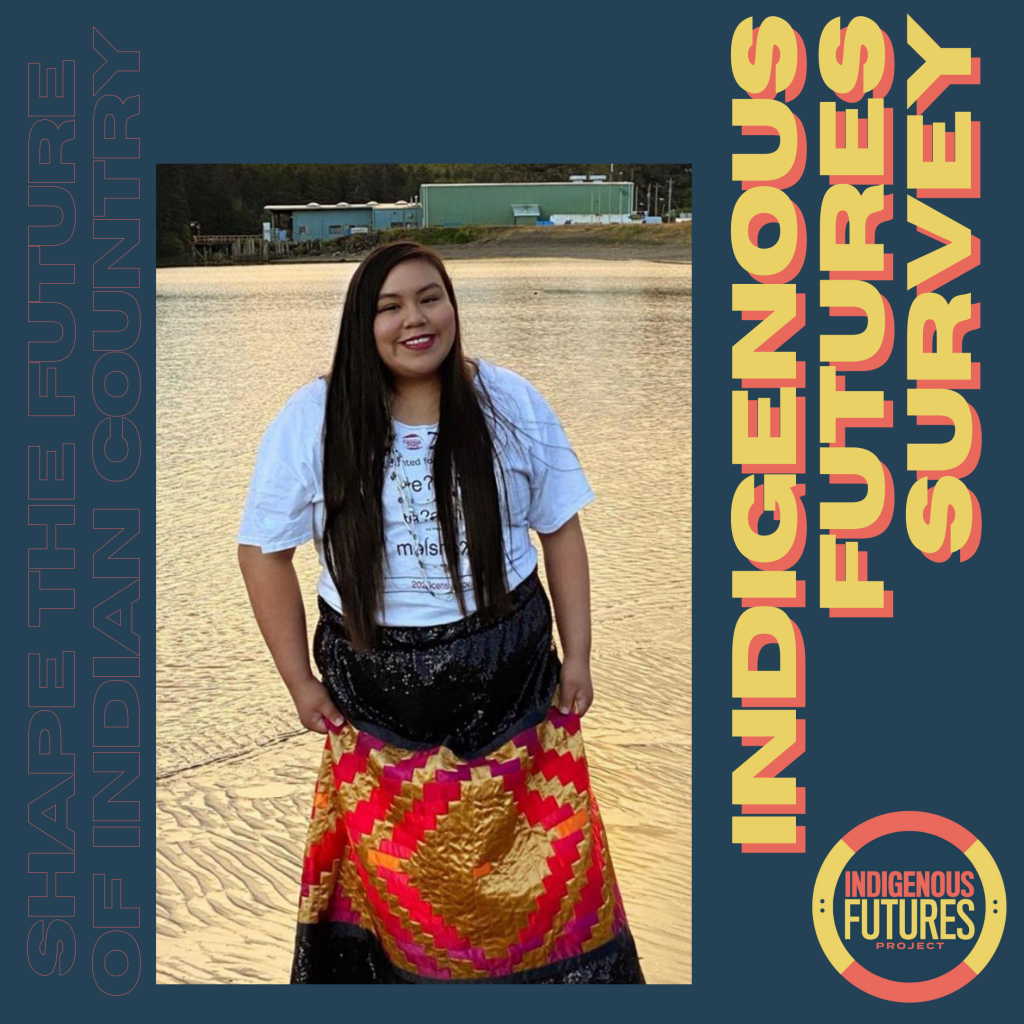 "Let your voice be heard today so that future generations know that we are creating a better world to live in"
I'm so excited to be a part of something so historically important as the Indigenous Futures Survey. This survey was created to empower and uplift the voice of Native peoples and move towards better understanding through data driven by Native people from our own perspectives.
I have a strong love for stories and being able to protect our autonomy with storytelling in any form. Let your voice be heard today so that future generations know that we are creating a better world to live in.
I have been doing outreach to people in my community explaining the importance of the Indigenous Futures Survey. Something special about this survey is that the questions are directed towards our actual needs of Native peoples.
I got to sit down with my relative at an event where we took precautions for everyone's safety to help bring some light and healing to our people I'm so glad I got to integrate the survey into that shared space. It was a way to actually show people that their voice is powerful.
Please, I encourage all of you reading this to take the Indigenous Futures Survey before it closes on August 15th, 2020. You have the power to create change within Indian Country. 
To take the survey, visit the indigenousfutures.illuminatives.org website.
Shavaughna Underwood comes from the Quinault People. She is a Human Services Professional who works with the Behavioral Health Team at her tribe as an Administrative Assistant. Shavaughna has a degree in Human Services from Grays Harbor College and is currently a full time student at Evergreen State College majoring in Indigenous Studies focusing on Healing from Trauma. Shavaughna is also the Vice President of the Quinault Indian Nation Culture Committee while she is also the secretary of the Quinault Canoe Society. Shavaughna is trained in Question Persuade Refer (QPR) for suicide prevention and believes in implementing traditional coping mechanisms for Intergenerational Trauma. On top of her studies in Human Services Shavaughna is a graduate from Institute of a Democratic future and strides to develop strong policies that benefit her community as a whole.