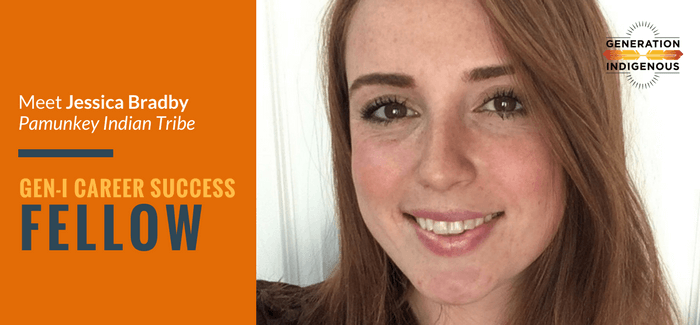 Meet Jessica Bradby, 2018 Gen-I Career Success Fellow
Jessica Bradby, Pamunkey Indian Tribe
24 years old
Hometown: King William, VA
"It's important that we expand economically so that we can provide for and take care of our members. This is less of a choice and more of a social responsibility, and social responsibility is the foundation of indigenous values. We take care of one another."
---
It wasn't until June 2016 that the Pamunkey Indian Tribe received federal recognition after a forty-year fight. For 24-year-old Jessica Bradby, this opened the door for her and her community to take advantage of opportunities for social and economic development. One of those opportunities for Jessica was attending the National Congress of American Indians' annual convention where she first learned about tribal economic development.
Jessica believes opportunities for economic development exist in her community and that there is plenty of room to grow and learn. Expanding economically would not only help repair buildings and structures in the community, but also create avenues for better health care and youth programming.
Jessica believes that social responsibility is a foundation of Indigenous values. She feels that it is up to her entire community to provide for the welfare of the Pamunkey Indian Tribe. Jessica is doing her part by pursuing her education and building out her professional skills to be able to share them back with her community and ensure the success of her people.
As a sociology student at Fort Lewis College in Durango, Jessica is gaining the skills and education to practice counseling founded in Indigenous knowledge, beliefs, and practices. She plans to pursue her graduate degree in social work and create a safe space within her community to address issues from an Indigenous perspective.
Fun fact about Jessica: "I have driven across the country coast-to-coast FOUR times!"
---
Attending the 36th Annual NAFOA Conference in New Orleans? Make sure to connect with Jessica and the other 2018 Gen-I Career Success Fellows! Email bettina.gonzalez@aspeninst.org for more information.