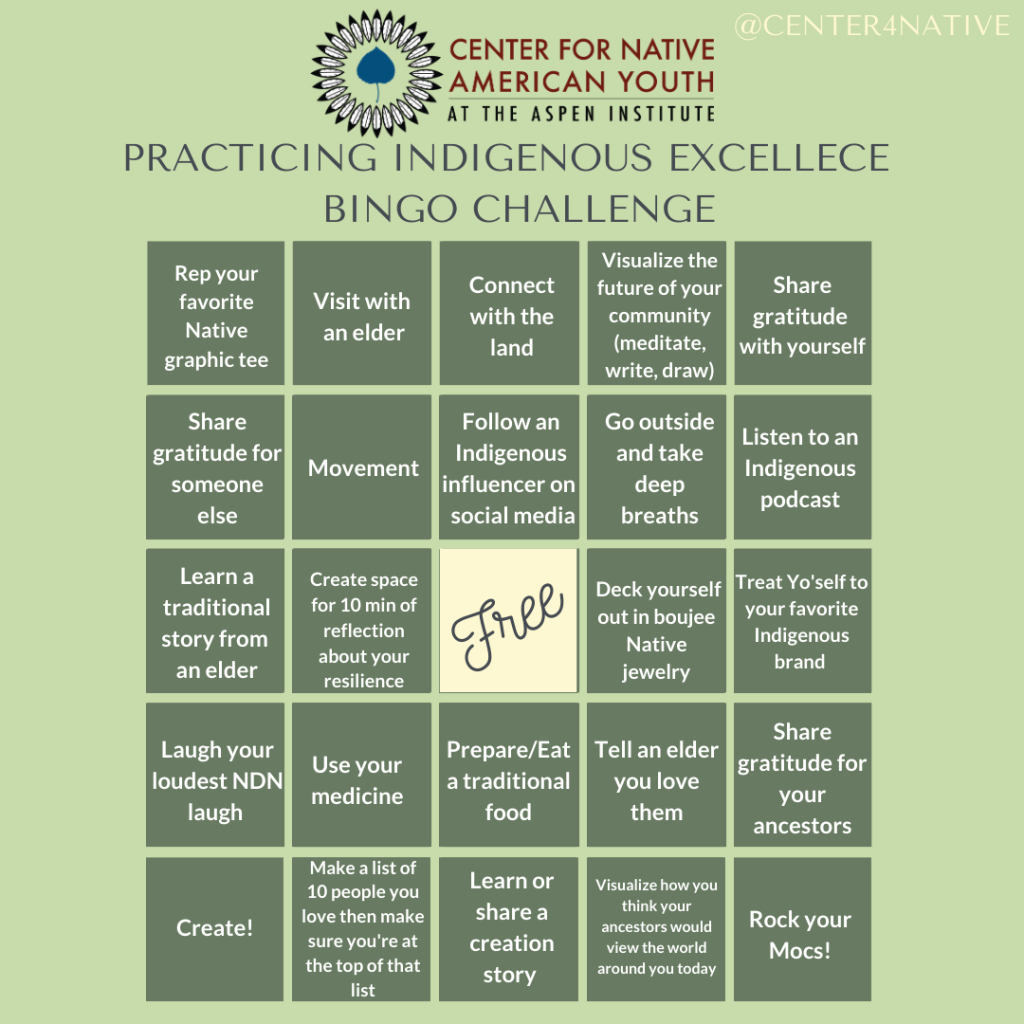 Native American Heritage Month Bingo Challenge
The Center for Native American Youth is inviting everyone to join in celebrating the resiliency of the Indigenous people. Native American Heritage Month (NAHM) celebrates the resilience, resistance, and historic truths about Indigenous people and their communities.
NAHM also helps to bring awareness to the Native population and promote inclusion of Indigenous people in the national consciousness, especially in the time of heightened racial awareness. We encourage you to educate yourself on the contemporary implications of colonization and its effects on Indigenous communities. This includes acknowledging the land that you visit, work, and reside on. To find out who's land you are on, please visit native-land.ca

We hope to encourage our non-Native relatives to be in community and practice allyship today, this month, and into the future. Our team has put together a bingo challenge centered on encouraging our non-Indigenous relatives to celebrate Native American Heritage Month!
We invite you to share in your networks and challenge you all to complete at least one row of Bingo with the honor system this Native American Heritage Month.

Check out our social media platforms (Instagram, Twitter, & Facebook) to stay up to date on the amazing youth-centered content throughout NAHM.
BINGO Challenge and Rules for Native Youth:
BINGO Challenge for our Non-Native Relatives:
Join Team CNAY for the #PracticingIndigenousExcellence Bingo Challenge! You have until December 10, 2020 to complete ALL 25 activities.
How to Win:
You must complete ALL 25 of the activities in this bingo challenge to be entered into the gift card raffle.
Post a picture/video of you completing the activities in white boxes to your Instagram story and tag @center4native with #PracticingIndigenousExcellence and/or #NativeAmericanHeritageMonth
We will use the honor system!
Once you complete the challenge, post a photo of your completed bingo card to your Instagram story, tag @center4native and challenge two people to participate!
Everyone who completes the entire challenge by the deadline will be entered into a raffle for a chance to win 1 of 5 $25 Gift cards from Native brands and businesses! 
Tag 5 friends, share to your Instagram story, & encourage your loved ones to participate for extra entries. 
Be sure to hashtag:
#NativeYouth #NativeAmericanHeritageMonth #PracticingIndigenousExcellence