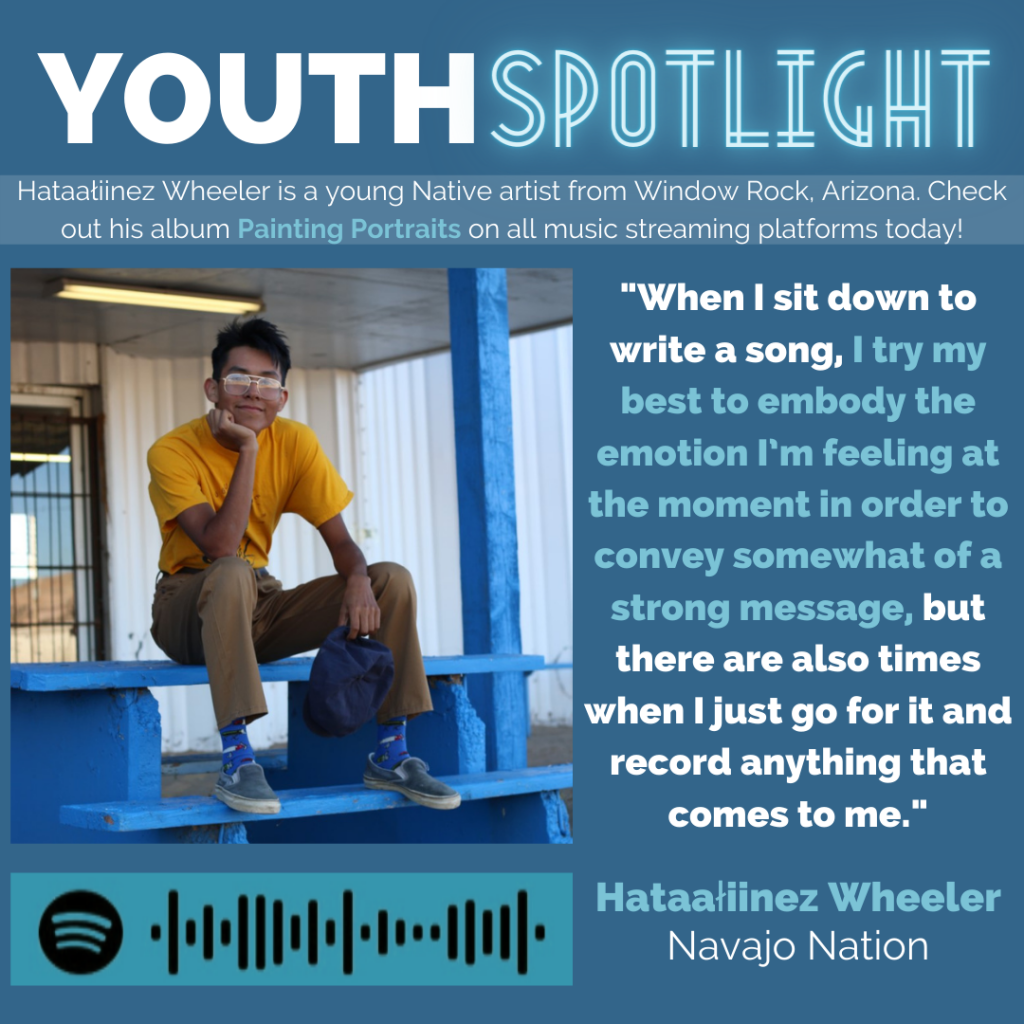 "When I sit down to write a song, I try my best to embody the emotion I'm feeling at the moment in order to convey somewhat of a strong message…"
By: Hataałiinez Wheeler
YA-TA-HEY my name is Hataałiinez Wheeler, but everyone just calls me Hataałii 'round these parts. I make music for people to listen to. I began writing my newest album at the start of the pandemic and released it a few months later. The album is called Painting Portraits and is out on all music streaming platforms.
I lived in the dorms at Navajo Preparatory School for most of my high school life, so when COVID hit I found myself staying in Window Rock most of the time. It was then that I decided to cook up an album. I released my first album Banana Boy in my junior year of high school, but it wasn't really an album, it was more of a collection of songs I'd made in the span of a couple of years.
With that being said, I like to think of Painting Portraits as my first real album. But then again, I really don't know what I'm doing. People commemorate the fact that I play every instrument on the album along with the fact that I recorded and produced it, but I still feel like I have no idea what I'm doing. I'm just trying to have fun, I guess.
The actual process of creating something is very interesting. When I sit down to write a song, I try my best to embody the emotion I'm feeling at the moment in order to convey somewhat of a strong message, but there are also times when I just go for it and record anything that comes to me. I guess you could argue that those two approaches don't even differ, but that's the way I view it as of now.
My songwriting philosophy tends to change quite frequently, but I think the most important thing to keep in mind when you're creating anything would be just to enjoy yourself. Don't care about what other people will think, as long as you're enjoying yourself you should be set. If you want to check out the entirety of my album Painting Portraits, it's up on all streaming platforms (iTunes, Spotify, etc.).
And remember to listen to your parents, drink water, and keep it hozhó. I'll see you all around 🙂