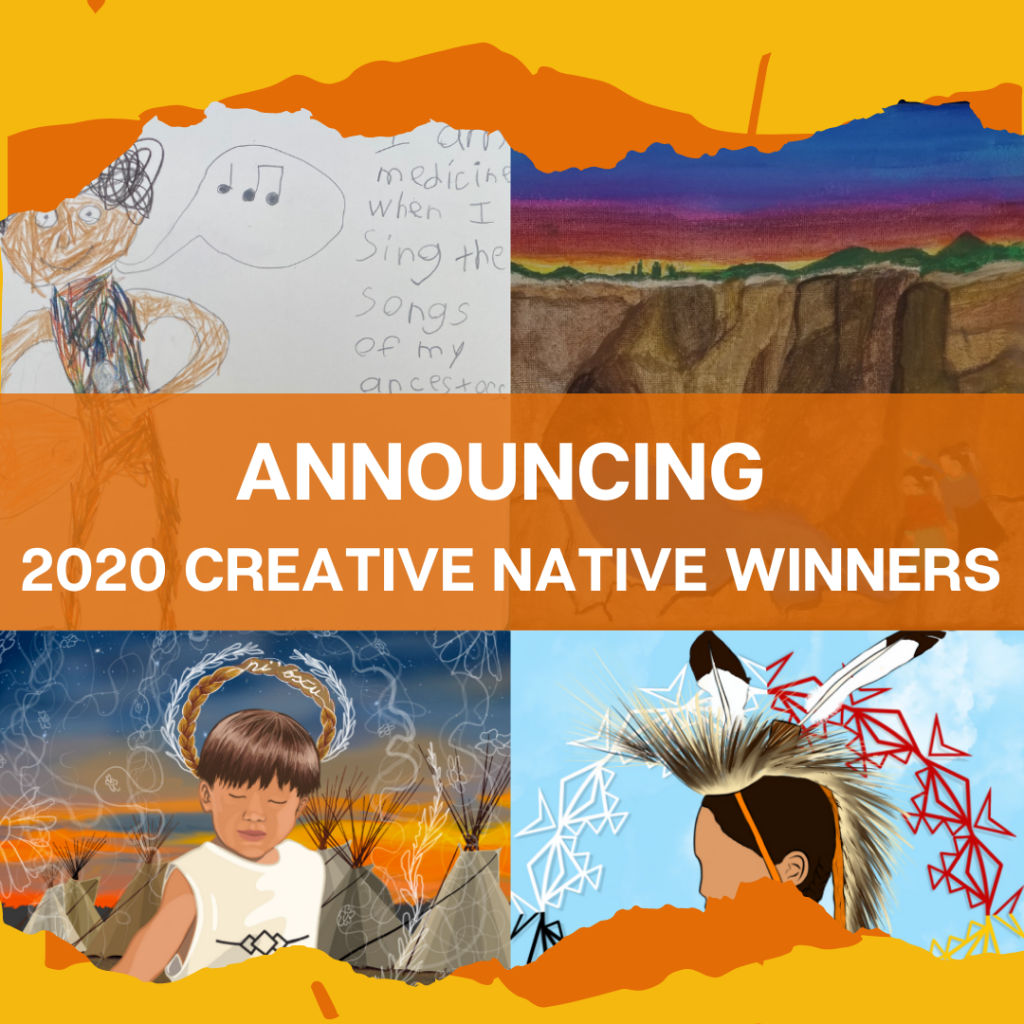 2020 Creative Native Winners Announced
In 2018, the Center for Native American Youth launched its first ever Creative Native Call for Art, an art contest to support Indigenous artists ages 5-24 years old by providing them an opportunity to receive national recognition, and a $250 prize. For the second consecutive year, CNAY partnered with the National Congress of American Indians (NCAI) in the Creative Native Call for Art.
This year's prompt focuses on the strength and resilience of Native youth by answering the prompt: Native you are medicine. Where do I get my strength from?
CNAY and NCAI are proud and honored to announce the winners of each age category.
The grand prize winner will have their artwork featured on the cover of our annual State of Native Youth Report.
5-9 Years Old: Naataani, 8 years old, Navajo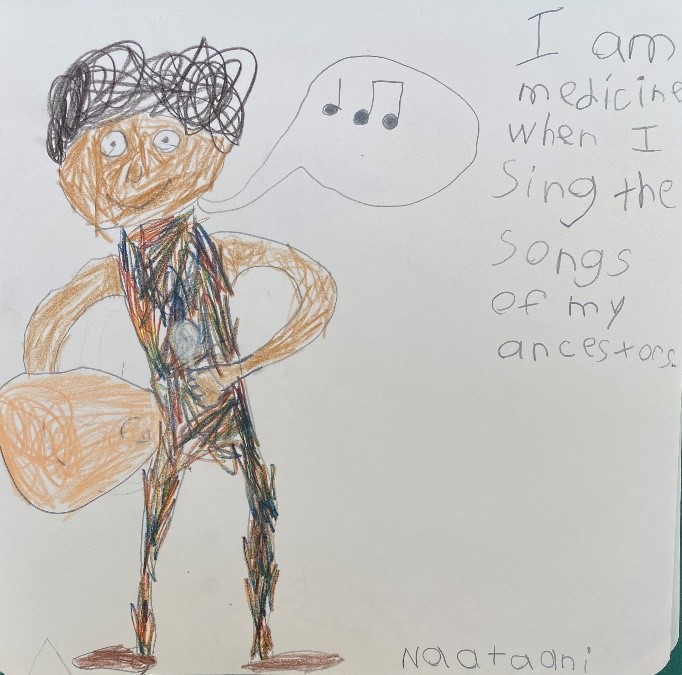 About the Submission: I like to sing for people. It helps them learn new songs & to know that I am Navajo. It also makes my masani & cheii cry happy tears. It makes my nalii's smile. I know my singing helps keep everyone happy, including my ancestors.
Meet the Creative Native: Naataani is an 8 year old in 3rd grade. He performs often by singing/drumming for events. He has advocated for Native American issues such educational rights, pipeline placement, water rights & recognition of Indigenous Peoples Day in his area. Naataani knows that he makes his grandparents hearts and minds happy when he carries on traditions of singing songs & speaking his language. He loves to perform.
10-14 Years Old: Kharma, 11 years old, Navajo
About the Submission: Youth are the future leaders of the world. I am blessed to have a strong mother who teaches me, believes in me, who supports & encourages me, makes sacrifices for me and importantly; loves me. My grandfather and family tell me stories of our people and other tribes and how strong all Native Americans have been. Being bullied and picked on in elementary school hurt because I just wanted to be a friend and have friends. My mother spent many nights talking with me and reminding me to be kind regardless of others actions. My family is my strength.
Meet the Creative Native: Kharma is an 11 year-old who loves music, basketball, art, science, English Language Arts, and her cat Lucy. She is an only child being raised by her mother and is close to her maternal side of her family that encourages her academically and in her extra-curricular activities. She enjoys volunteering at Feed My Starving Children with her mom and friends. Kharma enjoys making up her own choreography to music and traveling with her mother.
15-19 Years Old: Tvli Birdshead, 19 years old, Cheyenne, Arapaho, Choctaw, Chickasaw, Oglala
Grand Prize Winner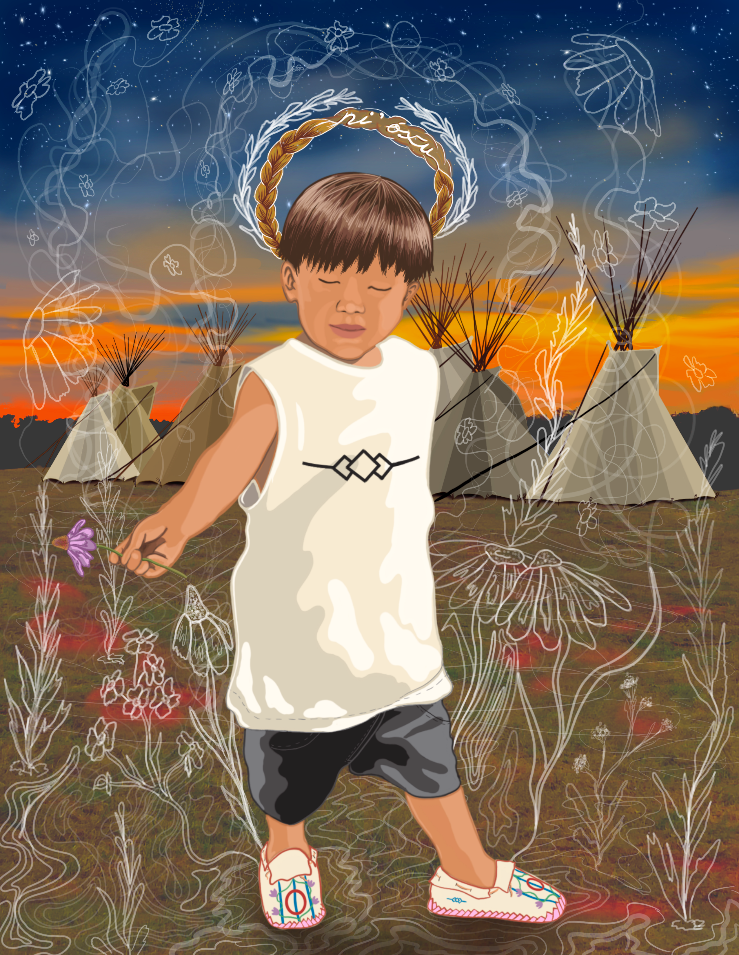 About the Submission: This digital artwork titled, Sweet Medicine Child, made using Procreate, depicts a Two-Spirited boy wandering around campsites at his Sundance, connecting with the land, and brings a flower to show his relatives. Surrounded by the billows of smoke from smoldering medicine, he is at peace and happy. Upon his head is a halo made of sweetgrass and sage. The Arapaho word "ni'óxu," meaning sweetgrass, is a form of utilizing and revitalizing language. I wanted to portray how important the upbringing of Native Youth is. As long as Native Youth live and breathe, there is strength, resilience, and there is resistance.
Meet the Creative Native: Tvli is sophomore at the Institute of American Indian Arts, working towards his Bachelor of Fine Arts, majoring in Studio Arts, and plan to work with Native Youth in his community after graduating. His work is both a reflection of his life and what it means to me to be Two-Spirit. Because of colonization, Tvli has felt unaccepted and disregarded by his own family. To help heal others, he uses many creative platforms by making videos, digital works, paintings, and drawings. Through his artwork, Tvli aspires to help heal others from the physical, mental, and intergenerational trauma his viewers have endured.

20-24 Years Old: Raven Dial-Stanley, 22 years old, Lumbee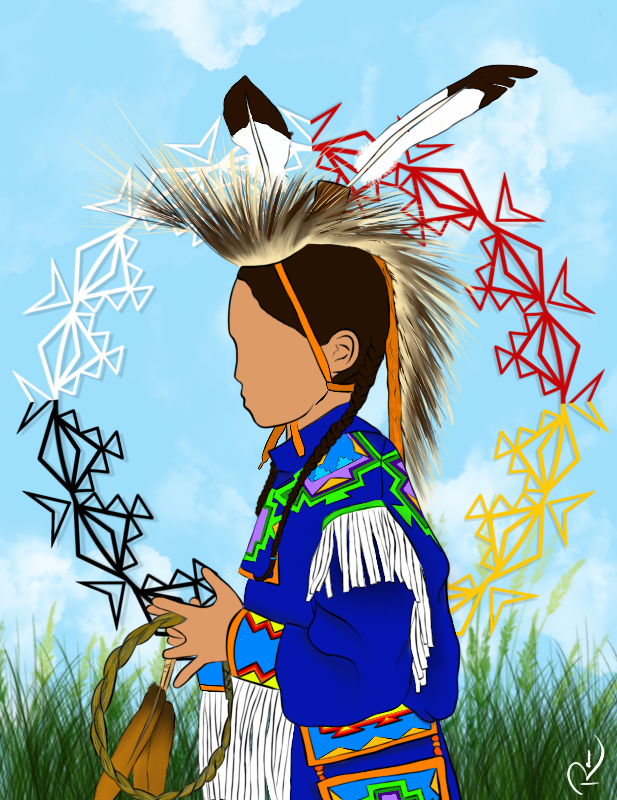 About the Submission: The inspiration from my art comes from a young boy from the Haliwa-Saponi tribe of North Carolina, who I frequently dance with in the powwow circuit. He is a grass dancer and watching him dance is truly medicine. I see the love and passion that he invokes with every footstep. Each honor beat is as if he is hugging Mother Earth. I also choose to do my own rendition of the medicine wheel which is displayed in the background with the colors in the same order as my tribal seal of the Lumbee people.
Meet the Creative Native: Henrietta Raven Dial-Stanley is an enrolled member of the Lumbee tribe of North Carolina; largest tribe east of the Mississippi River. Even though her lineage comes from Pembroke, NC she currently reside in Greensboro, NC. Raven has been diligently working in Native American affairs for the vast majority of her life. In 2018-2019 she served as Miss Indian North Carolina where she became an ambassador for all the indigenous people in the state. In all aspects of her being she employs optimism and creativity. Therefore, Raven uses her artistry to tell the story of her people and their presence.
Contest submissions from other artists will be featured throughout this year's State of Native Youth Report. All submission from the 2020 Call for Art will be added to the Creative Native virtual gallery.