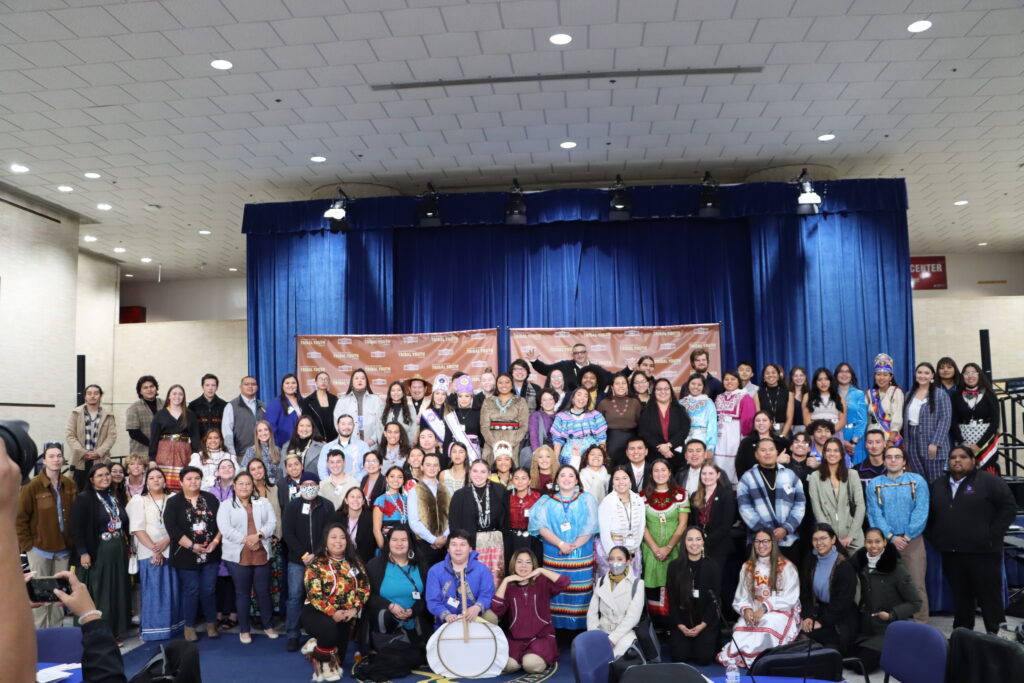 Native Youth attend the 2022 White House Tribal Youth Forum 
2022 White House Tribal Youth Forum
The White House, alongside the Center for Native American Youth (CNAY) at the Aspen Institute and the United National Indian Tribal Youth (UNITY) was proud to gather Native and tribal youth to participate in the 2022 White House Tribal Youth Forum. This forum featured high-level administration officials, special guests from Nike N7, and Native youth discussing a variety of topics and the intersections of mental health, climate change, food sovereignty, language revitalization, and the progress and actions being implemented by the Biden-Harris Administration.
Welcome Remarks
Julie Chavez Rodriguez, Senior Advisor and Assistant to the President and Director of the White House Office of Intergovernmental Affairs, and youth moderators Anthony Tamez (Cree/Lakota) and Chenoa Scippio (Diné/Kha'p'o Owingeh) welcomed everyone to the forum. Shortly after, we were joined with welcoming remarks by the Secretary Deb Haaland (member of the Pueblo of Laguna), of the Department of the Interior. She relayed her enthusiasm of seeing Native youth from all backgrounds coming together to learn from each other, grow their knowledge on the issues impacting Indian Country today, and to laugh and make new friends along the way.
Panel One: Climate Adaptation and Resilience Session
To introduce the first panel, we were joined by Raina Thiele (Dena'ina Athabascan and Yup'ik and an enrolled member of Pedro Bay village), senior advisor to Secretary Haaland for Alaska affairs & strategic priorities. The panelists included Assistant Secretary for Indian Affairs Bryan Newland (citizen of the Bay Mills Indian Community (Ojibwe), Kalikoonāmaukūpuna (Kaliko) Kalāhiki (Native Hawaiian), and Sam Schimmel (Siberian Yupik and Kenaitze) and Dr. Len Necefer (Navajo Nation), Founder and CEO of Native Outdoors who together discussed the current climate situation impacting Indian Country. Each touched on the importance of advocacy, showing up to the fight, and utilizing your voice at all levels of government. Assistant Secretary Newland relayed the work the Department of the Interior has done to mend relationships between tribal nations and the federal government. Projects and initiatives such as the co-management between the Bureau of Land Management, United States Forest Service, and tribes of the Bears Ears National Monument were of those mentioned. In the public sector, Dr. Necefer shared his experiences working alongside Patagonia and lobbying against the mining happening within Oak Flat in Arizona. Additionally, Dr. Necefer shared how his company, Native Outdoors, is working with influencers, athletes, and filmmakers to tell the world about the effects of climate change and mining. The panel inspired youth to continue working to protect our lands, waterways, and sacred sites.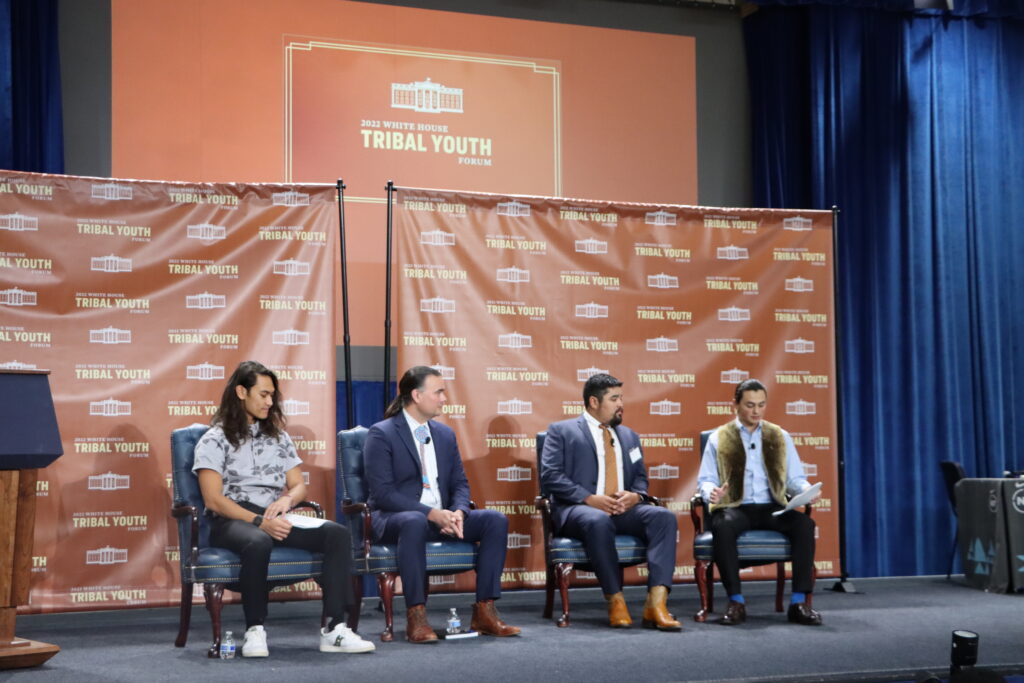 Special Message: NASA Mission Commander Nicole Mann
Joining us from 248 miles above, at the International Space Station (ISS), was astronaut Nicole Mann (Round Valley Indian Tribes). Mann, who is the first Native American woman to go to space, shared the importance of dreaming big and fighting hard to achieve your dreams. While floating around the ISS, she shared NASA's plans for space exploration and the collaborative efforts between the government and the commercial sector. Mann is an inspiration to Native youth, encouraging them to continue to occupy spaces that Indigenous Peoples previously have not accessed.
Panel 2: Native Food Sovereignty and Security in Indian Country Cooking Demonstration
From the Department of Agriculture, Deputy Secretary Jewel Bronaugh, Deputy Undersecretary Stacey Dean, and Director of the Office of Tribal Relations Heather Dawn Thompson (Cheyenne River Sioux Tribe) shared the work being done to address food insecurity throughout Indian Country and the details behind the agency's Tribal Feeding Program. The program will enable Tribes to source traditional food that reflects traditional foods and culture. Tribes will also have federal government support through the Indigenous Food Sovereignty Initiative. This will have Tribes acquire the capacity to host nutrition sessions with their communities, encourage a healthy diet, and have the foods available to aid in decreasing food insecurity. Additionally, the USDA will reevaluate its processes in incorporating Indigenous foods into school lunch programs. Deputy Undersecretary Stacey Dean shared an example utilizing the bison. If a community hunts a bison, it is not currently able to be utilized and distributed in school lunches. Traditionally, the bison was the main source of sustenance for many tribes. Therefore, it is of great importance to ensure Native youth have ample access to their traditional foods.
Chef Sean Sherman (Oglala Lakota) and Chef Crystal Wahpepah (Kickapoo) are working to increase this access while also sharing Indigenous foods with mainstream society through their own restaurants. Together, the two prepared a delicious healthy snack for all forum attendees, introducing innovative ways to cook healthy meals utilizing traditional foods. Chef Sherman prepared spaghetti utilizing bison meatballs while Chef Wahpepah prepared a peach cobbler. While they cooked they shared various stories and knowledge. Chef Sherman underscored that climate change is not solely affecting the environment but also our food, for example the crab population in Alaska. With the cost of crabs increasing, Sherman was forced to find new substitutes for various dishes he prepares. He relayed to the youth that food is versatile and you can explore different avenues and find fun ways to stay healthy.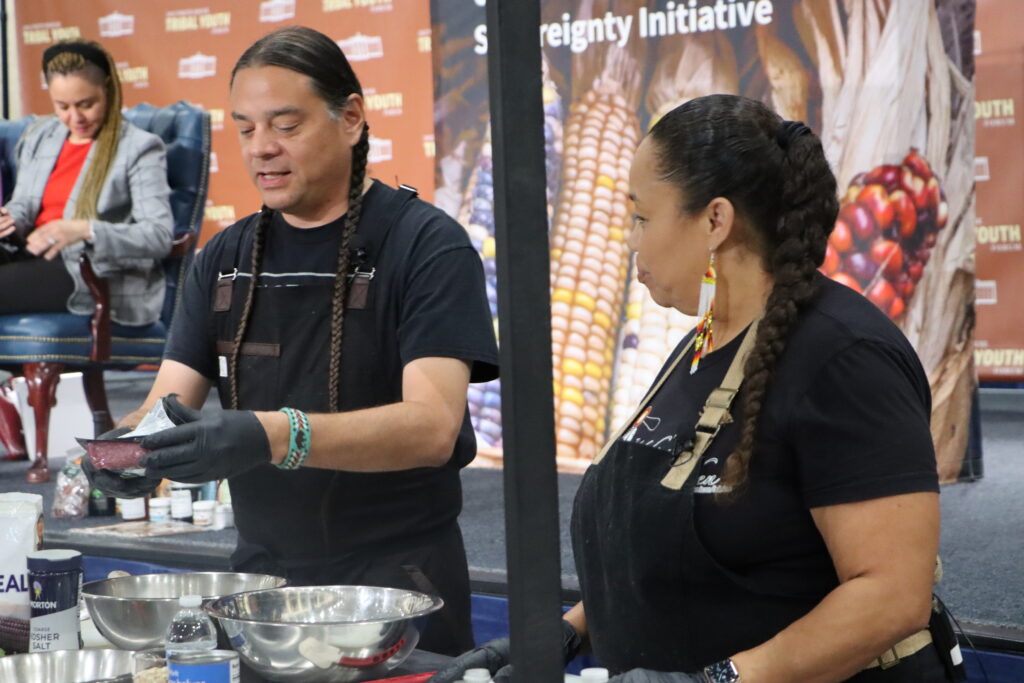 Panel 3: Native Languages and Education Session
The Native Languages and Education session kicked off with Triston Black (Navajo Nation) introducing himself and welcoming everyone in his Navajo language. Cindy Marten, Deputy Secretary of the Department of Education, joined the panel and spoke about how education can be equitable to every student across the country. She also discussed the various language revitalization efforts the Department of Education is leading.
Triston Black and Chelbie Turtle (Cherokee) engaged all youth with a group activity to discuss key issues and solutions for Native languages and education. Youth were able to brainstorm language revitalization initiatives with their peers which included better funding, resources, access to classes, and needs when learning. After the workshop, youth representatives shared their proposed ideas and planning with a group of representatives from the Department of Education and Indian Education. The panelists listened to each group and expressed their appreciation for the work that has been done and will continue to be done by all the youth attendees. When discussing the importance of language revitalization, Wizipan Garriott (Rosebud Sioux Tribe), Principal Deputy Assistant Secretary for Indian Affairs, left a message stating, "Language is important, because it's a part of our identity…Two ears, one mouth. – Listen twice, speak once."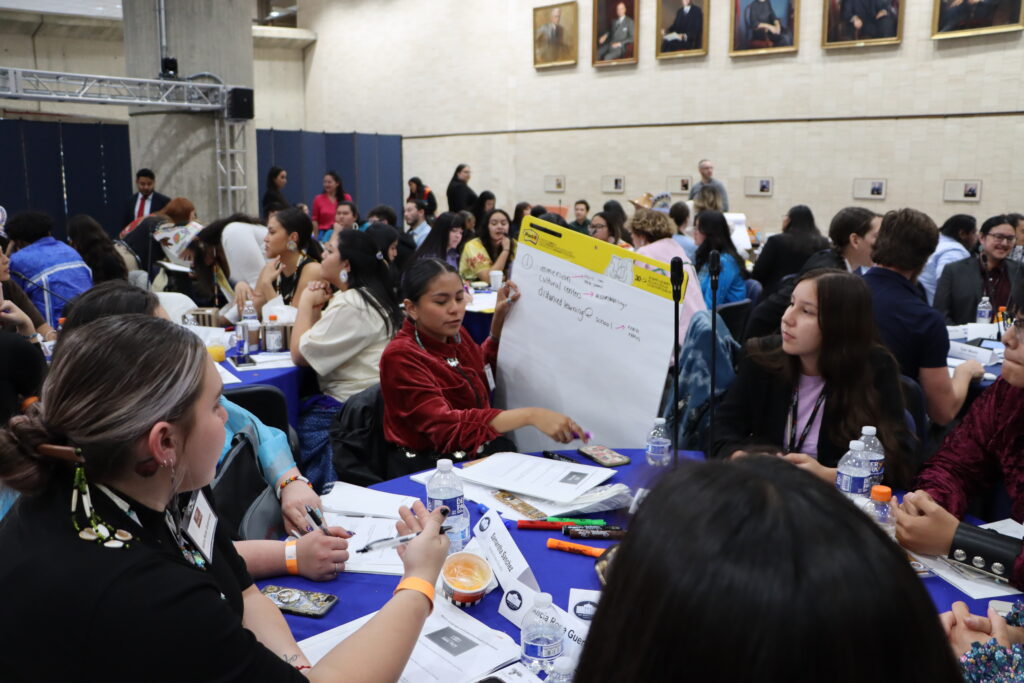 Panel 4: Fireside Chat with Celebrity Guests
Afternoon emcees Rebecca Villalobos (San Carlos Apache and Omaha) and Lourdes Pereira (Tohono O'odham) kicked off the afternoon session and introduced our next panel. The panel included fashion model Quannah Chasinghorse (Oglala Lakota/Hän Gwich'in), Miss Indian World Tashina Red Hawk (Sicangu Lakota), Hulu's Prey Amber Midthunder (Fort Peck Sioux) , and FX's Reservation Dogs D'Pharaoh Woon-A-Tai (Oji-Cree First Nation).
This session's moderators Shanell Lavallie (Aanih and Nakoda) and Ivy Pete (Pyramid Lake Paiute and Blackfeet) asked panelists about career beginnings. D'pharaoh shared he always had an interest in acting as a kid, playing with a cam-corder. His advice was to not change and to always be yourself because it is needed in the film industry. Amber Midthunder discussed the issue of lack of representation in the film industry and how it can be solved by creating more opportunity and access for Native people to those spaces. Midthunder shared solutions such as creating more Indigenous roles, internships for Native people on film sets, and Native casting agencies.
Chasinghorse shared that representation is more than magazine covers, appearances, and events, but also includes how Native people are viewed and treated behind the scenes. Her journey has included being the only Native woman on sets, microaggressions, and lack of education of Native people. Although, she did mention the change she has seen in the industry. Noting she has been welcomed in spaces and encouraged to share her identity as an Indigenous woman. Her advice to Native Youth was to unapologetically be themselves and always protect their well-being and peace.
Miss Indian World Tashina Red Hawk shared how her upbringing and traditional values have brought her opportunities and have been integral in the leader she is and strives to become. Her advice for youth attendees was to acknowledge the leadership in themselves and to pursue their dreams and goals. Tashina concluded the panel with her favorite quote that she has always lived by, "Don't tell me the sky's the limit when there are footprints on the moon."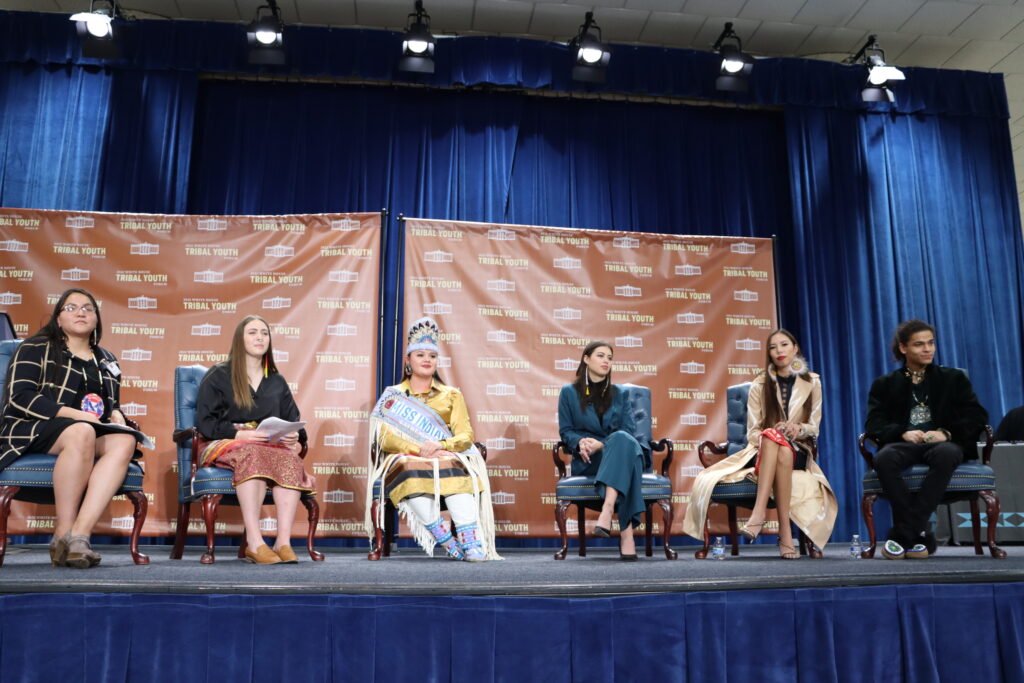 Panel 5: Mental Health Session
Secretary Xavier Becerra of the Department of Health and Human Services opened up the mental health session by expressing the importance and need for youth leaders. Secretary Becerra stated he has learned from advocates, his support for youth, and the change he looks forward to from the upcoming generation. The mental health session continued with moderator Assistant Secretary Department of Health and Human Services January Contreras and panelists Alethia Belleque (Yupik), Lakota Beatty (Dakota/Caddo/Gros Ventre/Assiniboine), and Joey Gonzales (Chumash/Tataviam/Mexican).
Alethia shared her personal struggle with identity growing up. She shared how learning and experiencing more of her Yupik culture has been healing and life-changing. Lakota followed up with her own personal story of becoming an advocate for mental health for Native people. She discussed the lack of resources, culturally competent health specialists, and the need for more conversations regarding mental health and wellness among Native people. Lakota hosts basketball youth camps that center Native youth and aspires to become a counselor and open her own practice for Native communities. Joey shared how he navigates his own mental health. He read a poem he wrote addressing feelings of anxiety and finding his peace in hopes that his fellow peers would know they were not alone in their struggles. His words of advice focused on the power Native youth hold and to always take care of themselves throughout their journey.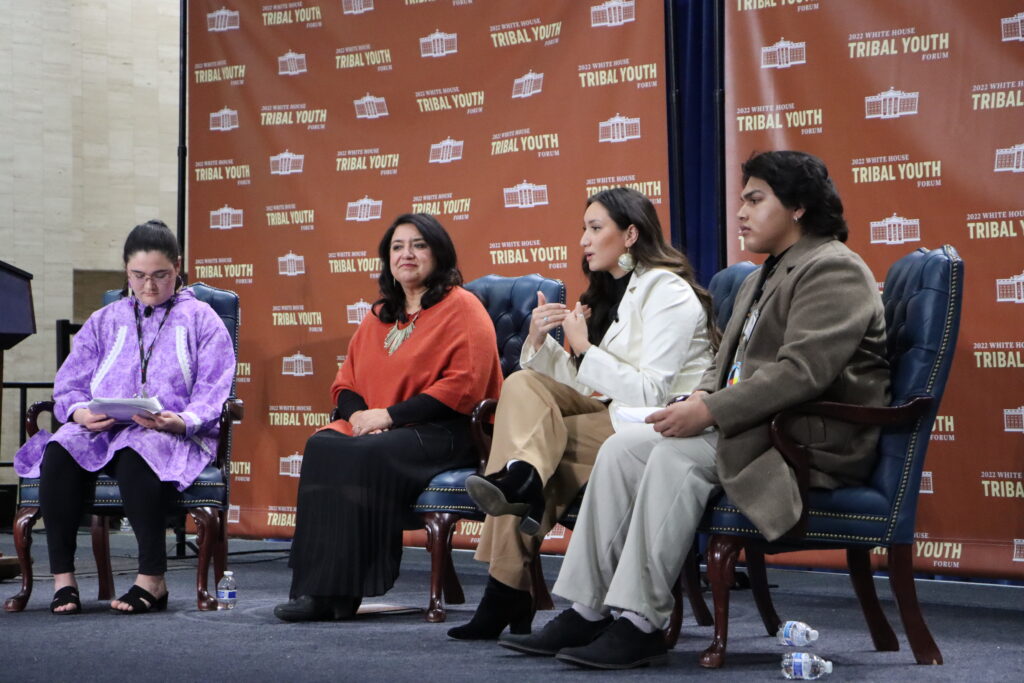 Panel 6: Nike N7
General Manager and Founder of Nike N7, Sam McCracken (Assiniboine Sioux), along with N7 athletes Janee Kassanavoid (Comanche) and Lauren Schad (Sioux) took the stage as the final panel of the day. McCracken shared his journey to establishing Nike's N7 and his unwavering support of Native youth and Native athletes. He wants Native youth to have the opportunity to see themselves in athletes of all sports. Kassanavoid and Schad shared their encouragement and their utilization of culture and community as a core value in their work. To close out the panel, McCracken held a drawing and randomly selected two young leaders in attendance to receive an entire N7 outfit "head to toe", directly from McCracken. The raffle announcements and energy created by the panel had Native youth clapping and cheering for each other. It was a wonderful energy to close out the formal sessions.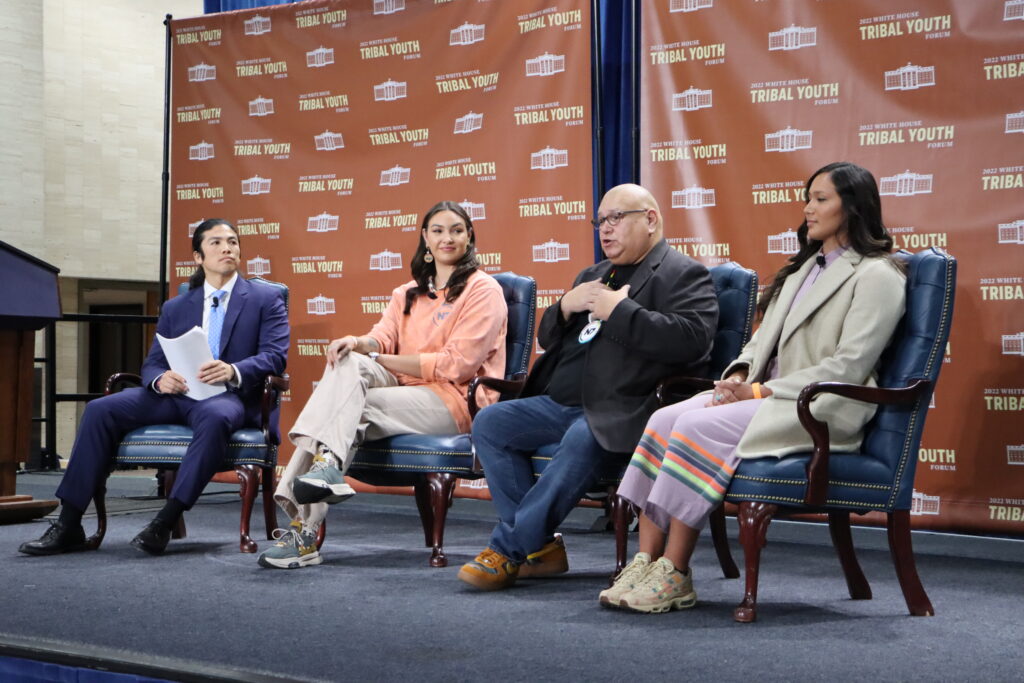 Closing Acts
The forum was brought to a close with a poem by Kinsale Drake (Diné), a prayer song by CNAY Youth Advisory Board Member Isabella Madrigal (Cahuilla Band of Indians), and a traditional dance and song performance by four youth from the Alaska Native Heritage Center. The Native youth in attendance were able to build community together, uplift strengths and concerns to government officials, and be heard. All returned home excited to continue their work to enhance our tribal communities.