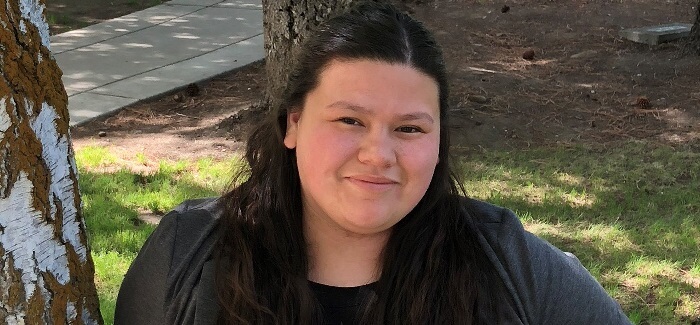 Native Youth Autumn Adams Advocates for Foster Care Reform
The Center for Native American Youth partnered with the National Foster Youth Institute to increase Native youth participation in its Congressional Shadow Day program and host a roundtable discussion on Native foster youth issues. The following blog post was contributed by program participant Autumn Adams. 
---
Watching my younger brother screaming and crying while being dragged down a sterile hallway by strangers is the hardest thing I ever had to do. I fought and tried my hardest to get to him, but I couldn't. When I lost sight of Trent I was thrown back into a grey room with my youngest brother crying in the corner. The only thing to keep us company was a two-way mirror, the faint sounds of a door closing, and muffled talking. I sat in that room for hours, scared of losing my youngest brother while grieving the loss of Trent and our connection to our culture. That day, my voice was stolen from me and replaced by a stranger's, whose only goal was to get us off her docket. This is why I advocate for the younger generations who are fighting now or will someday need to fight for their own survival in foster care.
Through the National Foster Youth Institute's Congressional Shadow Day Program, I learned crucial skills and methods to expand the impact of my story and advocacy. I was surrounded by former foster youth with similar stories to my own, which created the foundation for a solid peer network. This network proved irreplaceable for what turned out to be emotional week. I would not have been able to finish the program without the people I met.
Having survived the foster care system in Washington State, I understand the system at a level most people will never be able to fathom. This program allowed me to draw on my perspective and inform members of Congress on a wide range of issues. One workshop required every state to lead a presentation about foster care issues and needed reform. I and other Native youth shared stories and ideas with leaders who are fighting on the House floor to support foster youth and advocate for full reform. I also participated in a roundtable hosted in partnership with the Center for Native American Youth, where my peers and I shared more about how our lives were changed by the system and what others can do to help. A recurring theme was the importance of maintaining cultural ties.
One of the hardest things I had to cope with while in foster care was the stripping of my traditional culture I was raised with beforehand. As a result, I struggled with a loss of identity. I found myself constantly asking Who am I? Where do I fit in society? How can I reconnect? But being around other Native youth during this program helped me to transition from a feeling of isolation to a feeling of acceptance. I wasn't second guessing whether I belonged anymore; instead I was looking at ways to help younger generations find the same acceptance I did.
Overall, the Congressional Shadow Program changed my life. I came to the realization that my past does not define my limits of achievement. I now understand the importance of transcending from survivor to advocate. Only through change can we prevent future generations from having to be survivors. We can become the change we want to see in the world.
---
About the Author
Autumn Adams is a proud enrolled member of the Confederated Tribes and Bands of the Yakama Nation in Washington State. She grew up in Washington State, where her family had no running water or electricity, and her parents were incarcerated for most of her life. Autumn entered the foster care system at nine years old, after her father committed suicide.
Although the beginning of her life was challenging, Autumn made the best out of every situation and successfully graduated from high school. Since then, she's gained custody of two of her younger siblings while attending Central Washington University. She will graduate in June 2019 with a BA in Anthropology and two minors in Museum Studies and American Indian Studies. She then plans to pursue a joint JD and PhD in public policy.
Autumn's overall goal in life is to ensure a better future not just for her own siblings, but for children who are often left voiceless.