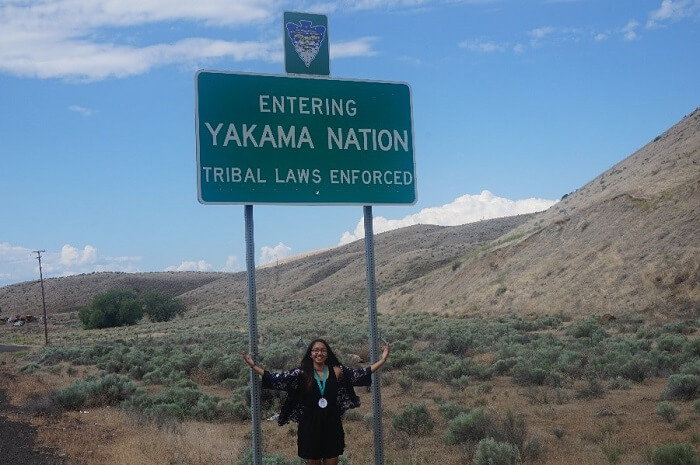 Champion for Change EllaMae Looney Presents at ATNI
EllaMae Looney is 17 years old and an enrolled member of the Confederated Bands and Tribes of the Yakima Nation. This year, she will graduate from Nixyaawii Community School in Pendleton, OR. In the fall, EllaMae will attend University of Oregon on a full scholarship, where she will study linguistics to support more language preservation for her community.
As a Champion for Change, EllaMae works to preserve three indigenous languages: Walla Walla, Nez Perce and Umatilla.On May 23, she presented this work to over a hundred tribal leaders and tribal stakeholders at the Affiliated Tribes of Northwest Indians (ATNI) Mid-Year Convention. CNAY staff Nikki Pitre co-facilitated a presentation with EllaMae during general assembly that introduced the work of CNAY. The two then issued a challenge to Northwest tribal leadership to engage and empower their youth through local recognition programs.
EllaMae is also poet. She recited one of her original poems entitled "Make America Native Again" at general assembly and received a standing ovation. Scroll down to read the piece.
After the general assembly, Nikki and EllaMae met with tribal leadership. Northwest tribes are determined to be more engaging with their youth, and several tribal leaders are working to identify candidates for CNAY's Champions for Change program.In our traditional ways, we know we are all related. It was a proud moment to see tribal leaders shake EllaMae's hand and share their relations and ties. Nikki and EllaMae also traveled to the Yakima reservation, where EllaMae was able to visit with family.
Photo: EllaMae with Yakima Nation Vice Chair Virgil Lewis
Photo L t R: Terri Parr, Executive Director of ATNI, Casey Wyncoop, Director of wǝɫǝbʔaltxʷ (University of Washington's Intellectual House-Longhouse), EllaMae Looney and Nikki Pitre.
CNAY is grateful for the work of ATNI and looks forward to working with tribal communities in the Pacific Northwest for the next generation.
---
Make America Native Again by EllaMae Looney
Make America great again. Make America NATIVE AGAIN.
You said "Kill the Indian, save the man." You killed everything that was Indian. You took them away from their families and stripped the buckskin off their back. You removed them from their villages and placed them in boarding schools. You cut off their hair that holds so much power. You took their land and poisoned it. You snatched their Native tongue out their mouth. And beat them to death if they ever speak the language. You make them destroy their own identity.
But wait…That's in the past. We do not speak of the past. Forget and move on. Because in your eyes "The only good Indian, is a dead one."I learned you English. I learned your religion. You learned my nothing. You called me stupid. I'm a savage because of the buckskin I wear. I'm uncivilized because I live off the land.
But wait… My land is no longer my land. My language is no longer my language. My tongue no longer forms the words my ancestors once spoke. How will the creator hear me? He does not understand English. Only my spirituality is left.
Make America great again. MAKE AMERICA NATIVE AGAIN.