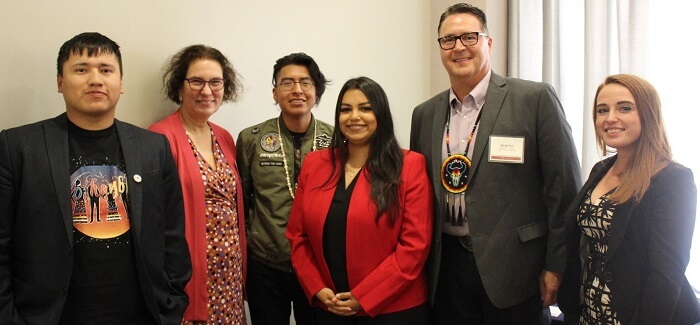 Native Youth Speak at Casey Family Programs Tribal Leader Meeting
Native youth panelists LtR: Damien Carlos, Jessica Bradby, Isabel Coronado, Kendrick Eagle
On May 14th, Casey Family Programs hosted their annual National Tribal Leaders Meeting in Washington, DC. The meeting brought together stakeholders to discuss the child welfare system in Indian Country. Four Native youth leaders – Kendrick Eagle, Jessica Bradby, Damien Carlos and Isabel Coronado – served as panelists and presented their respective advocacy efforts to tribal leaders in attendance.
Kendrick, a member of the Standing Rock Sioux tribe, was recently elected co-chair of CNAY's Youth Advisory Board and has been a Gen-I Ambassador since the inception of the Generation Indigenous movement. Kendrick shared his experience of meeting President Barack Obama and First Lady Michelle Obama during their 2014 visit to Standing Rock, and spoke about how that visit has since impacted his advocacy efforts. As one of the youth who helped inspire Obama's Gen-I movement, Kendrick was able to reflect upon Gen-I's progress and successes, while also discussing its current needs. Additionally, Kendrick shared his personal story as a youth leader in his community. Raising his four younger brothers, Kendrick was especially interested in discussing the importance of keeping families together.
Jessica, a member of the Pamunkey Indian Tribe, was recently selected as a 2018 Gen-I Native American Career Success Fellow. As a Fellow, she joined CNAY in New Orleans for the Native American Finance Officers Association's conference, where she and her cohort engaged with leaders in tribal business and finance. During this panel, Jessica shared her experience at the NAFOA conference and the positive connections she made while there. Additionally, she spoke about the importance of mental health awareness and supporting Native students to live healthy lives while achieving success in higher education. Jessica is working hard to learn as much as she can about her culture to support her tribe and promote well-being within her reservation.
Damien, a member of the Tohono O'odham Nation, is a 2018 CNAY Champion for Change. Damien spoke to tribal leaders about his experience moving to the Tohono O'odham reservation in high school and the positive impact that had on his life. Culture and cultural revitalization among Tohono O'odham's youth is Damien's passion and where he devotes most of his energy, citing his culture as the most positive influence in his life. In response to an audience question, Damien advised tribal leaders that Native youth are eager to engage in cultural activities. They simply need an invitation, a ride, and food.
Isabel, a member of the Muscogee Creek Nation, is also a 2018 CNAY Champion for Change. Isabel spoke to tribal leaders about her work advocating for criminal justice reform in Oklahoma. Tapping into her own story of growing up with incarcerated parents, Isabel expressed how important it is to support and nurture youth whose family members are in prison. Additionally, Isabel spoke about the importance of destigmatizing incarceration itself, explaining that youth with parents in prison are oftentimes bullied and ostracized. Lastly, Isabel explained that unless we help these youth, they are statistically likely to end up within the justice system themselves.
The four youth panelists got the opportunity to visit with tribal leadership after their session, and were invited to attend the remainder of the Tribal Leader Meeting. CNAY is proud to support these young leaders, and proud to partner with Casey Family Programs to foster dialogue around important issues affecting tribal nations.
Native youth panelists with Casey Family Programs staff. LtR: Kendrick Eagle, Anita Fineday, Damien Carlos, Isabel Coronado, Mote Fox, Jessica Bradby.
---
This post contributed by Aaron Slater and Nikki Pitre.