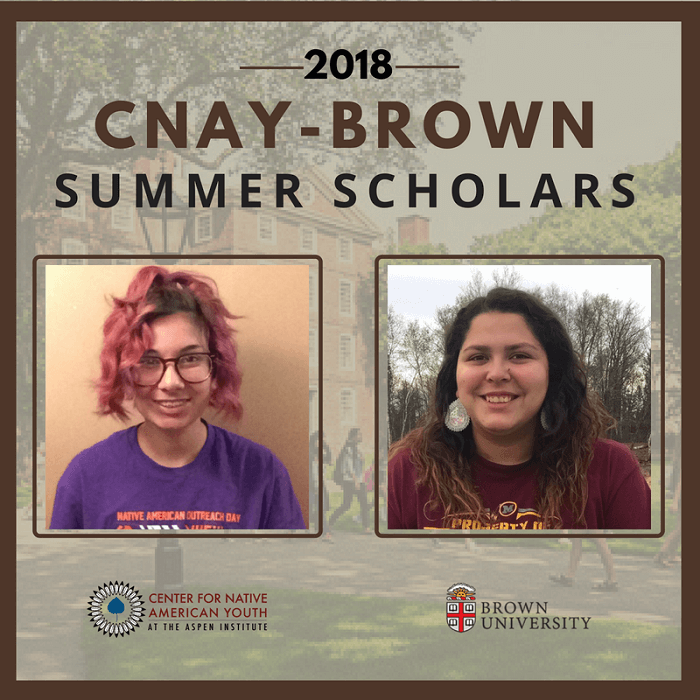 Claudia Elm and Taytum Weaver Named 2018 CNAY-Brown Scholars
CNAY is proud to have partnered with Brown University Pre-College Programs to offer full-tuition scholarships for two Native students to attend a course at Brown this summer. We're pleased to recognize Claudia Elm and Taytum Weaver as our 2018 CNAY-Brown Summer Scholars!
Claudia Elm
Haudenosaunee Confederacy
16 years old
Hometown: Akron, New York
Program: Summer@Brown
Claudia is 16 years old, Haudenosaunee, and a junior at Akron High School in Akron, New York. She accredits her background and culture with shaping her views on the world around her, and believes everyone should live life to its fullest potential.
While Claudia has experienced challenges related to her Indigenous identity and interests, she finds strength and power in her art, family, and community. She participated in the Standing Rock movement with her family, where she donated food and stood in solidarity with the Water Protectors there. Claudia hopes that demonstrations like these will lead to Indigenous voices being heard, especially when it comes to the protection of water.
In her home community, Claudia encourages others to be proud of who they are and to stand up for positive change in the world. She believes that when youth stand up for what they believe in, they create leaders for Indian Country who are "truly and authentically themselves".
As an artist, Claudia wants to create art that makes a political impact on her culture and helps her community "be more accepted to the world". Her goals include becoming an illustrator or designer. She infuses elements of her Indigenous identity into all her work and will pursue college to improve her abilities. Those who know her describe Claudia as mature, diligent, positive, and caring.
Claudia will attend the "Trends in Modern Art" this summer at Brown. She is interested in exploring how modern art can help her understand different points of views on politics and pop culture. "Modern art has been pushing the boundaries of expression and what is perceived as 'normal'," she says. "I want to expand my knowledge on what artists from the past have created, and study how they've made an impact with their art."
We're excited for you to learn and grow this summer at Brown, and in all your future endeavors! Congratulations, Claudia!
---
Taytum Weaver
Minnesota Chippewa Tribe – White Earth Band
17 years old
Hometown: Naytahwaush, Minnesota
Program: Brown Leadership Institute
Taytum is 17 years old, an enrolled member of the Minnesota Chippewa Tribe from the White Earth Band, and a senior at the Mahnomen Area Learning Center in Mahnomen, Minnesota.
Taytum's culture is a major influence in her life. She believes that taking time to learn from her elders is important and lives by the seven Ojibwe values: love, truth, wisdom, humility, respect, courage, and honesty. These values have helped Taytum persist through many challenges, including depression and anxiety.
Taytum worked through her barriers to maintain focus on her education, volunteerism, community work, and leadership. She particularly enjoys volunteering to help with elder dinners and the annual White Earth Reservation Powwow. She was named 'Youth of the Year' by the Boys & Girls clubs of the White Earth Reservation in 2018 and was one of three youth selected to represent her tribal community at a national Native youth summit in 2016. When she was young, Taytum learned that less than 40 percent of students in her school reach graduation. From then on, she was determined to finish high school and go on to college. Taytum will attend Haskell University as a first-year undergraduate this fall, a goal she worked hard to achieve. Her recommenders described her as a fighter who is determined to finish what she starts, and who always gives 100% to everything she does.
Taytum is attending the Brown Leadership Institute this summer, where her focus will be "Sustainable Leadership: Self-Care, Community and Activism". She aims to learn more about herself and her leadership style so that she can strengthen her endeavors, especially as a growing advocate in the Missing and Murdered Indigenous Women awareness movement. She looks forward to sharing her unique view of the world as an Indigenous person raised on the reservation, and is excited to learn from her classmates as well.
---
To learn more about CNAY's partnership with Brown University (including how you can be part of expanding opportunities like this for more Native students), contact our team.