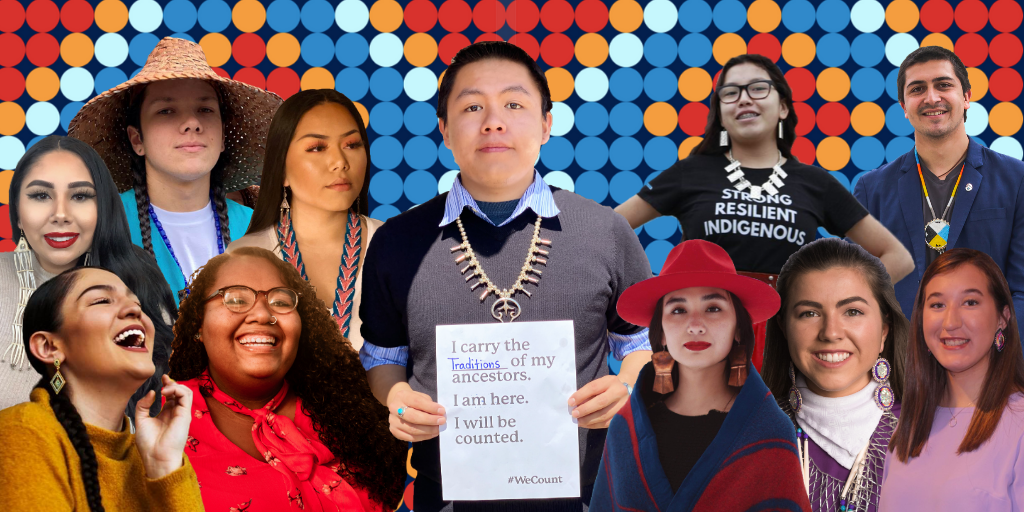 Native Youth Will Be Counted
You may be hearing a lot about the Census and may be thinking, why is my or my communities participation important? By taking the census you help provide information that helps policymakers, local officials, companies, and organizations assess the resources and needs of communities across the country.
We are talking about federal dollars for programs you care about, like housing, transportation, healthcare, and the education system.
All information you provide is kept strictly confidential and your responses cannot be used to identify you in any way. If you want to learn more about your privacy, you can watch this video from the U.S. Census Bureau here.
The results of the 2020 Census will help determine how hundreds of billions of dollars in federal funding flow into communities every year for the next decade. That funding shapes many different aspects of every community, no matter the size, no matter the location.
Ways To Get Involved
The 2020 Census is more than a population count. It's an opportunity to shape your community's future. Through your social media channels, your voice can make a difference. Encourage your friends and family to complete the census today.
Share with us why you will be counted by using the #WeCount and be sure to tag us on Instagram @Center4Native and @GenIndigenous.
Read what Native youth have to say about the importance of being counted.
"The 2020 census is important because if we are able to provide an accurate number of Indigenous people across the country, the census will provide adequate funding and necessary resources, such as tribal housing; transportation, health care, and education for our communities. It also provides proper representation for all Native nations to ensure that we will have visibility in the decision-making process, so that the United States will live up to its true responsibility to all tribes. We will be able to have a positive impact on the next generation to come. It only takes 10 minutes to complete but it will define who we are for the next 10 years. Nída'haa níídzin dóó Níjaanídizin… We are important and We Matter," said Roger Beyal, Navajo Nation, Generation Indigenous Ambassador.

"The census provides visibility for our communities. We are human beings that have been here since time immemorial. It is only fitting that we are counted. This data provides opportunity for possible future funding and overall representation. As Indigenous people we consistency face efforts to erase our history and existence. However, this represents Indigenous people who continue to live and the resiliency of those who came before us," said MyKel Johnson, NiMiiPuu (Nez Perce), Generation Indigenous Ambassador.
"Since 1884, about 23 years before Oklahoma became a state, The Choctaw Nation has formally been counting its citizens to ensure proper representation of it's people. This is what my ancestors have done in times before colonization. I will carry this tradition of my ancestors and I am not afraid to be counted," Sarah De Herrera, Choctaw Nation, Generation Indigenous Ambassador.
"The 2020 Census is important and crucial to American Indian & Alaska Native communities because we are here, and we will be counted. The Census is a way that we can show our numbers and the growth of our communities. We aren't frozen in time and we can directly disprove that through the 2020 Census. Get out there and be counted! I carry the medicine of my ancestors. I am here. I will be counted," said Owen Oliver, Quinault (Chinook) & Isleta Pueblo, CNAY Youth Advisory Board Member, 2020 Champion for Change.
"The census matters so that our people can fight against the historical undercounts of our population and receive the federal funding that our communities deserve," said Jaidyn Probst, Lower Sioux Indian Community, Generation Indigenous Ambassador.
"Our voices matter. Our continued and everlasting presence still here on this continent matters. For me, it matters that we carry on the teachings of how to live in universal balance with each other and the earth. It matters that we carry on as an example for all the world, and for that, we must be visible to create such an impact. In the generations to come, let us be able to tell our children that we did everything we could to stand up and make sure that our presence was known, that we were counted. Remember, our next opportunity to complete the census again will be in 10 years. Let's do our part now! I carry the teaching of my ancestors. I am here. I will be counted," said Brittany Faith McKane, Mvskoke & Seminole, Generation Indigenous Ambassador.

"I carry the energy of my ancestors. I am here. I will be counted," Jasmine Phetsacksith, Osage Nation, Generation Indigenous Ambassador.

"Complete the census today if you haven't already. It's an important reminder to the rest of this country that we are still here, we matter, and we're as determined as ever," Michael Charles, Navajo Nation, 2018 Generation Indigenous Movement Builders Fellow.

"The Census is important because it makes sure all youth, like my sisters, are accounted for. Since Indigenous people are the most under reported ethnicity in the United States, being counted ensures that adequate funding for health, education, and housing is allocated to the Tribes which provides a better future for every single member of our Indigenous communities. Youth can do their part to help our Tribes by making sure that the adults in their lives completes the Census online, by phone, or by mail. We have survived in the face of adversity, so now we need to stand up and get counted as the resilient people we are," Jazmine Wildcat, Northern Arapaho, 2020 Champion for Change, Youth Advisory Board Member.

"It is important for youth to be counted because we are the future of our communities and it is our responsibility to make sure our communities have the resources to continue growing and thriving. By taking part in Census 2020 we are advocating for our people and paving the way for the generations that will come after us. Be a leader, be counted. "I carry the prayers of my ancestors. I am here. I will be counted," Mikah Carlos, Onk Akimel O'Odham, Tohono O'Odham &Piipaash, Youth Advisory Board Member.

"I carry the resilience of my ancestors. I am here. I will be counted," said Maka Monture Päki, Tlingit & Mohawk, 2018 Generation Indigenous Movement Builders Fellow.

"Taking part in representing our people, and actively trying to benefit the community by doing all you can, including taking the census, is an opportunity that shouldn't be wasted. I carry the dreams of my ancestors. I am here. I will be counted." Lyric Aquino, Tewa from Ohkay Owingeh Pueblo, 2019 NAJA Fellow.
How To Respond
The 2020 Census will ask a few short questions about you and everyone who is or will be living with you as of April 1, 2020.
For the very first time, you have the option to choose to complete the census online, by phone, or by mail. Find out more about each of these methods below:
You can visit https://2020census.gov/en/ways-to-respond.htmlfor answers to your questions or by visiting http://wecount.uihi.org.
List of Native American Organizations with Census Resources: