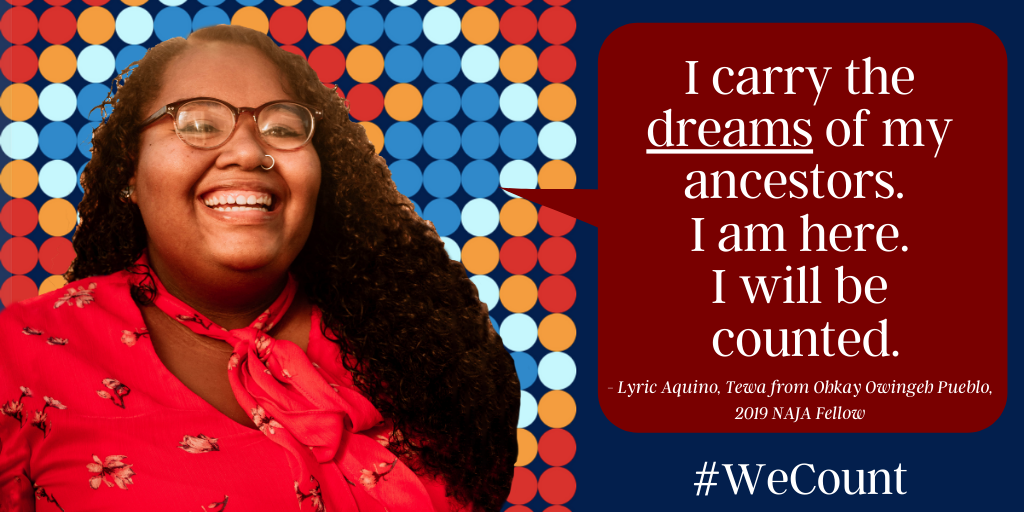 Indigenous Youth: Be Bold, Be Present, Be Counted
By: Lyric Aquino, Tewa from Ohkay Owingeh Pueblo, 2019 NAJA Fellow
When I check my ethnicity on government forms, I can't help but smile to myself as I press my pen to paper and select the American Indian or Alaska Native box.

Less than 100 years ago, my Indigenous ancestors, their friends and loved ones weren't considered citizens, unjustly deemed as "others" in a world that failed to recognize their humanity.

It's known that Indigenous people are the most under-reported ethnicity in the United States, but did you know that we can help increase the quality of life for our tribes?

By taking part in the census we can ensure our people receive adequate funding for health, education, and housing to provide resources for our tribes.

To be able to take part in such a crucial aspect of our society is important.

Young people are able to make a difference by filling out the census and making sure all adults in their lives fill out the census as well, by phone, online or by mail.

Getting a count isn't just about funding, while important, taking part in the census gives an accurate representation of our total count as a people. It shows our resilience and dedication to remaining strong in a country that wasn't built for us.

Despite the common notion that the census isn't as important as it seems, for a minority group, the census is everything.

With the accurate data of the census, data driven articles, studies and various other aspects of important media and literature are based off the given numbers.

For instance, websites and data about missing or murdered Indigenous women have used data from the census to calculate percentages on where Indigenous people live, how many women there are, and other aspects of important data.

Taking part in representing our people, and actively trying to benefit the community by doing all you can, including taking the census, is an opportunity that shouldn't be wasted.

At one point in time, we weren't people in the eye of the law. And so every time I check the box that represents my heritage, my culture and my identity, I am thankful because at one point in time, our ancestors didn't have the chance to do so.
Lyric Aquino is a Kent State University alumna with a Bachelor of Arts degree in Anthropology and a Bachelor of Science degree in Journalism. She currently works at The Morning Journal in Lorain, Ohio as a multimedia reporter. As a 2019 Native American Journalist Association Fellow, Lyric is devoted to telling the stories people and their cultures- including her Indigenous community. Lyric's work has been published on Indian Country Today, The Morning Journal, Ohio Magazine and other publications. Her dream is to one day earn her PhD in Anthropology and write for National Geographic.