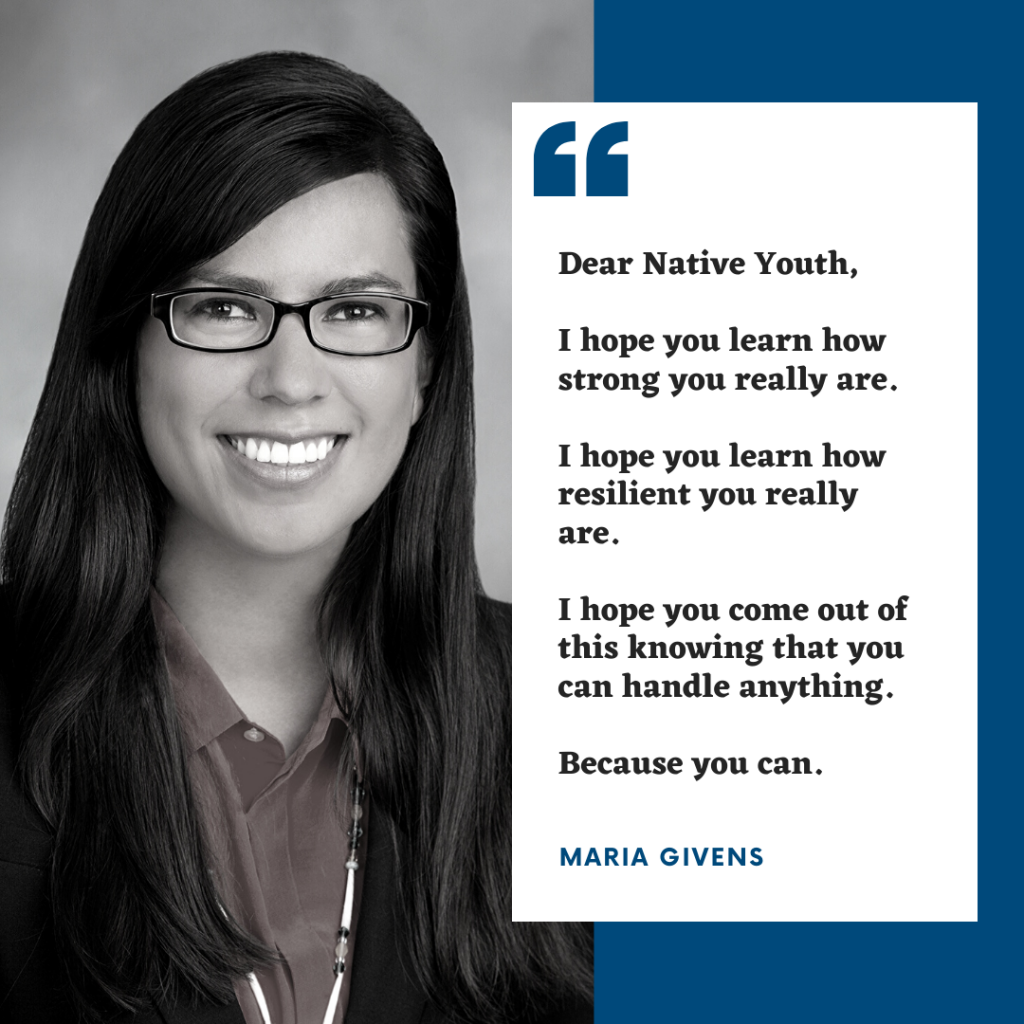 Open Letter to Native Youth on COVID-19
Dear Native Youth,

This is a tough time. This is a time that is testing the strength of our nations, our communities and our families. It is testing our strength as individuals. It seems like the only thing we can do to help is to do nothing. But even on the worst days, we are becoming stronger.

This is the time of resilience we have been made for. Resilience has two parts. First, resilience requires surviving a shock to the system. We are in the middle of the shock right now. Second, resilience means bouncing back, not just to the place where we started but better and stronger. If I know one thing, it is that Native people, especially Native Youth, are resilient people. We are going to bounce back stronger. I know this because it is what our people have been doing and continue to do since time immemorial.

I know that there are a lot of feelings that revolve around confusion and fear right now. I'm writing this letter to you to explain some of the confusing elements and to help ease some of those fears.

It is perfectly fine to feel weird, confused or afraid. This is a global pandemic after all. We were not prepared for this; and nobody has told us how to navigate this. So give yourself permission to be good to yourself and hold space for whatever you may be feeling. We're in a period of adjustments and these adjustments are difficult.

Adjusting to online classes is difficult, whether you're in elementary, middle, high school or college. We have seen schools cancel classes for an entire academic year, others move to virtual learning. Personally, I just finished up graduate school and at age 29, I had trouble with my online classes. You are not alone. Adjusting to spending all your time at home is difficult. Adjusting to a new routine is difficult. Acknowledging that this is a difficult adjustment period is a great first step to moving forward in a good way. We also need to acknowledge that this will pass. These adjustments are only temporary and will make us stronger.

A disease like COVID-19 may remind us of the diseases where we lost a lot of our ancestors. This may be bringing up intergenerational traumas inside of us that are hard to explain. You are not weak for feeling something that is hard to explain. You are human.

We carry these traumas in our DNA and times like this bring this intergenerational trauma to the surface. If you are feeling like intergenerational trauma is bubbling to the surface for you, just remember- ancestral and intergenerational strength has also been passed down to you.

It is really important to find healthy ways to cope. This is a great time to turn to our culture for answers. Call your elders to check in on them, listen to their stories. Value time with your family that you may be at home with– cook a traditional meal, work on regalia, practice your language.
For myself, some of the ways I navigate these feelings are through exercise (running, yoga and basketball), journaling, calling up a friend, cooking, giving myself time to think, feel, pray and meditate. In my experience, reaching out to relatives and friends is one of the best ways to talk through this. Whatever you end up doing to help yourself through this, I hope it is out of love for yourself, your family and your community and not out of fear. Our cultural traditions are here for us and were made for times like this.

Things are confusing right now too. It seems like everything is changing all the time, officials on TV are throwing out phrases that we've never heard before without explaining them. To simplify things, here are a few phrases and terms we are hearing a lot these days that I want to break down for you:

Coronavirus versus COVID-19: Coronavirus is a large group of similar viruses and COVID-19 is a subset of that. Experts call this a "novel virus" because it's new and scientists have never seen it before. COVID-19 is the illness caused by the novel coronavirus.

Social Distancing: Everyone should be social distancing right now. I know, I know, being socially distant is not a Native cultural value. But it is the number one way we can stop the spread of the virus. It means staying at home, only going out for essential things like groceries, keeping 6 feet of distance when you're out and only physically interacting with people you live with.

So let's spend some time writing, reading, creating, beading, dancing, singing, praying or meditating. The next Native best selling book, album or movie might be in the making right now! Let's use this time to create together.

Essential Activities: are grocery shopping, doctor's visits, picking up a prescription, picking up food. These are the necessities, things that you need to have, not just the "nice to have."

Stay at Home Order: a government (state or tribal) can require all people to stay at home. This means only leaving for essential activities like getting groceries. Most states have already issued stay at home orders. They are easy to follow, just stay at home!

Curfew: a government (state or tribal) can issue a curfew, requiring all people to stay inside at specific times without the ability to leave for essential activities. For example, the Navajo Nation instituted a curfew for the entire weekend and tribal police would fine people who went out $1,000.

CARES Act: This is a bill that Congress passed that provides federal support for the country to get through this pandemic. It gives money for tribal governments, Indian Health Service (IHS), and some adults might be receiving checks from the government. The bill also provides money for Food Distribution (commodities), Indian Education (BIE) and Indian Housing (HUD). Here is a detailed write up from the Senate Committee on Indian Affairs about the tribal provisions in the bill.
Step By Step Guide to Understanding Ordinances in YOUR Local Community:

Check with your tribal government to see if they have issued a stay at home order. There might be a specific stay at home order or curfew instituted by the tribal government. Adhering to these will ensure you are keeping other people safe and will make sure you avoid fines. Many tribes also have travel restrictions right now that limit traveling on or off-reservation or specific parks or places are closed. Respect and honor your tribe's sovereignty and comply with specific tribal orders.
Check with your state and county governments about stay at home orders. Most states have mandated stay at home orders, meaning most people are required by law to stay at home. If your state has not yet issued a stay at home order, check with your county because it might be different than the state. Also, check your state's health department for specific health measures for your state.
Check in with the Centers for Disease Control (CDC) regularly to get the latest news on how to protect yourself and the community. Avoid news from social media that may not be accurate.
As young people, it can be hard to wrap your mind around global events as big as this one. These are not normal times so it's okay to not feel normal. But this is the time where our culture and traditions can help us through, a time for healing songs and dances, a time for reflection and prayers to those across the world and in Indian Country who are being impacted by this. You have many advocates, including the Center for Native American Youth whom you can always turn to.

"Dear Native Youth, I also hope you learn a little about yourself during this time. I hope you learn how strong you really are. I hope you learn how resilient you really are. I hope you come out of this knowing that you can handle anything. Because you can. "
Lim lemt.sh,

Maria Givens
Maria Givens is an enrolled member of the Coeur d'Alene Tribe (Schitsu'umsh) in northern Idaho and resides on Cheyenne, Arapaho, and Ute homelands in Boulder, Colorado. Maria has a master's degree in environmental issues from the University of Colorado and has worked for the National Congress of American Indians and in the US Senate. She teaches Native high school students for Upward Bound at the University of Colorado. She is passionate about tribal food sovereignty and shares pictures of Native food on her Instagram @nativesoulfood.