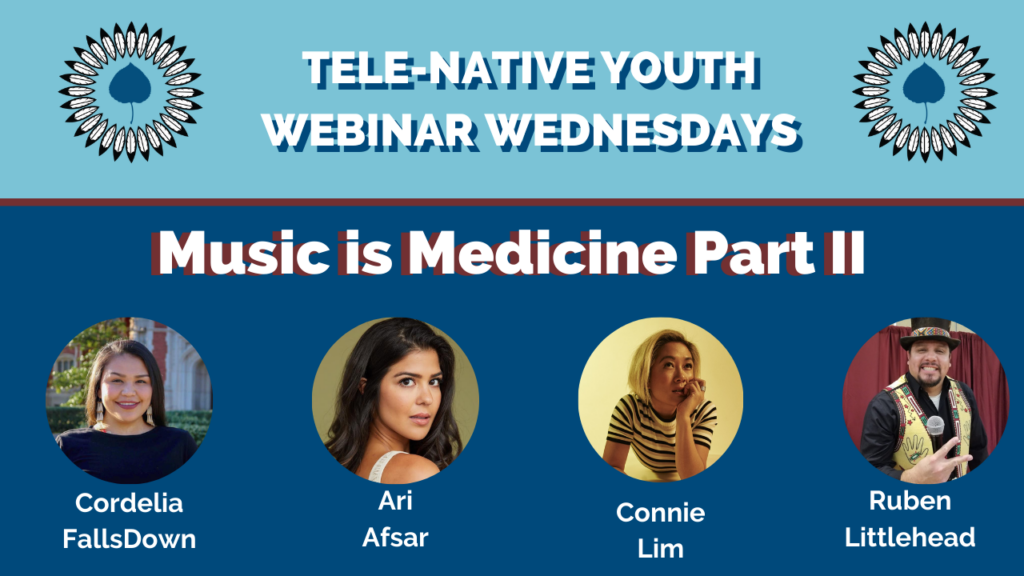 Tele-Native Youth: Nature of Love
Greetings to all y'all and wishing you blessings in your everyday walk of life.
On Wednesday May 19th, 2021 we completed another Tele-Native Youth Webinar titled "Nature of Love- Song release". We had both the song writers- Connie Lim and Ari Afsar and one of the tribal youth- Cordelia Falls Down present for the live show.
The song was composed a while back and after mixing and editing, it was ready for its release! And that's what we did at the end of the show, played it for the first time!
Cordelia, who sang the song with her beautiful voice, comes to us from the Crow tribe in southeastern Montana and is currently a graduate student at the University of Oklahoma. She expressed how the song hits home with all the emotions from this past year due to Covid. Cordelia also mentioned that the song helped her "get out of her comfort zone" and accomplish one of her goals, and that was to sing publicly and on record. When I asked her what impact she hopes this song will make, she replied, "I hope it will inspire others to find their natural talents and pursue them".
Our song writers, Connie and Ari, were very excited to release it and debut the video that accompanied it as well. Ari said when they asked Cheyenne Brady for some footage of Native dancers, she didn't expect the high quality of action shots and beauty captured on the MHA Nation. Most of the video was filmed on site at the tribe's Earth Lodges and the dancers all exemplified both the traditional and contemporary styles of today's modern powwow styles. Ari also added that the values of appreciation and gratitude were very heartfelt throughout the song composition. It was powerful!
Connie Lim was very happy with the final product. She said it went perfectly with the meaning behind some of the reasons related to being in remote places and remembering the experiences we all have today.
In conclusion, I had the awesome opportunity to host/ moderate the discussion again and it is always an honor to meet amazing people who are chasing their goals, accomplishing their goals, and inspiring others while doing it! A big shout out to Tele-Native Youth and Aspen Institute for bringing this webinar to thousands of young and passionate Native American youth who can be motivated and find courage to get out and do something they dream!
Ruben Little Head Sr
TNY Host/ Moderator