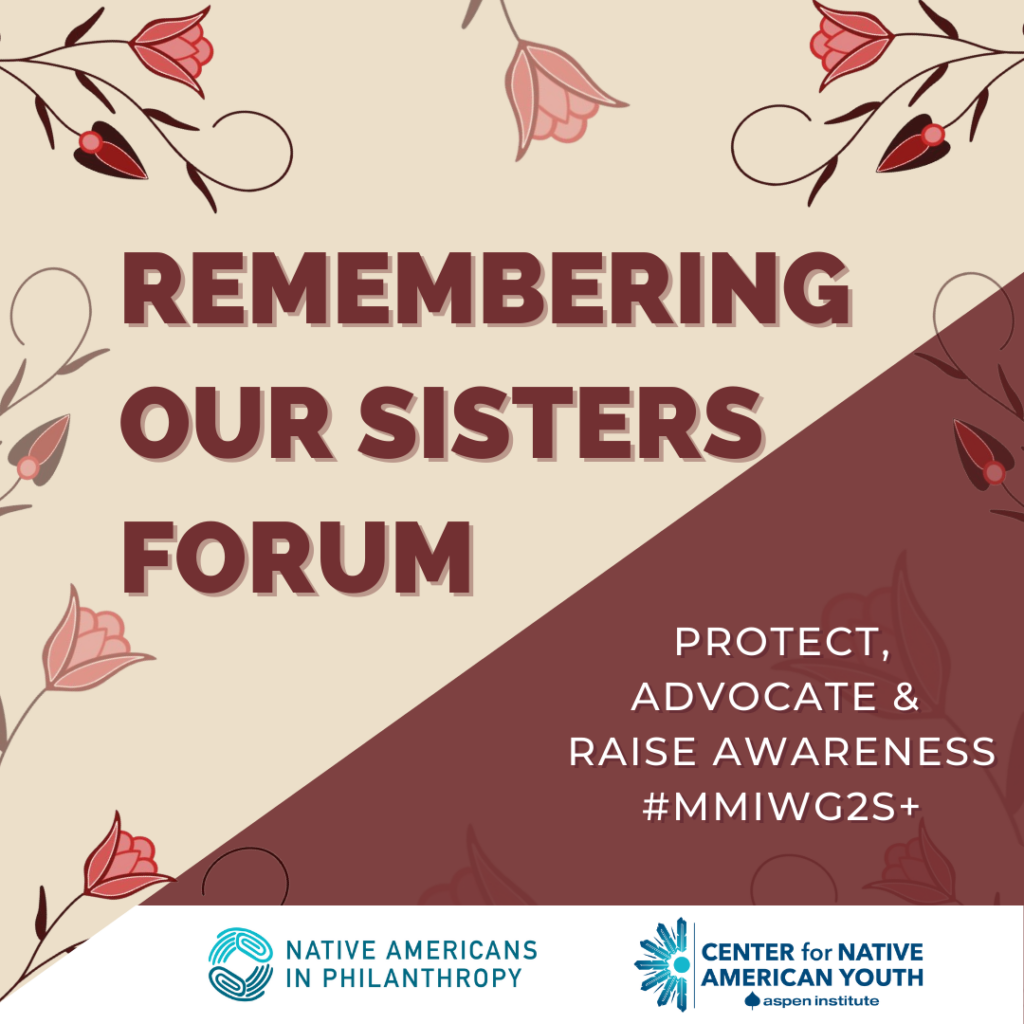 Remembering Our Sisters Forum Blog Recap
On Thursday, May 5, 2022, on the National Day of Awareness for Missing and Murdered Indigenous Women and Girls, the Center for Native American Youth (CNAY) in partnership with Native Americans in Philanthropy hosted the Remembering Our Sisters Forum. The forum highlighted the Remembering Our Sisters (ROS) Fellowship, a digital storytelling initiative created by CNAY in response to the Missing and Murdered Indigenous Women and Girls epidemic, while remembering our Indigenous sisters and families affected by the epidemic.
The forum began with an opening prayer song from Indigenous musical artist, Miracle Spotted Bear. Nikki Pitre, executive director of CNAY, followed by welcoming our guests and exploring the power of youth voices in this movement. "Our youth know that the current reality of this epidemic does not need to be our future. Youth are leading and at the front lines of dismantling systems."
The discussion was moderated by acclaimed lawyer and playwright, Mary Kathryn Nagel. "If we are going to solve this crisis, it's going to take all of us," shared Mary Kathryn. ROS fellow Lauren Poterek joined to share the power of the digital age and arts to raise awareness. "I believe that youth can put our opinions out there where everyone can see them. The internet has been a place to kick start these movements and connect with other youth." When reflecting on youth in advocacy spaces, Mary Kathryn shared, "Youth inspire the adults to keep going. Adults can get very negative, and the fact that you are all working so hard is such an inspiration and you bring new creativity and wisdom that is critical for the work."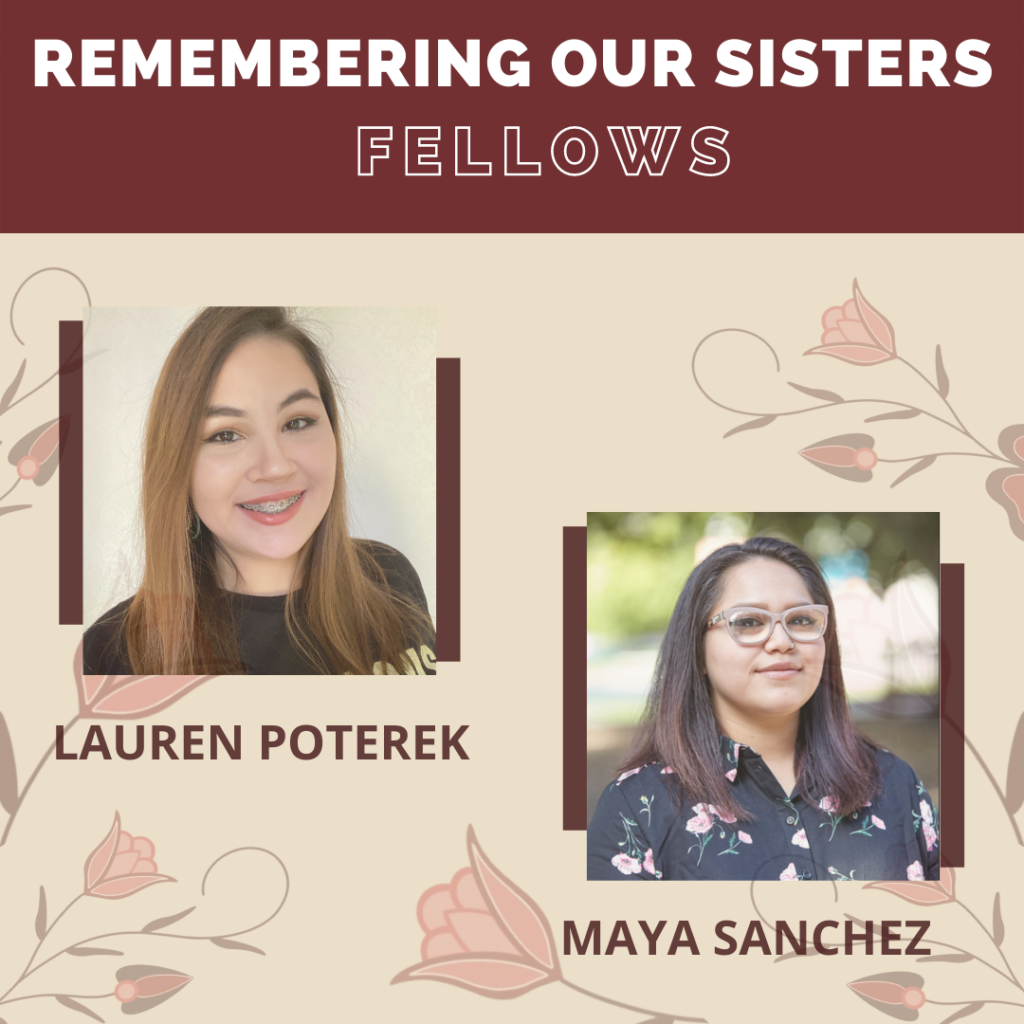 Maya Sanchez, a fellow, discussed how unique it was to have a fellowship centered on digital storytelling. "Storytelling as Indigenous people is one of the most important things in life. It's how our traditions are passed down, it's our medicine." She went on to center how healing it was to experience an initiative that centered on sisterhood, "I treasure the relationships I've built with these women." CNAY is fortunate to have had relationships with some of the fellows prior to the Remembering Our Sisters Fellowship. In 2019, Cordelia Falls Down worked with CNAY to address human trafficking in Indian Country. She shared, "When I went to CNAY and they gave me this platform, it was kind of a shock. I got to be a leader and what I was doing wasn't questioned, it was encouraged." She continued working closely with CNAY and became an ROS fellow. Through her participation in Remembering Our Sisters, she shared, "I was able to learn more about myself and that I had a right to be here in this space. It taught me that you are never too old, and it's never too late, and you're never too young to make a difference."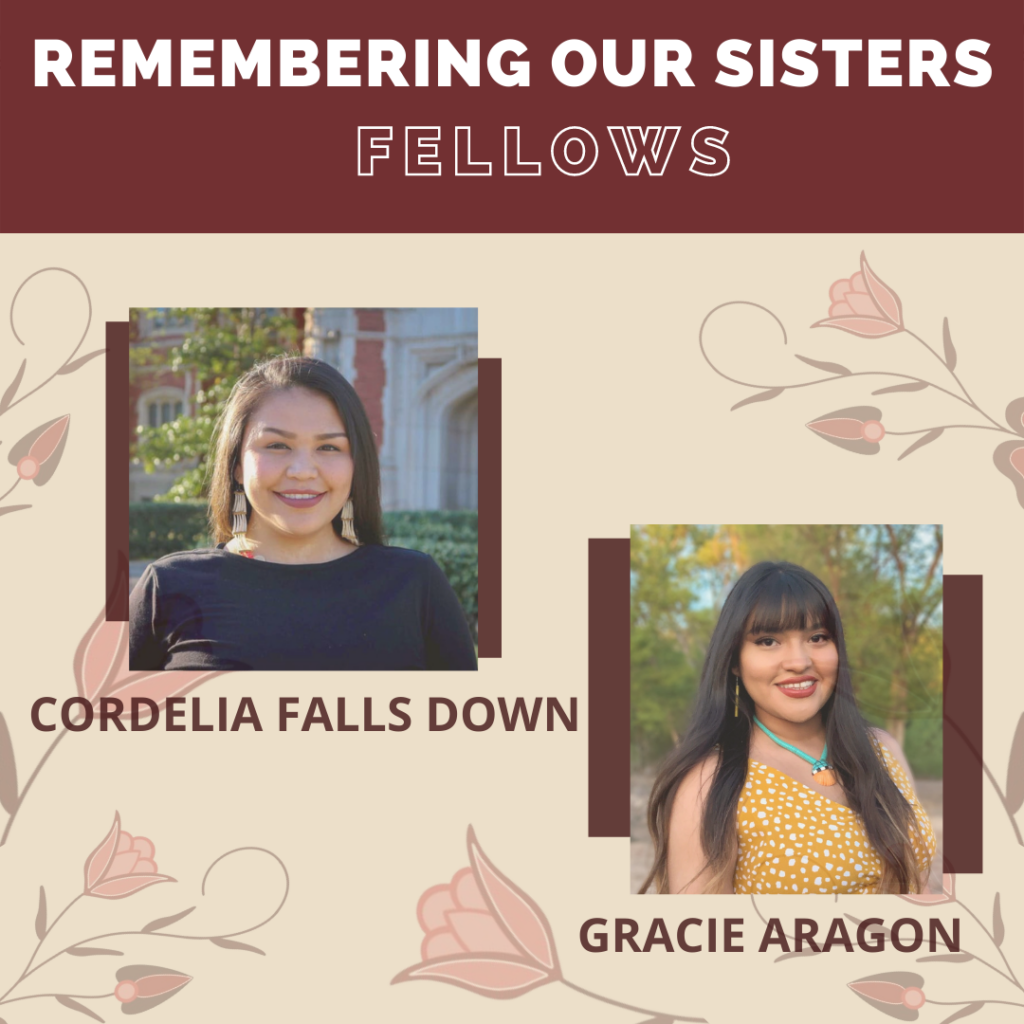 Remembering Our Sisters fellow Gracie Aragon discussed her digital storytelling project, a core component of the fellowship, and her experience developing a platform. "The projects served as a way to advocate for those impacted by the crisis as well as advocate for change." She went on to explain her work, "For my project, I wanted to create a website where (individuals) can go for education and find state by state resources. Sometimes searching for resources or ways to get involved can be overwhelming when there are so many avenues to take." Gracie went on to provide a call to action to invest in Native youth, who are inspired and passionate to build a safer, brighter future.
The Remembering Our Sisters Fellowship centered the power of the arts to make positive change. ROS Fellow Lily Painter is a young creative, who has long used the arts as a mechanism for both healing and advocacy. "For me personally, art has always been a means to digest and process things that otherwise seem impossible. If we take a step back and look at the horror of what the movement is about, it's not something that should have to be in the scope of the world. Native people shouldn't have to make entire movements to protect our women."
Each fellow had the autonomy to design and implement their own project, in any medium they chose. ROS Fellow Evynn Richardson, passionate about digital design, created a toolkit focused on using art for activism. "My whole toolkit was rooted in seeing how we honor our skills in this movement. If you are an artist, you can use your art in any possible way. Throughout this fellowship, meeting all these different people is what sparked the idea of the toolkit. We see our gifts, we thank Creator for our gifts, and we use them accordingly in this movement and that's what this whole project stemmed from."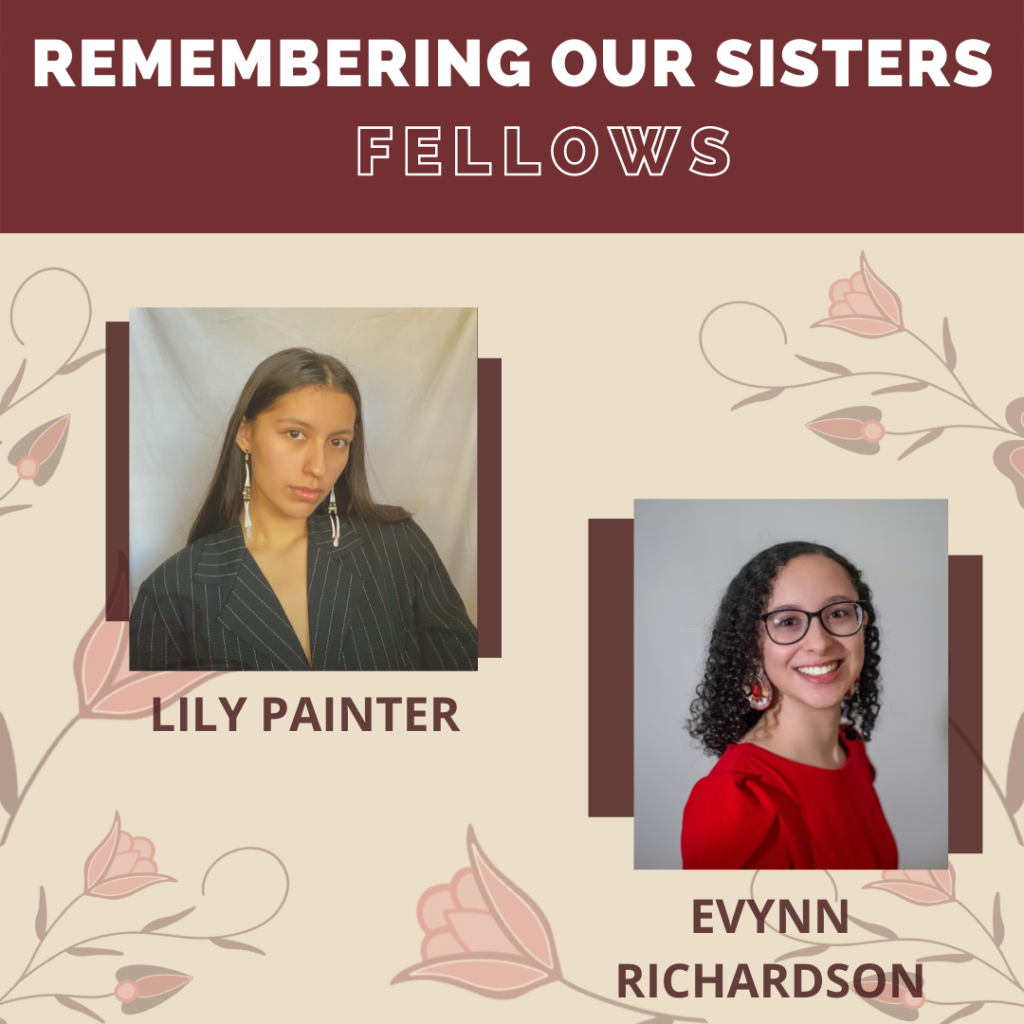 As the discussion progressed, CNAY released the Remembering Our Sisters recommendations to address the MMIWG2S+ epidemic. Lily Painter discussed the fellow's collective platform, "We sat down and had a long discussion about the different ways this epidemic is embedded in different aspects of our life today. We narrowed it down to a few core points, including addressing oppressive systems, strengthening tribal sovereignty, and overall trying to improve the image and representation of our people."
To close this impactful discussion, CEO of Native Americans in Philanthropy, Erik Stegman, provided closing remarks. "I want to express my gratitude to the young fellows here today. It was incredibly inspiring work." Erik ended with a call to action for those in the philanthropic space, "Invest in these efforts to make sure these young leaders have a platform to do this work."
The Remembering Our Sisters forum is the first of many platforms to ensure Native youth have space to amplify their solutions to this epidemic. We are grateful to the young leaders working to build a safer future for our relatives.
Missed the forum? You can watch here and view the Remembering Our Sisters Recommendations here.