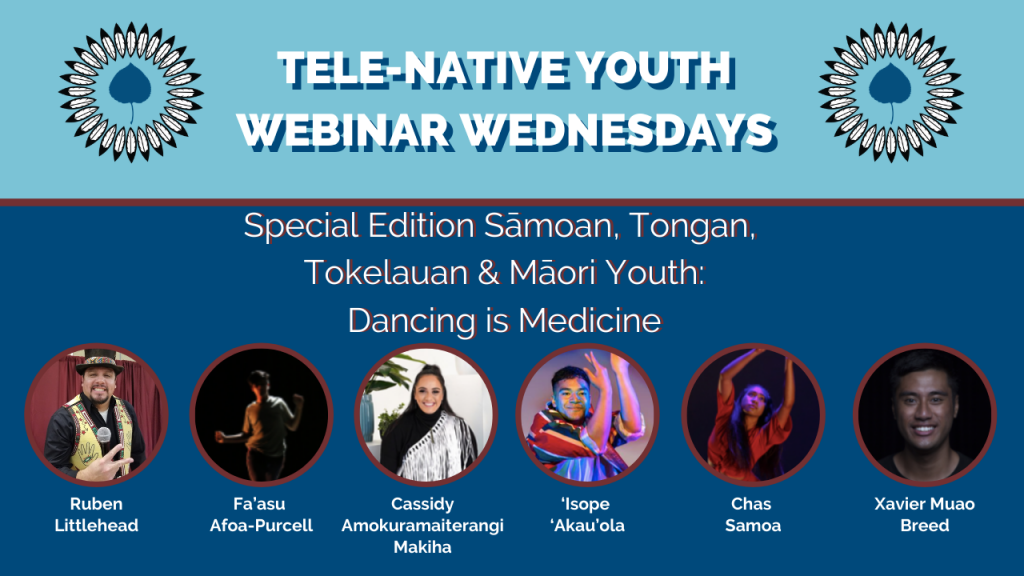 Tele-Native Youth: Dancing is Medicine
By: Ruben Littlehead, Northern Cheyenne
This webinar included special guests from across the globe, our relatives from New Zealand. I had the honor and privilege to moderate this awesome webinar and ask these five dancers: Cassidy Makiha, Chas Samoa, Fa'asu Afoa-Purcell, Xavier Breed, and 'Isope 'Akau'ola what their personal views and feelings toward the art of dancing are, as well as what that all means to them.
Each panelist responded with their own inner passion of maintaining the cultural aspect of traditional dance combined with contemporary moves, that not only excited the audience but keep the tradition of integrity in balance.
Aside from questions about dancing, we were able to talk about their chosen wardrobes and the jewelry they wore for the webinar. It was very interesting and educating to learn about some of the material and jewelry of our Pacific Islander relatives. 
Lastly, I closed out the conversation by commending each of panelist who spoke in their tribal language. I felt that it made the whole webinar more intriguing to all the viewers. I had fun with this webinar, and look forward to holding space for more discussions on how dancing is medicine.

Ruben Littlehead, an enrolled member of the Northern Cheyenne tribe, and currently resides in Lawrence, Kansas with his wife and four children. The proud Haskell Indian Nations University alum is currently pursing a masters degree at the University of Kansas. Throughout his life, Ruben has had many different hats; commercial roofer, Kirby salesman, Retention Specialist at Haskell, and most recent an independent consultant working with various tribal nations and first nations throughout United States and Canada. Being a consultant Ruben has the privilege to travel and see and experience the diverse communities and learn first hand from the teachers and elders of each society. Ruben is also a basketball lover, and serve as a basketball coach and trainer through player development. Lastly, Ruben enjoys the outdoors and recently took up hiking and wants to explore more of this beautiful world.