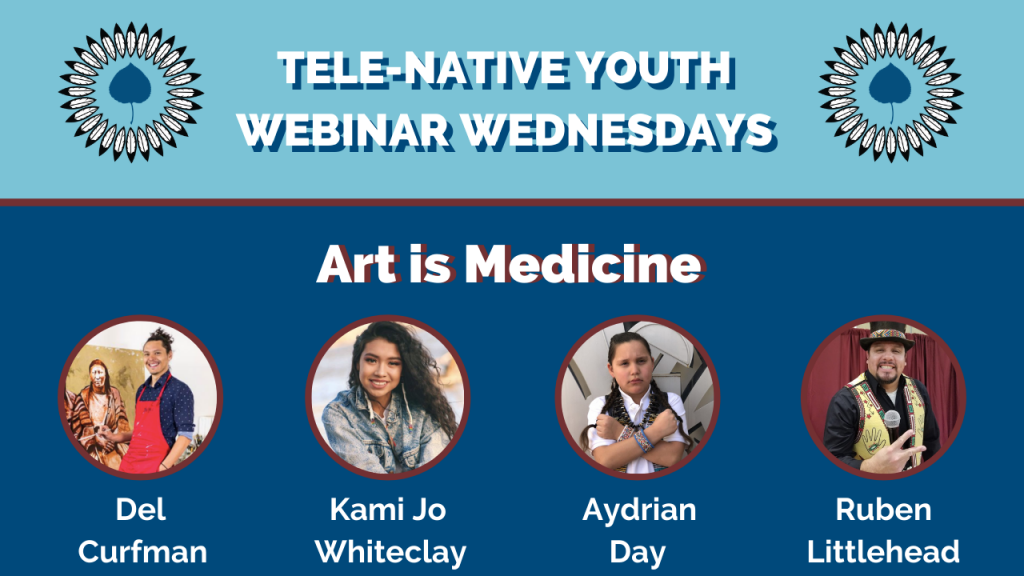 Tele-Native Youth: Art is Medicine
By: Ruben Littlehead, Northern Cheyenne
This webinar included three talented artisans, Del Curfman, Kami Jo Whiteclay, and Aydrian Day, who shared their personal story and inner passions about their artwork. All three artists also spoke about their tribal background and how that played an integral piece of their medium.  Two of the panelists belong to the Apsoolakke (Crow) Nation from Montana, and the youngest at age 8, represented many tribes.  
The theme was "Art is Medicine", and each panelist shared how being an artist, and the work they create, can inspire, motivate, and heal certain people who can relate to a time and place. It was powerful!
Del Curfmen, Crow tribe, lives and works in Santa Fe, New Mexico. He paints mostly crow dancers and captures the energy and spirit of the Crow Fair, which is held the third weekend every August, except this year due to the COVID-19 pandemic. Curfmen also spoke of his homeland, in the mountains of Pryor, MT. Kami Jo Whiteclay, Crow tribe, lives, and attends the Institute of American Indian Arts (IAIA), in Santa Fe, New Mexico. She stated how art gave her the opportunity to express herself and allowed her to further her education and fulfill her dreams of being an International artist. Whiteclay is a proud Crow tribal member hoping to help inspire native youth to follow their dreams. Lastly, Aydrian Day, from Suttons Bay, Michigan. Being only eight years old, his persona is that of an "old soul". He recently won "Best of Show", a very prestigious award, at the Santa Fe Indian Market for his beaded purse. During the webinar, I asked him to take it off the wall and do a close up for the viewers to gaze at his master piece!
When I proposed the question, "how they felt about Art is Medicine", each of the panelist shared the commonality of Native energy that flows through them: maybe that of their ancestors, maybe that of a spirit that inspires them, and channels through them. This energy giving their artwork a chance to be seen, to be heard, to heal our Native people.
Thank you to Nikki Pitre, Jarrete Werk, Cheyenne Brady, Lia LaCour and all other members of Center for Native Youth for giving me the opportunity to moderate these powerful webinars and be part of teleworking platform to help raise the spirits, hope, and pride within all of Indian Country!

Ruben Littlehead, an enrolled member of the Northern Cheyenne tribe, and currently resides in Lawrence, Kansas with his wife and four children. The proud Haskell Indian Nations University alum is currently pursing a masters degree at the University of Kansas. Throughout his life, Ruben has had many different hats; commercial roofer, Kirby salesman, Retention Specialist at Haskell, and most recent an independent consultant working with various tribal nations and first nations throughout United States and Canada. Being a consultant Ruben has the privilege to travel and see and experience the diverse communities and learn first hand from the teachers and elders of each society. Ruben is also a basketball lover, and serve as a basketball coach and trainer through player development. Lastly, Ruben enjoys the outdoors and recently took up hiking and wants to explore more of this beautiful world.