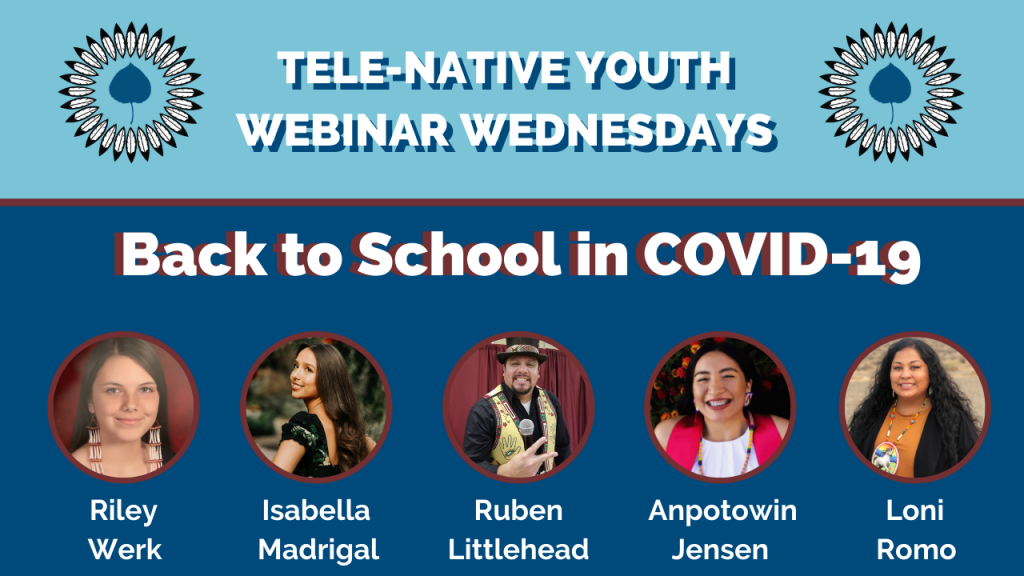 Tele-Native Youth: Back to School in COVID-19
By: Jarrette Werk, A'aniiih & Nakoda, CNAY Communications Lead
Navigating the school year during a global pandemic is no easy task. This week on Tele-Native Youth, we wanted to take some time to talk about the obstacles and challenges high school students, college students and staff are experiencing thus far into the academic year.
We were joined by Hays/Lodgepole High School junior, Riley Werk (A'aniih & Nakoda); CNAY 2020 Champion for Change and freshman at Harvard University, Isabella Madrigal (Cahuilla Band of Indians & Turtle Mountain Band of Chippewa); Masters student at Stanford University, Anpotowin Jensen (Ogalala Lakota Nation; and high school counselor, Loni Romo (Pyramid Lake Paiute, Tohono O'odham & Pima).
The discussion opened up by asking each to share what they have been doing to stay safe and healthy during the pandemic.
Werk has used virtual learning to her benefit by enrolling into college classes at the local Tribal College, as well as connecting to the outdoors and staying as active as possible.
For Madrigal, the pandemic has created opportunities she is grateful for, such as spending much needed quality time with her family and taking time to connect with herself and nature.
Jensen reflected on her experiences from the beginning of the pandemic while being back home and her time at college. She spoke fondly of the memories she created with her family, they were able to start a garden and harvest squash. She was also able to experience ceremonies that she would have otherwise not been able to participate in if she had be away at school. Once she returned to campus, she relied heavily on her spiritually to keep her grounded and focused on her studies.
Romo has been be learning the ins and outs of working from home and helping her two daughters navigate online learning, all while helping take care of her elderly grandfather.
Werk, Romo, Jensen and Madrigal all had different challenges they are facing so far this Schoo year, but one common connector they all share is that this virtual experience is a new learning opportunity they are trying to navigate together.

Jarrette Werk, A'aniiih and Nakoda of Fort Belknap Indian Community in Montana, is a student at the University of Nevada, Reno studying multimedia journalism. Inspired by the lack of mainstream media coverage of the Dakota Access pipeline, Werk decided to pursue a degree in media. His work focuses on positively and accurately covering the issues of Indigenous Peoples within Indian Country. As a portrait photographer, he captures and creates fresh and contemporary imagery of Indigenous Peoples. He currently works as the Communications Lead for the Center for Native American Youth at The Aspen Institute, providing a platform to amplify the voices of Indigenous Youth.