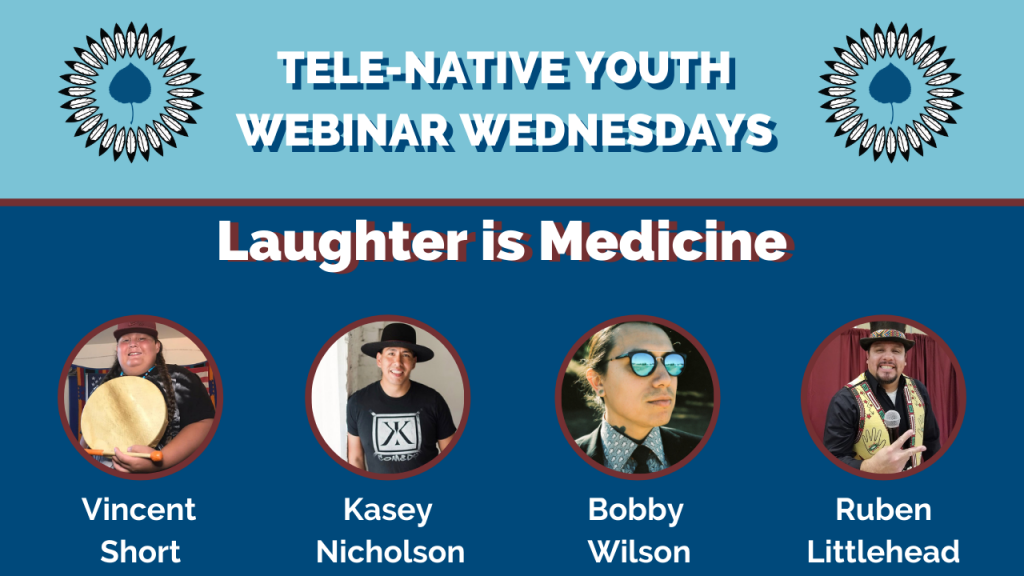 Tele-Native Youth: Laughter is Medicine
By: Ruben Littlehead, Northern Cheyenne
The title of this webinar: Laughter is Medicine, was definitely what we anticipated it to be. It truly was medicine. I had the honor and privilege to moderate once again an exciting hour of awesome guests who each bring to the table their own style and charisma of Native humor. The panelist included two of Indian Country's funniest comedians, Kasey Nicolson and Bobby Wilson, and a young social media entertainer, Vincent Short, who is only thirteen years old, but he receives thousands of views on his Facebook Live videos, and his popularity is increasing every day.
We started the show out with the usual introductions of each other, allowing them a few minutes to tell us who they are and where they are coming from. The next few minutes I asked questions to each panelist about their personal lives and what current events they are involved in and kept the flow of things in a relaxed, casual setting. I, myself, really enjoyed the interaction of the conversation and it seemed like the hour flew by and it was time to end it.
In the beginning, Bobby started to introduce himself and Kasey was on the other screen painting a fake mustache and beard on his face with a magic marker to coincide with both Bobby's and my facial hair. Bobby talked about his quarantine mustache growth and gave me props on my manly beard.
Meanwhile, young Vincent continued to make his drum sticks while listening in and waiting his turn. Earlier, before we went live, I asked Vincent if he had his hand drum nearby, because I was going to call on him for a song during the show, in which I did, and he sang a birthday song for both Kasey and Bobby. It was epic. Vincent might only be thirteen, but he can sing with the best of them.
Throughout the webinar, I believe the panelists had the opportunity to share some of their humor and offer some advice. When Kasey and Bobby offered advice to young Vincent, it also carried a ricochet of words to other young viewers who in turn, might want to "break" through and discover their own talents of public speaking or dreams of being an entertainer through the art of Comedy.
In the end, on behalf of CNAY, I thanked each panelist for their time and energy, and wished them good luck on all their future endeavors. It was a great hour of some laughs, insight, and good Native advice to all who watched; younger generation and older generation.

Ruben Littlehead, an enrolled member of the Northern Cheyenne tribe, currently resides in Lawrence, Kansas with his wife and four children. The proud Haskell Indian Nations University alum is currently pursing a masters degree at the University of Kansas. Throughout his life, Ruben has had many different hats; commercial roofer, Kirby salesman, Retention Specialist at Haskell, and most recent an independent consultant working with various tribal nations and first nations throughout United States and Canada. Being a consultant Ruben has the privilege to travel and see and experience the diverse communities and learn first hand from the teachers and elders of each society. Ruben is also a basketball lover, and serve as a basketball coach and trainer through player development. Lastly, Ruben enjoys the outdoors and recently took up hiking and wants to explore more of this beautiful world.