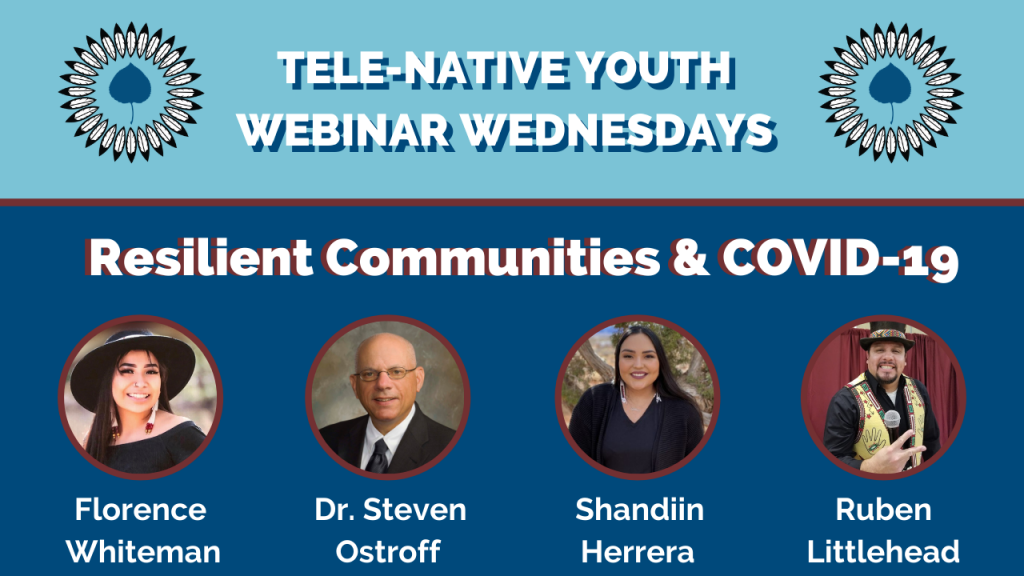 Tele-Native Youth: Resilient Communities & COVID-19
By: Ruben Littlehead, Northern Cheyenne
On Wednesday, November 18th, 2020, TeleNative Youth held our usual "Webinar Wednesday" where the topic of discussion was Resilient Communities & COVID-19. As the moderator, once again, I had the honor and privilege to host a round table discussion with Dr. Stephen Ostroff, former Deputy Director of the National Center for Infectious Diseases, Florence Whiteman, Northern Cheyenne & Lakota youth representative of Yellowbird Life Ways Center in Lame Deer, Montana, and Shandiin Herera, a Navajo-Hopi youth from Monument Valley, Utah and CNAY Youth Advisory Board member.
We opened up the hour with introductions, backgrounds, and insight into some of the work they are currently doing during the COVID-19 pandemic. Dr. Ostroff produced some valuable background information on diseases and disease history worldwide. As a retired epidemiologist, Dr. Ostroff possessed the knowledge and experience of viruses and the patterns of their spread.
Florence, comes from a Chief family, and grew up with surrounding family that always help the people in some form or another. Her father, Chief Phillip Whiteman, Jr., and her mother, Lynette Two Bulls, have been organizing and developing a "medicine wheel model" that helps Native people reconnect and reclaim traditional values for health and wellness. So, naturally, when COVID hit, Florence and her family began to prepare and look for outside resources to accommodate the sick and affected families. This included food baskets, traditional medicines like root and teas, and the uplifting webinar series "traditional story telling" on Facebook live. I am very proud of Florence!
Shandiin, a recent Duke University graduate, has been engaged with many facets of community involvement including her current work with "Yee Há olnii Doo" in Kayenta, Arizona. I really enjoyed our hour of discussion with Shandiin, and I could feel the passion she has for her people and all the ones who are affected by COVID-19. Shandiin shared her work and demographics related to this pandemic and all of her program's success within the Navajo nation. Both Shandiin and Florence expressed their condolences to the families who have lost loved ones related to this dreaded disease, but also offered encouragement and motivation to help prevent the spread and practices to create a safe environment. I am also very proud of Shandiin Herrera.
In closing, all three guests offered some insight, experience, and hope. When I asked my final question of how COVID-19 has impacted you personally, with family, within community, and on the state and national level, each speaker provided our viewers with something to think about and reevaluate some of our own personal choices. Shandiin stated that one thing that this pandemic has created for her, was the influence for her to go to Law School! Florence stated that the need to learn as much as we can from our remaining elders is very crucial during this time we live in. Dr. Ostroff had some parting words in which we need to be good to one another, help one another, and offer good vibes to each other. It was another great webinar, and I am always proud to be part of it. Thank you to CNAY and all who make it possible! Creator Bless y'all:)
Ruben Littlehead, an enrolled member of the Northern Cheyenne tribe, currently resides in Lawrence, Kansas with his wife and four children. The proud Haskell Indian Nations University alum is currently pursing a masters degree at the University of Kansas. Throughout his life, Ruben has had many different hats; commercial roofer, Kirby salesman, Retention Specialist at Haskell, and most recent an independent consultant working with various tribal nations and first nations throughout United States and Canada. Being a consultant Ruben has the privilege to travel and see and experience the diverse communities and learn first hand from the teachers and elders of each society. Ruben is also a basketball lover, and serve as a basketball coach and trainer through player development. Lastly, Ruben enjoys the outdoors and recently took up hiking and wants to explore more of this beautiful world.