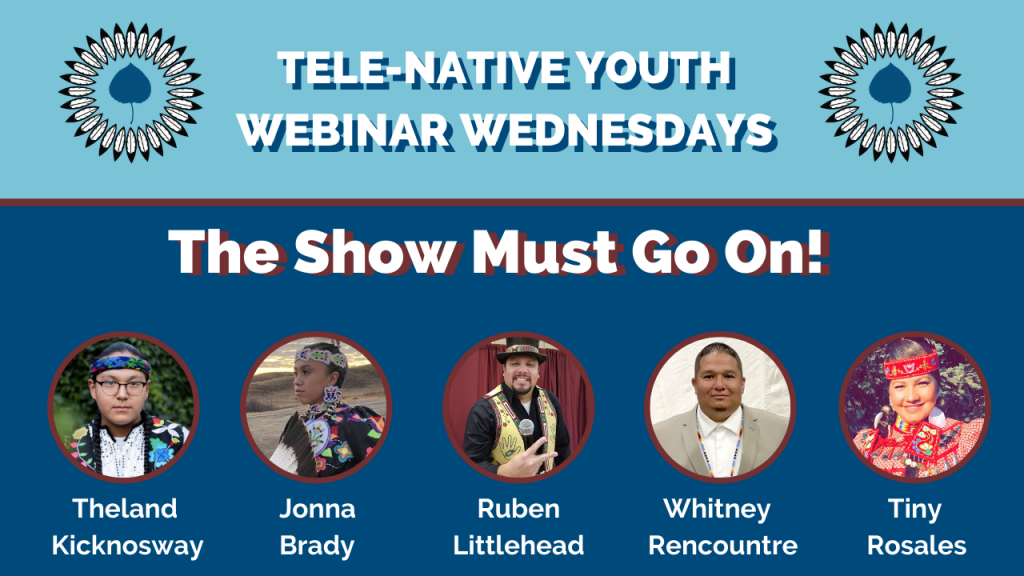 Tele-Native Youth: The Show Must Go On!
By: Ruben Littlehead, Northern Cheyenne
On December 2nd, 2020, I had the honor and privilege once again to host and moderate an awesome webinar titled "the Show must go on". It featured some founding social media personnel-Whitney Rencountre II of Social Distance Powwow (SPD) and Tiny Rosales Quarantine Dance Specials (QDS) who created a platform for the native people to continue native dancing and singing and also some younger panelist who utilize social platforms to engage within mediums of staying connected and sharing their talents, and those two were Theland Kicknosway (Wapole Island, Ontario) and Jonna Brady (Newtown, North Dakota).
We begin with some simple introductions and what their involvement entailed through social media. I asked Whitney, Tiny and Theland about how they started and some of the reasons why it grew so large.  I believe Whitney stated that SDP is connected throughout 100 countries and over 300,000 viewers total also SDP has hosted three large powwows including UC Berkeley, Meherrin Nation and Summer Solstice powwows. The Quarantine Dance specials page has reached over 250,000 viewers and over 200 family specials and has awarded over $150,000.00 in prize money.
Meanwhile, young performing artist Theland Kicknosaway has over 450,000 followers compiled from his social media platforms including Facebook, Twitter, Instagram and Tic Tok. Theland utilizes his time on social media as a way to educate and inform the non-native people throughout the world on First Nation cultures. 
When I asked young scholar Jonna Brady about her time on social media, she expressed how she took some time away from it and how she used that time to get "grounded" and focus on things close to home.  Jonna shared how Covid -19 robbed her of some her senior year of high school activities such as Prom, Track season and Graduation.  But, she also mentioned how her awesome supportive parents made some events possible including her final prom! Jonna also mentioned how more connected she has become within her faith and ceremonial activities through prayer.  She is currently attending NHS college in Newtown, North Dakota as a first year Freshman and despite the pandemic holdbacks, she is thriving and finding her path and beginning her journey through higher education. 
In conclusion, the panelist shared their passion to educate, their willingness to share and the need for connectedness throughout Indian country. Also, they expressed how social media and the art of storytelling through oral traditions and visual artwork can uplift the spirits and provide the encouragement we all need during this difficult time of covid-19 pandemic. Especially during the beginning of quarantine times, when the pandemic shut down all the powwows, all the travels, and closed the borders. For a lot of people this was a way of life, and livelihood. It gave the people a chance to dress up in their dance clothes and dance in areas that never would have been thought of and to be creative in the use of their smartphones! In addition, it also allowed people who had saved up items and money to honor an individual at a powwow that had been cancelled this year…such as our native "giveaways" also known as "specials", hence the name "quarantine dance specials"!
As we close out this year, our younger panelists- Jonna and Theland, have inspired the younger generation of viewers to be active in their own social platforms and to create cultural awareness of things that are important, such as language, arts and crafts, and ceremony.
On behalf of Center for Native Youth, it was an honour to lead the discussion and moderate these outstanding pillars of Native North America!
Ni Aut'ish Eh' Mehn
Ruben Littlehead, an enrolled member of the Northern Cheyenne tribe, currently resides in Lawrence, Kansas with his wife and four children. The proud Haskell Indian Nations University alum is currently pursing a masters degree at the University of Kansas. Throughout his life, Ruben has had many different hats; commercial roofer, Kirby salesman, Retention Specialist at Haskell, and most recent an independent consultant working with various tribal nations and first nations throughout United States and Canada. Being a consultant Ruben has the privilege to travel and see and experience the diverse communities and learn first hand from the teachers and elders of each society. Ruben is also a basketball lover, and serve as a basketball coach and trainer through player development. Lastly, Ruben enjoys the outdoors and recently took up hiking and wants to explore more of this beautiful world.