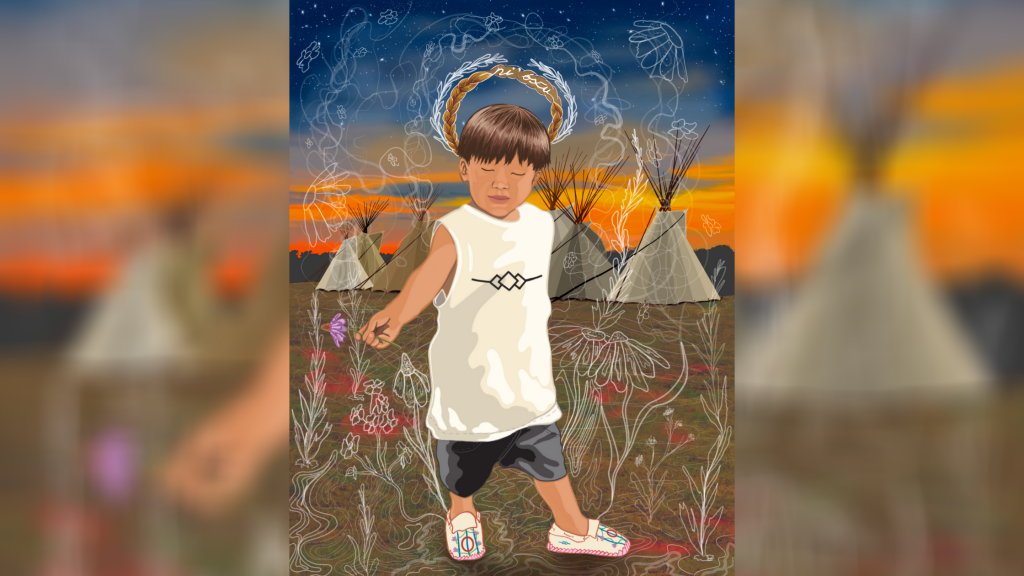 The Center for Native American Youth 2020 State of Native Youth Report Release Event
On November 24, 2020 CNAY Celebrated Native American Heritage Month by releasing its annual State of Native Youth Report, centered on the strength and resilience of Native youth.
Native American Heritage Month brought not only celebration but the release of our annual State of Native Youth Report. This year's report theme was Native youth are Medicine, highlighting the strength and resilience of youth. The report was our first to feature chapters written directly by youth. The cover of this year's report features a design titled, Sweet Medicine Child, created by Tvli Birdshead (Cheyenne Arapaho, Choctaw, Chickasaw, Oglala). This cover art depicts a Two-Spirited boy at his Sundance, "connecting with the land, and brings a flower to show his relatives." Tvli explained that he, "wanted to portray how important the upbringing of Native youth is." The report depicts the ways Native youth are promoting healing in their communities and affirm the resilience of Indigenous peoples.
This year marked our first release event done completely virtual, allowing us to be in community with those across the nation. This year's report event gave space for each of our young authors to speak on their chapter to best amplify their voice. Our event began with an honor song and prayer by Hokie Clairmont (Lakota & Hochunk) of The Boyz and opening remarks from our Executive Director Nikki Pitre (Coeur D'Alene). CNAY Founder and Board Chair, Senator Byron Dorgan (ret.) joined Youth Advisory Board Chair, Mikah Carlos (O'odham & Piipash) for an interview to reflect on the successes of 2020 and what's next for 2021. When asked how to best support the numerous Indigenous women who have been elected to office in 2020, Senator Dorgan shared, "with respect to Native American women now in Congress, it is so important for the rest of the people in Congress to begin listening to them."
We were fortunate to be joined by award-winning artist, Ben Pease (Crow) to interview our 2020 Creative Native Cover Artist winner, Tvli Bridshead. Ben and Tvli reflected on the power of art for social change, Ben sharing, "our thoughts and efforts inside and outside of our communities, we as artist plant seeds and create paths for change." Tvli explained his artwork more in-depth with our audience, sharing "[I] wanted to encompass my upbringing… with the smoke, I wanted to capture the fluidity of things, especially in regard to gender identities."
Our event then spotlighted our authors with our moderators, Sean Snyder (Navajo & Ute) and Adrian Stevens (Ute, Shoshone Bannock, & San Carlos Apache). CNAY Gen-I and Special Projects Intern, Kendra Becenti (Navajo Nation)(Photo courtesy of Ben Pease) began the event discussing her two authored chapters, Health and Wellness and Citizenship and Sovereignty. Throughout her chapters Kendra uplifted the data from the Indigenous Futures Survey, which she shared will, "allow us to advocate for ourselves." Kendra discussed the critical role youth have played amid the COVID-19 pandemic, "Native youth have stepped up to support their communities and bring relief to their communities."
CNAY Youth Advisory Board member, Sam Schimmel (Siberian Yupik & Kenaitze Indian) explored his chapter focusing on Education and Jobs. Sam promoted the importance of re-thinking the dominate education system to best support Native youth, including increasing Native teachers. He shared the importance of adopting cultural practices into career pipeline programs to merge traditional and Western knowledge systems.
"We go around our communities, we talk to our elders, and we generate feedback and conclusions that way," Schimmel said. "There needs to be an understanding that sometimes community does have to come first. That does not mean that work comes second. It means that when the two work together there are limitless possibilities."
Lexie James (Hopi & Tewa) who is a 2020 Gen-I Ambassador for Land Conservation joined to share her perspective of the Sacred Sites, Lands and Waterways chapter. When reflecting on the importance of the land, Lexie stated, "these aren't just sacred sites that are there to be there. You need to understand that there were people that once lived there to protect that land. That's part of who we are." She continued to share the importance of young people being involved with conservation efforts, "the land takes care of us and we need to in turn take care of her."
Youth Advisory Board member Autumn Adams (Yakama Nation) contribute a COVID-19 policy timeline for the report. While joining us for the release event, Autumn touched on the importance of young people understanding and participating in the creation of policy. "Young people are our future. There shouldn't be anything written for us without us." She ended our evening together by reminding us all that young people can create collective action and change, "It takes a village of people. It takes all of us working together to create that wave."
Our last chapter, Systems Involving Youth, was written by CNAY Youth Advisory Board member, Isabel Coronado (Muscogee Creek). Her work explored the nuanced policies and systems that impact the lives of Native youth, including the incarceration and foster system. She closed her discussion with a powerful reminder to the audience, "None of our youth are disposable, no matter their past. All of us are important."
CNAY is grateful to all those who joined our release event and contributed to our annual report. Did you miss the event? View our livestream here and read the full report here.