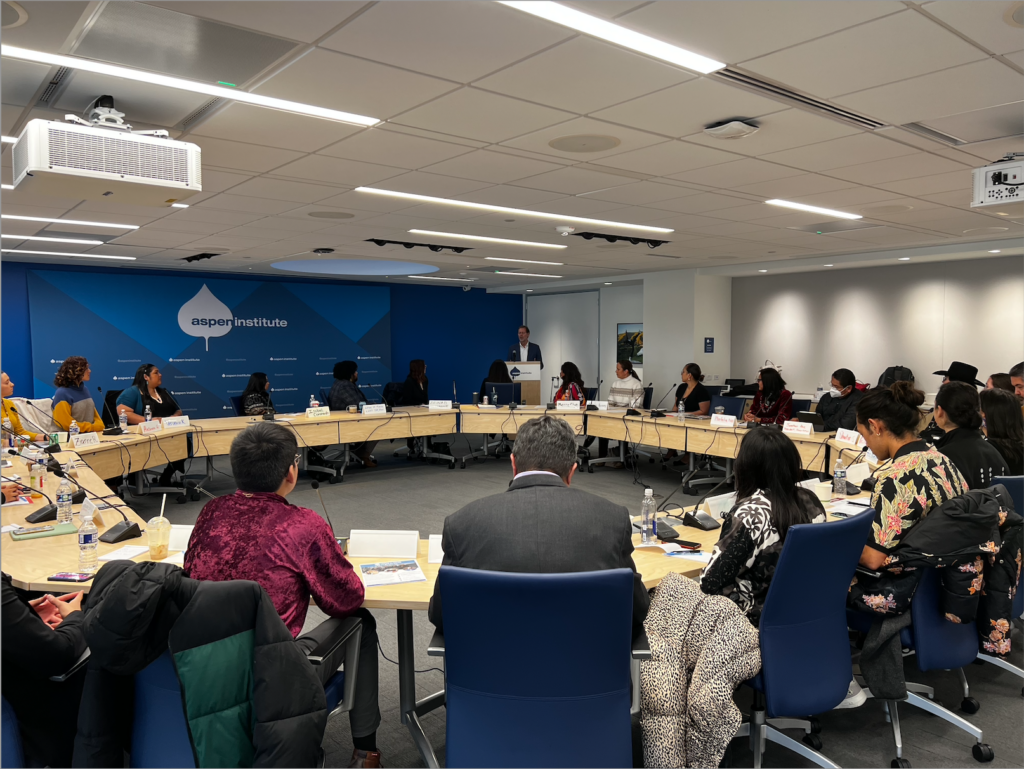 Youth & Tribal Leaders Roundtable Discussion
For Immediate Release: December 6, 2022.
Washington, DC: On November 29, 2022, the Center for Native American Youth (CNAY) at the Aspen Institute and Casey Family Programs hosted over 20 Native youth and Tribal leaders from across the country for a roundtable discussion. Pressing issues and challenges facing today's youth were the focus of discussion. Topics included mental health, food sovereignty, the Indian Child Welfare Act (ICWA), foster care, and cultural preservation. Participants exchanged solutions and ideas while discussing best practices to cultivate intergenerational learning and healing spaces.
Youth leaders and elected tribal leaders represented many tribes from across the country. A few of the tribes represented included the Navajo Nation, Salt River Pima-Maricopa Indian Community, Mandan, Hidatsa and Arikara Nation, Pascua Yaqui Tribe, Kiowa, Haida Indian Tribes of Alaska, Pueblo of Isleta, the Kingdom of Hawaii and many more. Participants were also joined by Dr. William Bell, President and CEO of Casey Family Programs. Dr. Bell shared words of encouragement before starting the discussion, "I'm moved to see so many young people in the room today because your voice is needed at the table. It's not just about you, your family, or your tribe; it's about those generations that will come behind you. We need to understand this is a continuum. It's a continuation of what has been tried to stop you from being here, as far as boarding schools and broken treaties…the conversation we are having here today matters because you matter."
Intergenerational Spaces & Youth Voice
When discussing the benefits of intergenerational spaces, Zianne Richardson (Haliwa-Saponi Tribe of NC) mentioned that the input and opinions of youth and elders should be combined "to produce forward-thinking, well-rounded solutions." Youth uplifted the idea that creating spaces to discuss ideas is only part of the equation, to truly foster intergenerational exchanges voices of all generations must be welcomed, valued, and respected. "The youth are hungry, the elders are hungry, let's ensure they have a space to communicate and pave a way forward for the next generations," said Honu Nichols (Native Hawaiian).
In addition to uplifting the need for intergenerational spaces, youth expressed the desire to have their voices heard by tribal leaders. A few leaders shared what their communities are doing to ensure their youth are being heard. The Navajo Nation has developed a youth council, and Leonard Two-Teeth, Vice Chair of Council for Confederated Salish and Kootenai Tribes, shared that for the first time their youth not only led their election forums, but developed and successfully executed the forums. Chairman Martin Harvier for the Salt River Pima Maricopa Tribe shared that within the last few elections, their council has seen younger individuals elected. Youth on council, youth councils, and allocating time for youth to share what their thoughts and solutions are ways tribes and tribal leaders can uplift their youth.
The Indian Child Welfare Act
A primary point of advocacy for youth today is the protection of ICWA, currently being challenged in Haaland v. Brackeen, Cherokee Nation v. Brackeen, Texas v. Haaland, Brackeen v. Haaland. When focusing on shaping policy and ICWA protections in the discussion, Alejandra Gomez (Ojibwe Cree) stressed the significance of including youth directly affected by ICWA within discussions and policy developments surrounding it. As a foster youth themselves, they shared, "We understand what it is honestly like to live in these conditions and what needs to be changed." Veronica Krupnick (Hopi Tribe) shared the impacts of being adopted out to non-Native families from a first-hand perspective. Native youth belong in their communities, where they have access to culture, family, and support. Native youth are passionate about ensuring their peers and the younger generations are protected.
Food Sovereignty
Food sovereignty is the right for Indigenous Peoples to define their own agricultural, labor, fishing, food and land policies that are ecologically, socially, economically and culturally appropriate. Tribes are establishing and uplifting food sovereignty in a number of ways and youth are leading much of these efforts, underscoring the need for tribes to listen to their young leaders. Sam Schimmel (Siberian Yupik and Kenaitze Indian) discussed the grassroot initiative that he leads: Operation Fish Drop. The effort is a collective of Alaskan Natives working to address the barriers the pandemic brought forth onto the matter of food insecurity. Through his involvement, Sam was able to witness firsthand how mental health was impacted in the community. He soon realized that many factors play into mental health like food, culture, responsibility, opportunity, and more.
Mental Health
The pandemic magnified mental health as a serious issue. To move forward in a positive direction Tribal leaders must aid in creating accessible resources and support for Native youth. Anthony Tamez (First Nations Cree, Sicangu, and Black) shared how his community was able to positively impact mental health, "through a more culturally competent approach we were able to open a garden space in the city of Chicago- an intergenerational healing space for Native Americans of all ages. This space is unique because it allows us to practice our culture and connect with Natives from all backgrounds." Lily Painter (Kiowa) noted that "self-care comes in many forms; through art, dancing, beading, weaving, and many more. There has to be an alliance between the native youth and the elders and providing cultural means of healing for native youth." Native youth understand that mental health can be uplifted through means of culture and that culture is a protective factor. It is of great importance that tribes work to ensure the health of all their peoples.
The roundtable successfully established a space of exchange between youth and tribal leaders. We thank Casey Family Programs for their support in making this happen, the Tribal leaders that took time out of their schedules to attend, and to the Native youth that shared their time and words. It is in these moments where we can learn from one another and progress forward, together.
Attendees:
The Aspen Institute
Dan Porterfield, Chief Executive Officer
Center for Native American Youth at the Aspen Institute
Nikki Santos, Executive Director
Cheyenne Brady, Senior Program Manager
Cheyenne Kippenberger, Communications Coordinator
Will Wilkinson, CNAY Fellow
Native Youth Leaders
Veronica Krupnick, CNAY Building Communities of Hope Fellow, Hopi Tribe
Alejandra Gomez, CNAY CA-NYC Ambassador, First Nations Ojibwe-Cree
Anthony Tamez, CNAY Youth Advisory Board Chair, Sicangu Lakota & First Nations Cree
Isabel Coronado, CNAY Youth Advisory Board Vice Chair, Mvskvke Nation
Shooter Stewart, MHA Calm Before the Storm Leader, Mandan, Hidatsa, Arikara Nation
Keishawn Johnson, MHA Calm Before the Storm Leader, Mandan, Hidatsa, Arikara Nation
Zianne Richardson, CNAY 2022 Intern, Haliwa-Saponi
Lily Painter, 2021 CNAY Remembering Our Sisters Fellow,
Kaliko Kalahiki, 2022 CNAY Champion for Change, Native Hawaiian
Sam Schimmel, 2017 CNAY Champion for Change, Siberian Yupik
Honu'aina Nichols, CNAY Youth Ambassador, Native Hawaiian
Lauren Janene Schad, N7 Ambassador, Cheyenne River Lakota
Camryn Redmond, CNAY CA-NYC Ambassador, Navajo
Dante Martinez, CNAY CA-NYC Ambassador, Federated Tribes of Graton Rancheria
Lillian Hall, CNAY CA-NYC Ambassador, Northern Sierra Miwok
Casey Family Programs
William Bell, Chief Executive Officer
Zeinab Chahine, Executive Vice President of Children & Family Services
Melissa Clyde, Senior Director
Jack Trope, Senior Director
Thomas Cody, Director
Vi Schurman, Director
Willeen Whipple, Director
Central Council Tlingit & Haida Indian Tribes of Alaska
Richard Peterson, President
Confederated Salish and Kootenai Tribes
Len Two Teeth, Vice Chairman
Kawerak
Carol Piscoya, Vice President of Community Services Division
Navajo Nation
Johnathon Nez, President
Phefelia Nez, First Lady
Our Native Men, Inc.
Chance Rush, Consultant
Justice Fox, Youth
Tyler Jensen, Youth
Pascua Yaqui Tribe
Peter Yucupicio, Chairman
Alfred Urbina, Attorney General
Pueblo of Isleta
Vernon Abeita, Governor
Salt River Pima-Maricopa Indian Community
Martin Harvier, President
Spirit Lake
Douglas Yankton, Chairman
Tanana Chiefs Council
Brian Ridley, Chairman