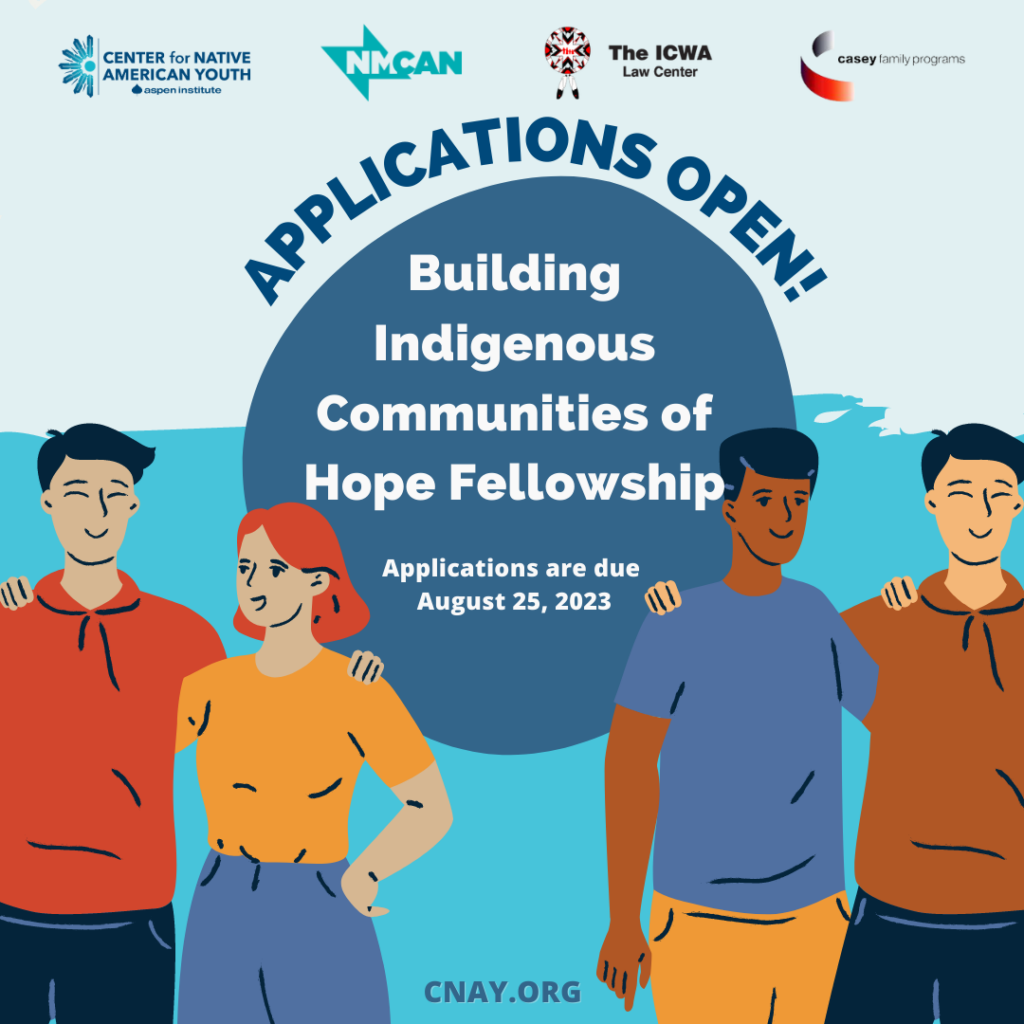 2023 Building Indigenous Communities of Hope Fellowship Applications Now Open
The Building Indigenous Communities of Hope Fellowship, housed at the Center for Native American Youth at the Aspen Institute is now accepting applications for the 2022-2023 cohort. The fellowship is designed for Native American youth and young adults ages 18-24 who have lived experience in the foster care system. Fellows will receive a week of intensive training, speaking opportunities, and engagements at the ICWA Law Center in Minneapolis, Minnesota. The Fellowship is designed to enhance their knowledge of the foster care system and its traumatic impact on American Indian and Alaska Native children and families. Fellows will develop their leadership and advocacy skills to create change that will transform the child welfare system into an integrated and culturally responsive system of care and support for Indigenous children and families . This six-month fellowship is in partnership with Casey Family Programs, NMCAN, and the Indian Child Welfare Act (ICWA) Law Center.
The Application Deadline is August 25, 2023
Application includes two parts:
1 response to a short essay prompt; and
1 video OR 1 essay submission
*Note: Applications must be completed in one sitting and cannot save and return to the form.

Eligibility Requirements
Youth must:
Self-identify as Indigenous or Native American;
Be between the ages of 18 and 24 years old; and
The fellowship is designed for Native American youth (ages 18-24) who have lived experience in foster care or have been displaced from their birth parents.
In recognition of the importance of the Indian Child Welfare Act, fellows will expand leadership skills and integrate resiliency as a means of transformation. This collaborative initiative will equip fellows to advocate for changes in state, national, and tribal policies, and practices.
Individuals selected will be required to travel to Minneapolis, Minnesota to visit the ICWA Law Center from October 22-25, 2023. Individuals will not have to pay for the cost of the travel. Their plane ticket, hotel room, etc. will be paid for.
Questions? Check out the FAQ or email Senior Program Associate, Tahnee Poafpybitty at Tahnee.Poafpybitty@aspeninstitute.org.