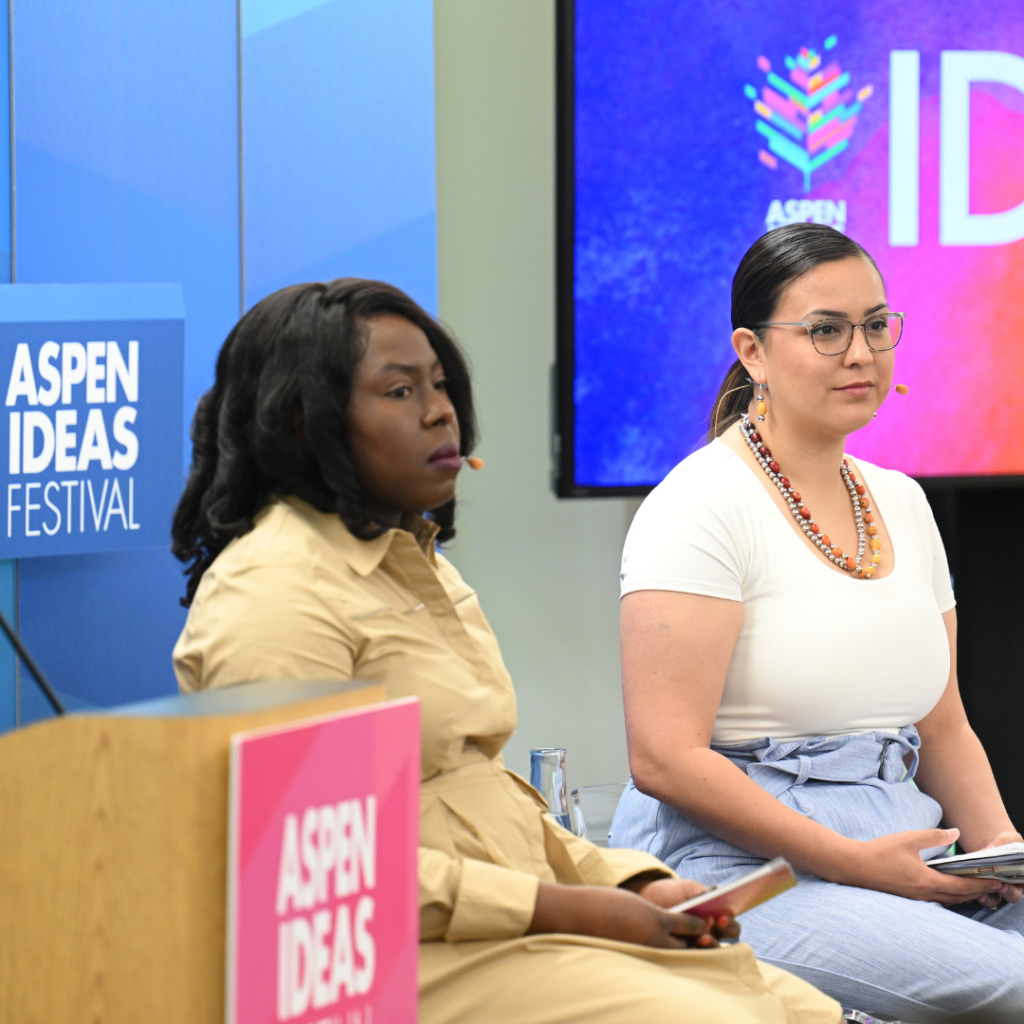 CNAY Attends 2023 Aspen Ideas Festival
On June 28 and 29, 2023, the Center for Native American Youth's Executive Director Nikki Santos, Board of Advisor, and former U.S. Secretary of the Interior, Sally Jewell, and Associate Director of Youth Programs Cheyenne Brady traveled to Aspen, Colorado and attended the 2023 Aspen Ideas Festival. The festival is known to be one of the United States' premier gathering places for various inspired leaders, thinkers, writers, artists, entrepreneurs, educators and more. For roughly one week, individuals from across the globe come together to engage and discuss ideas and issues that shape and challenge our world.
The CNAY leaders attended the festival to engage in thoughtful conversations, listen to and learn from innovative leaders, expand partnerships, and, most importantly, to ensure the voices, work, knowledge, and ideologies of Native Peoples were heard and considered by those in attendance. Leading up to the festival, CNAY had the opportunity to nominate individuals for the Aspen Ideas Festival Fellowship. The nominations resulted in 7 Native and/or Indigenous individuals being selected! A record for Native and Indigenous representation within the fellowship and at the festival (See below for fellow names).
On their second day in attendance, CNAY and the Energy and Environment Program (EEP) at the Aspen Institute co-hosted a roundtable discussion, "Youth in Action: A Conversation that Centers Young Leaders' Role in Protecting Our Climate." The conversation focused on the world's young leaders who are leading the charge in ensuring current and future generations inherit a vibrant and thriving planet. It began with a welcome by executive director Santos followed by a keynote address by former Secretary Jewell. Jewell stated, "It's been so striking to me how important it is to listen to youth voices to address the challenges that we, my generation and those before me, have brought on the environment."
Throughout the open discussion, inspiring leaders and changemakers shared about the urgent work being done through Indigenous stewardship, intergenerational spaces, innovative solutions, and community resilience in an effort to move toward an inclusive climate movement. There were 5 lead discussants selected to kick off each conversation topic. As the conversation came to a close, Charitie Ropati shared, "Young people have the ability to reimagine what our world would look like if all of our communities had all the resources needed to thrive… When I think of what (we) need, they need to listen to us."
Watch and listen to the full discussion HERE.
CNAY is grateful to have had the opportunity to connect with colleagues, engage in meaningful discussions about our world's future, and to bring young leaders to the Aspen Institute campus. It is our hope to continue to increase the amount of Native and Indigenous voices within the festival and continue to share the work of our program.
Native/Indigenous Individuals selected as Aspen Ideas Festival Fellows:
Deana Around Him, Research Scholar, Child Trends
Mikah Carlos, Council Member, Salt River Pima-Maricopa Indian Community Tribal Council
Jacob Crane, Engagement Coordinator, Indigenous Climate Action
Kinsale Drake, Founder, NDN Girls Book Club
Somah Haaland, Artist, Storyteller, and Organizer
Alicia Mousseau, Vice President, Oglala Sioux Tribe
Lily Painter, Youth Advocate, Center for Native American Youth
Charitie Ropati, Scientist & Climate Advocate, Center for Native American Youth