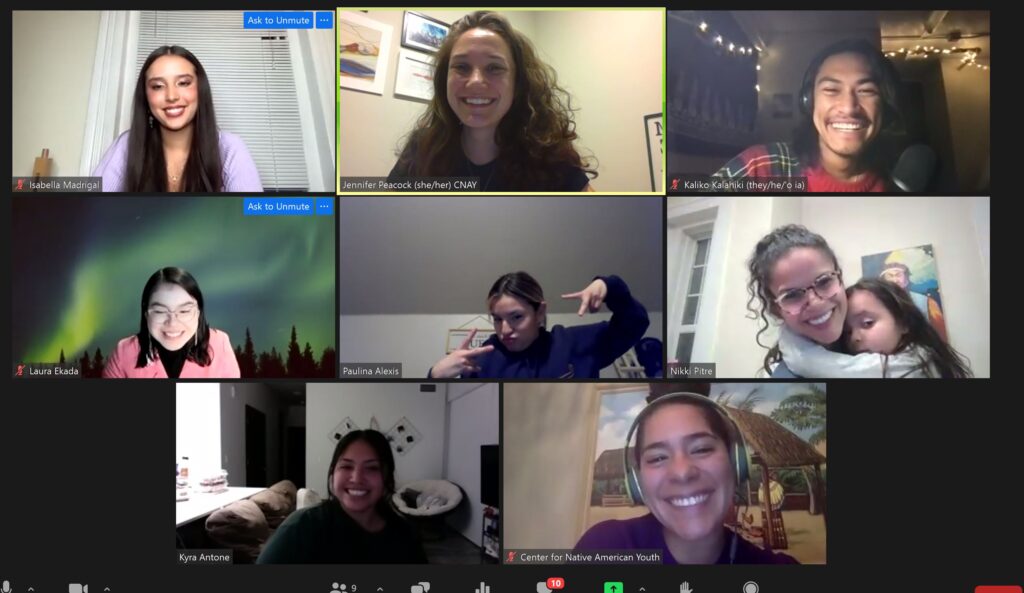 A Reckoning in Representation: A Discussion with Paulina Alexis
The Center for Native American Youth (CNAY) focused on celebrating the resilience and strength of youth this Native American Heritage Month. This November, CNAY was fortunate to partner with FilmRise to discuss the film, Beans, with Paulina Alexis (Nakota Sioux Nation). Beans is the critically acclaimed coming-of-age story that had its world premiere at the Toronto International Film Festival. Based on true events, Tracey Deer's award-winning debut feature chronicles the 79-day standoff between two Mohawk communities and government forces in 1990 Quebec.
This virtual discussion centered the power of accurate representation of Indigenous people in the media and film. To commemorate the release of this powerful film, this event included Native youth leaders who work to increase representation of Indigenous voices in main-stream media. We were fortunate to be joined by CNAY Youth Advisory Board member, Kaliko Kalāhiki (Native Hawaiian), Gen-I Ambassador, Laura Deloodeneenła Ekada (Nulato Tribal Council), and 2020 Champion for Change, Isabella Madrigal (Cahuilla Band of Indians and Turtle Mountain Band of Chippewa).  
This event was opened by CNAY executive director, Nikki Pitre. "I'm so proud to have representation and raise my daughter, who gets to see people in the media who like her. Paulina, thank you for that." Following introductions, Paulina reflected on her experience bringing truth to such an important moment in history. "I feel an overwhelming sense of pride being part of this. I'm First Nation, and the evolution of our people, our culture and people are beautiful. We have a rich heritage that you don't see much on the big screen or on streaming networks up until now. I feel it's important to share our stories with the world. It's about time we get to express ourselves in the mainstream film industry, our stories must be told by us, acted by us, and directed by us to get the full effect."
Throughout this discussion, moderators were exploring the impact accurate representation has on tribal nations. "We've been left out for all these years, and we finally have our own representation. As you said in the beginning, kids can look up at the screen and see themselves. If I grew up seeing more Native people how Beans is and Reservation Dogs is or any type of Indigenous representation, I probably would have started acting earlier. I'm so proud of our people. Our people are so talented."
Isabella, who has a passion for theater, prompted Paulina for any advice to aspiring creatives. "Work hard, practice and never give up your craft," she shared, "whether that's film making, script writing, set building, hair and makeup or wardrobe. We can literally do anything."
After our discussion ended, Nikki Pitre shifted to moderating an audience question and answer session. Many in the audience were curious about her experience having reached such success so quickly. "That is crazy because I always thought about being an actress when I was a kid. But I never thought I'd actually make it because I didn't have any role models." Paulina continued to reflect on her career, "to have it take off so quickly is unbelievable, it doesn't feel real. Nothing has changed, I'm the same person, I'm always going to be Paul."
As the discussion came to a close, Nikki invited our moderators to provide calls to action for allies and non-Indigenous relatives this Native American Heritage Month. Kaliko shared, "I think for me, just showing up as an ally. Support sovereignty movements and amplify Native voices too." Isabella continued, "We're in November, so think about what Thanksgiving really means. Think about the history there, look it up and look into it, think about how you are on Native lands and think about how you can be active in doing that." Laura ended the discussion in a final call to action. "Educate yourself, be aware and be mindful of whose lands you're on. Be mindful of those who are there, and how you got your land. Their lands were taken from them, you are on stolen land and be aware of that."
If you missed the conversation, you can stream it here.