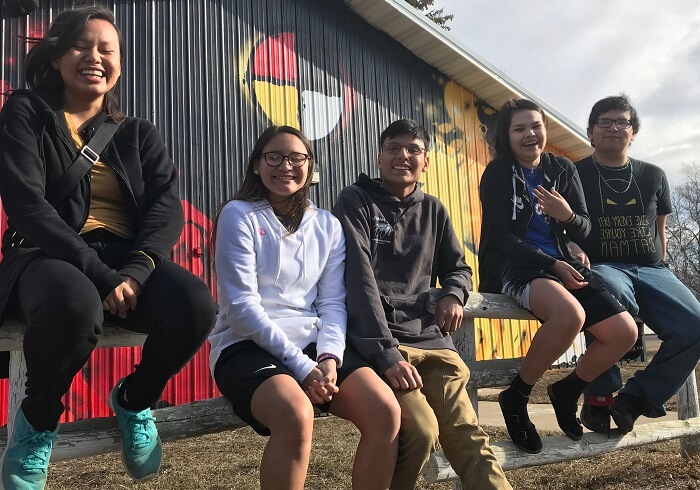 April 9 Welcome Reception for Lakota Youth
April 5, 2018. WASHINGTON, DC — The Cheyenne River Youth Project® recently announced that the five Lakota teens participating in its innovative "Growing Into Wowachinyepi" program have earned their naming ceremonies, certificates of achievement and a wopila (thank you) dinner.
In addition to being honored in their tribal community, these five accomplished young people will join the Center for Native American Youth (CNAY) in Washington, DC, for advocacy skill-building workshops, leadership training, congressional meetings, and opportunities to explore the U.S. capital. CNAY will host a public welcome reception for the youth leaders on Monday, April 9, from 9:00 – 10:30 AM. Click here to RSVP.
The participating Cheyenne River Lakota teens are Claudia Iron Hawk, 18; Daniel Semon, 18; Jaymalee Turning Heart, 17; Randie Little Star, 16; and Oliver Miner, 16. All five have been active in CRYP's ground-breaking internship program, following tracks in wellness, the arts, sustainable agriculture and social enterprise, and they were eager to have this new opportunity. Click here to learn more about Claudia, Daniel, Jaymalee, Randie, and Oliver.
The "Growing Into Wowachinyepi" initiative was designed to honor the Cheyenne River community's youth leaders in a culturally relevant and respectful way, while also giving participants opportunities to continue their leadership journey. The youth project created the program in conjunction with the Center for Native American Youth at The Aspen Institute, modeling it on CNAY's existing "Champions for Change" program.
"We created it specifically for our Lakota youth, in keeping with the Lakota Nation's traditional value system," said Julie Garreau, CRYP's executive director. "Our community has its own distinct outlook on what it means to be a leader, and what it means to achieve. Many of our young people are taking actions every day that reflect that outlook, and that demonstrate meaningful leadership, but they may not realize it. We want to honor them and provide support as they continue on their journey."
"'Growing into Wowachinyepi' truly reflects the vision behind our Champions for Change program," says CNAY Executive Director Erik Stegman. "These five Lakota youth are taking the initiative to make a positive impact in their communities, and we're here to celebrate and support them. We look forward to working with the Lakota youth leaders in DC to strengthen their leadership skills and support their home community in honoring positive youth action."
To stay up to date on the latest CRYP news and events, follow the youth project on Facebook, Twitter and Instagram. To meet the youth leaders in DC, click here to RSVP.