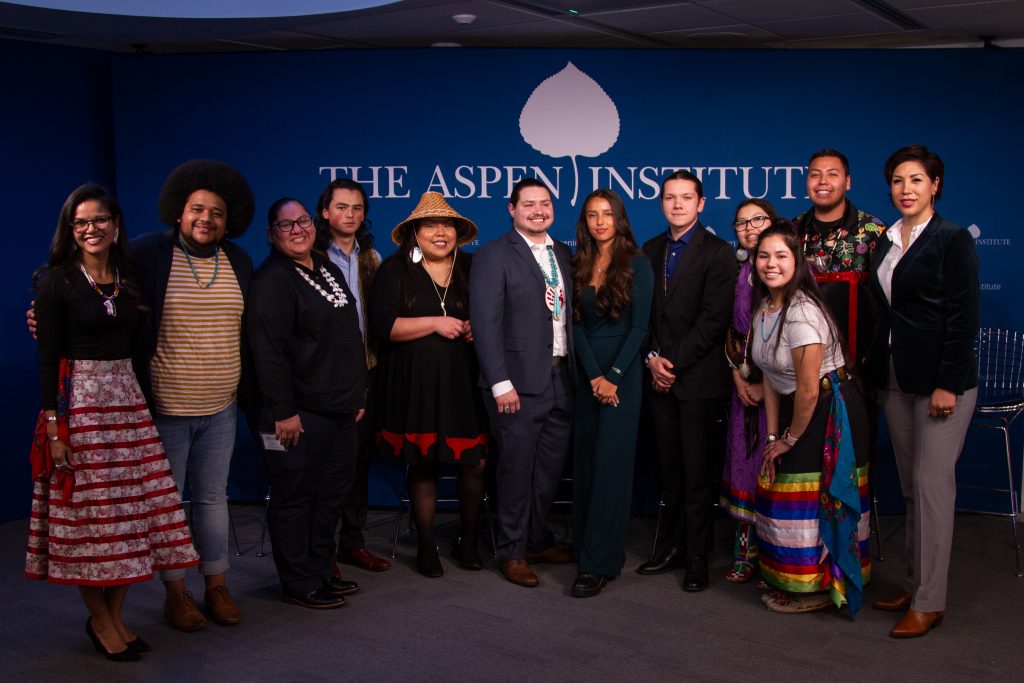 Champs Week In Review
The Champions for Change program is a Native youth leadership initiative designed to highlight positive stories of impact from Indian Country. The program, inspired by a 2011 White House initiative, develops young Native leaders through experience-based learning and tailored advocacy training.
Each year, the Center for Native American Youth at the Aspen Institute selects five inspirational Native youth, ages 14-24 and from across the United States to be Champions for Change. Champions are young leaders who have a desire to better their communities. This can be done in schools or programs, on reservations or urban environments, anywhere there is opportunity to create positive impact.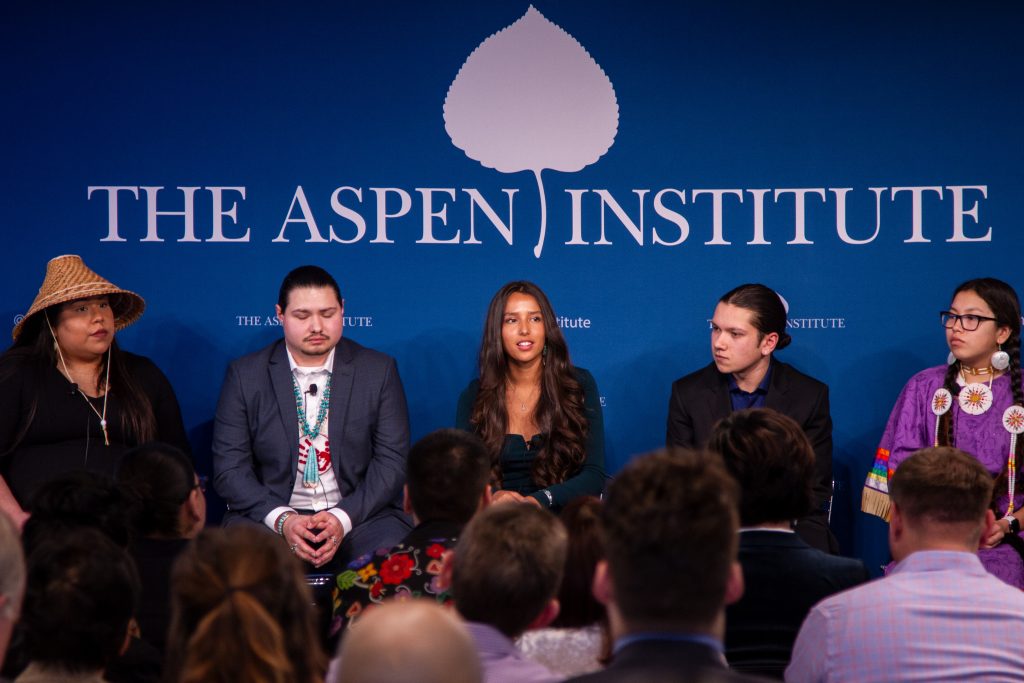 A major component of Champions for Change, is the first in person convening. This is where the Champions are flown out to Washington DC for a week where they participate in leadership building workshops and are presented with the opportunity to meet with their home state representatives on The Hill.
Day One: Workshops and Leadership Building
The Champions started off their week with a workshop titled Historical Trauma: Reimaging of Tribal Communities through Post Traumatic Growth led by Dr. Billie Jo Kipp (Blackfeet), Senior Fellow for the Center for Native American Youth.
The Champions were joined by the National Congress of American Indian's Youth Commission at Aspen. The youth watched as Fawn Sharp, the president of NCAI gave her presidential address that highlighted the unique status of Indigenous Nations in the United States, as well as spotlighted how federal inaction is destructive to Indigenous Tribal Nations.
The next workshop the Champions and NCAI youth worked on was Leading with the Why Workshop facilitated by Rory Wheeler NCAI, Jen Peacock CNAY, and Tom LaBlanc. The youth shared their narratives by writing down what their good medicine encapsulates on large poster paper using colorful markers.
The day closed with a Communications 101 workshop, lead by Jarrette Werk CNAY which showed Champions and NCAI youth how to connect to social media platforms while also creating their "brand." The youth learned how to utilize Twitter, Facebook, and Instagram as a tool to create social change. They also learned tips and tricks to effectively conduct interviews and other ways they can best support their initiatives.
Day Two: Panel Discussion and Annual Reception
The Champions joined Juan Martinez, director of Fresh Tracks and Christie Wildcat, a Youth Advisory Board member and 2016 Champion for Change. The pair facilitated a workshop titled Community Action Session. The Community Action Session is a workshop that is dedicated to creation action plans for potential projects. Many of the Champions focused on their platforms such as social change, Violence Against Women Act, suicide prevention, and language revitalization in their communities.
The Champions sat one-on-one with keynote speaker and US Senate candidate, Paulette Jordan of the Coeur d'Alene Tribe, to get acquainted before the public event. Jordan shared her experience and commitment to public service as a former Representative of Idaho. The Champions engaged Paulette by sharing their work and inspiring stories with her as well.

When I look at these five young leaders, I am confident that our future is in good hands. To our champions for change, remember that our ancestors prayed you to existence. – Paulette Jordan.
The champions sat on a panel at the Aspen Institute's Washington DC office to share their work to a full room of Aspen Institute colleagues, stakeholders, tribal leaders, and valued partners of the Center for Native American Youth.
As a youth led organization, the CNAY's master's of ceremonies was Anthony Tamez of the Youth Advisory Board and the panel was moderated by former Champions for Change, Christie Wildcat (Northern Arapaho), and Sam Schimmel, (Kenaitze/St. Lawrence Island Siberian Yupik). The Champions described their leadership efforts, perspective on priorities impacting their communities as well as answered questions from the audience.
Wildcat asked Shavaughna Underwood, "What are your hopes for the next generation?" Shavaughna said "I want our youth to be prepared. I don't know what battles they will be facing in the future, but I want them to be prepared for what is to come."

Following the Public Event was the 8th Annual Champions for Change Reception at the Capital Hilton, where the Champions were presented with medals for their selection. Governor Stephen Roe Lewis (Gila River Indian Community), was recognized for his dedication to Native youth and the betterment of Indian Country as the 2020 Honorary Champion for Change. After receiving his award, Governor Lewis shared his story and encouraged the Champions to continue to advocate for their communities.
Previous Honorary Champions have been Congresswoman Deb Haaland, Congresswoman Sharice Davids, tribal leaders, and more.

Day Three & Four : Hill Day Meetings
The Champions began their third day by meeting with Former Senator Dorgan at the Capital Hilton Hotel for recognition during the NCAI morning event. Senator Dorgan introduced the Champions and welcomed them on stage to share their work with the audience.
Champions then had the opportunity to meet with respected members of congress from their home states to share their stories, their work, and invite members to their communities.

New Mexico Congresswoman Deb Haaland (Laguna Pueblo) met with the Champions briefly to take photos and commend them on the work they are doing within their communities.
The Champions began their forth day by meeting with Kansas Congresswoman Sharice Davids (HoChunk). Davids shared the importance of the Native vote and the 'power' Indian Country has in this upcoming election. From there, the Champions continued with their meetings.

After all meetings were completed the Champions experienced a personal tour of capital building with Senator Dorgan. Following the tour, the Champions took professional photos at the Capital Building with Senator Dorgan and CNAY Staff.

To end the afternoon, the champions met at aspen for green screen interviews to discuss their experiences over the week. Once every Champion had to opportunity to share their story they met for dinner to debrief the week and celebrate their accomplishments.
Beyond national recognition events, Champions remain engaged with CNAY through CNAY's Youth Advisory Board and take advantage of ongoing opportunities to contribute to the national dialogue on critical issues affecting youth in Indian Country.
CNAY is honored to have Owen, Warren, Shavaugna, Jazmine, and Isabella join the Aspen family and looks forward to a meaningful year of youth driven positive change.