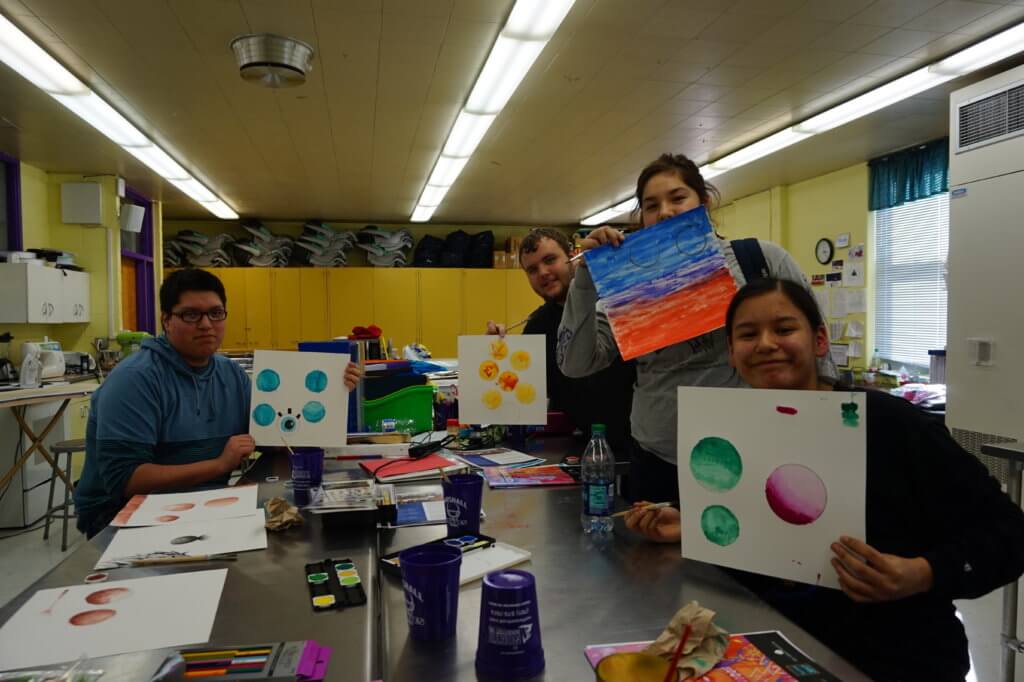 CNAY Community Outreach in North Dakota
The Center for Native American Youth at The Aspen Institute (CNAY) is excited to partner with the Mandan Hidatsa & Arikara (MHA) Nation on creating and supporting a local youth recognition program modeled after CNAY's . Back in February, MHA Education Department staff accompanied two of their youth leaders to DC during CNAY's "Champ Week" to shadow the Champions for Change at their leadership trainings and recognition events. In March, CNAY had the privilege and pleasure of visiting tribal communities in North Dakota to learn more about our partners.
While in North Dakota, CNAY staff Del, Nikki and Aaron met with community leaders, educators, and Native youth from the Fort Berthold reservation, the Standing Rock reservation, and the American Indian Higher Education Consortium (AIHEC).
Our first meeting was with Dr. Twyla Baker. Dr. Baker has been the President of Nueta Hidatsa Sahnish College (NHSC) for four and a half years, serving in several capacities prior. She is a member of the MHA Nation. Dr. Baker met Del and Nikki for coffee and gave a tour of NHSC, explaining the expansions and growth of the tribal college. With the North Dakota tribal colleges hosting the AIHEC Student Conference, it was a busy time to visit! President Baker shared NHSC's priorities, student needs and the advantages of having a college located right on the reservation. Fun fact: NHSC is the greenest building on the entire reservation!
Photo: Dr. Twyla Baker leads tour of Nueta Hidatsa Sahnish College
MHA's Education Department is located in New Town, North Dakota. Ruth Swaney is the Director of Education for the tribe and facilitated meetings with three high schools: Mandaree, New Town, and Parshall. CNAY visited with teachers, superintendents, principals and most importantly, students! Del led an art demonstration with water colors to allow youth to express themselves artistically. CNAY shared information about Generation Indigenous, the youth recognition program coming to MHA and other relevant work of CNAY.
Photo: Group showcases artwork after following visit with CNAY. 
This was an exciting time to be at Fort Berthold, as the North Dakota regional basketball tournament was taking place about 60 miles away and two of the     schools on the reservation were still playing in the tournament. CNAY staff attended a pep rally for the Mandaree boys' basketball team, and watched them play that evening. The following evening, New Town played and won!
CNAY later met with the councilwoman of the North Segment of the Fort Berthold reservation, Dr. Monica Mayer. As a military veteran and former emergency room doctor, Dr. Mayer is committed to the health of her people. Del and Nikki met with her and her staff, who run youth programs for the north district and greater reservation. There are over 900 youth on the reservation, and with limited opportunities for activities, youth unfortunately turn to drugs to escape.
Nevertheless, Dr. Mayer's staff are committed to providing safe, culturally relevant and engaging opportunities to ensure drug and alcohol-free environments for youth. Programs include lock-ins, culture camps, basketball camps and other fitness-related activities, to name a few. CNAY was invited to host a leadership training with youth, and hopes to do so!
Later in White Shield, North Dakota, CNAY met with the founding members of the Medicine Lodge Confederacy, a non-profit dedicated to cultural and language revitalization. CNAY was given a tour of the new school, which is currently under construction. The school will feature geothermal heating, solar panels, a basketball court, weight room, sweat lodge, and a wonderful space for Native youth to learn. CNAY discussed the difficulties of maintaining a non-profit and the need for further funding, while also discussing the unique challenges of starting a charter school in North Dakota.
When driving to different schools and meetings on the Fort Berthold reservation, it is easy to see the impact that oil development has had on this community. Drug and alcohol addiction as a direct result of the oil industry were constant, heavy topics in meetings. Dr. Mayer shared that in one year alone, 84 babies were born addicted to drugs. Additionally, fetal alcohol syndrome is prominent in babies born in the community.
Posters of Olivia Lone Bear, a missing tribal member, are found all throughout tribal buildings. Ruth Swaney shared that sadly, Olivia isn't the first woman to go missing. NHSC President Dr. Baker noted that Olivia's family members attend and work at the college, and says she's reminded of Olivia every time she sees them. CNAY carries these stories and will tirelessly advocate to create safer tribal communities for youth.
In Bismarck, Nikki, Del and Aaron met with an inspiring young leader, Kendrick Eagle of the Standing Rock Sioux Tribe. Kendrick drove staff down to the Standing Rock reservation for a tour, while sharing his experience as a Generation Indigenous (Gen-I) Ambassador. Kendrick also shared his personal story, including efforts to engage youth in the community, the water protector movement, and ideas on how to continue the momentum of the Standing Rock and Generation Indigenous movements.
Photo: Kendrick Eagle, Generation Indigenous Ambassador
Finally, on Sunday, March 11, CNAY met with the American Indian Higher Education Consortium Student Congress (ASC). ASC hosts elections annually at the AIHEC Student Conference, has quarterly in-person meetings, and a student leadership conference every summer. Additionally, each ASC member has an initiative they work on to better their tribal college.
AIHEC's annual Student Conference brings together 37 tribal colleges and universities every year. Students compete in knowledge bowl, business bowl, plants, chess, hand game tournament, basketball tournament, public speaking, one act plays, and web design, among other competitions. After the Student Congress meeting, CNAY attended the poetry slam (Aaron judged) and watched the hand game tournament. Like attending the basketball games to support MHA, it was good to be in community and support TCU students. CNAY was inspired to learn about ASC's work and is proud to support the tribal college movement. We look forward to strengthening our relationship with tribal college students.
Photo: CNAY with the American Indian Higher Education Consortium Student Congress
CNAY extends a heartfelt thank you to all the people and partners who made this such a meaningful trip. We look forward to coming back and moving the work forward!
---
This post contributed by Nikki Pitre and Aaron Slater.