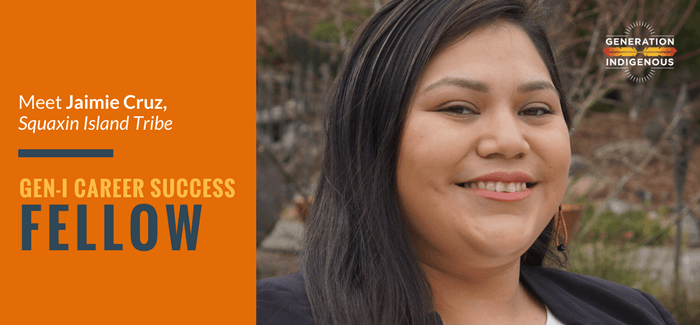 Meet Jaimie Cruz, 2018 Gen-I Career Success Fellow
Jaimie Cruz, Squaxin Island Tribe
25 years old
Hometown: Kamilche, WA
"Whether it is my own tribe or the neighboring tribes it is important to be able to understand the possibilities of growth within our own communities. Tribal economics is how we are able to provide for our people"
---
Jaimie Cruz is a member of the Squaxin Island Tribe and grew up in the Pacific Northwest. She is the seventh-generation descendant of an ancestor who signed the Medicine Creek Treaty, recognizing traditional native fishing and hunting rights in the south Puget Sound. Her lifelong goal is to help her tribe and people flourish.
Jaimie first became interested in tribal economic development through her work with youth in her community. For her, tribal economics is important because it ensures that the next generations are educated, informed, and have the tools needed to continue to grow. Jaimie will graduate from South Puget Sound Community College this Spring. She hopes to continue her work with youth to help them invest in themselves and their futures.
Jaimie was initially selected to be part of the inaugural class of Gen-I Career Success Fellows, but now joins the 2018 class.
Fun fact about Jaimie: "I am a commercial geoduck diver!"
---
Attending the 36th Annual NAFOA Conference in New Orleans? Make sure to connect with Jaimie and the other 2018 Gen-I Career Success Fellows! Email bettina.gonzalez@aspeninst.org for more information.