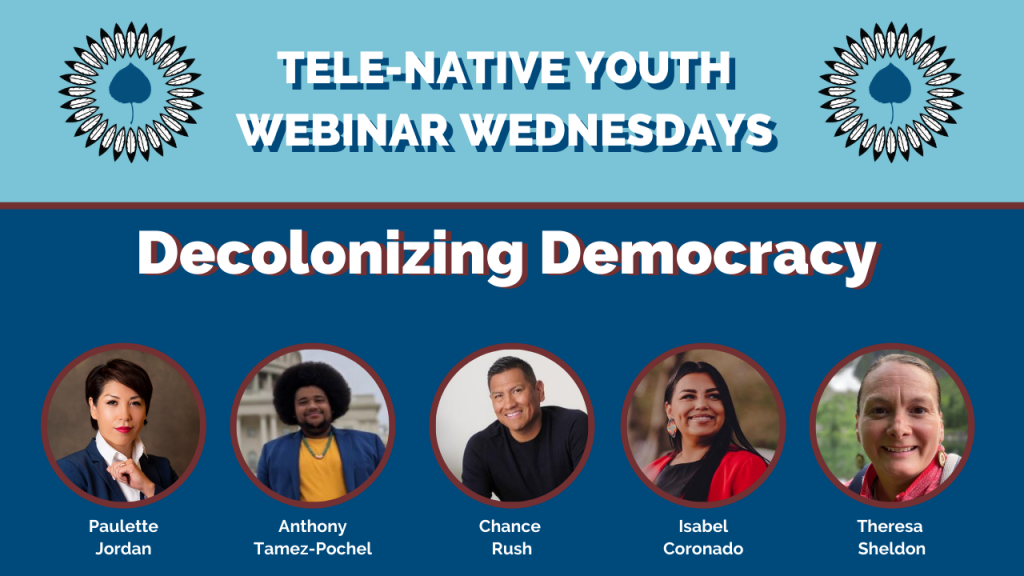 Decolonizing Democracy
By: Chance Rush, Hidatsa, Arapaho, Dakota, Oneida, & Otoe, Cloudboy Consulting, LLC
This webinar featured a great panel that took 'Decolonizing Democracy' in many different directions and perspectives. I had the privilege to moderate a discussion with Isabel Coronado, Anthony Tamez-Pochel, Theresa Sheldon, and Paulette Jordan. The panel was able to introduce what Decolonizing Democracy meant and how it can affect our Native Youth if we don't take action through representation, policy, and togetherness. This was a great topic for this webinar because there were plenty of Native Issues in July that we have had the opportunity to have a voice about.
My first panelist, Isabel Coronado, a former Champion for Change and CNAY Youth Advisory Board Member (YAB), has stepped into a position in New York City with NEXT100. She shared about the challenges of understanding and working in policy and discussed how we need to know our rights as Native Americans when it comes to voting. She explains every state is different so she encouraged listeners to research and learn about their state laws and guidelines when it comes to voting. A statement that stuck with me was when she quoted "If your vote didn't matter then they wouldn't take it from you." Isabel spoke about not letting barriers get in the way of being heard no matter what and to keep yourself in a position to have rights.
The other youth on the webinar was CNAY YAB Vice Chair and former Champion for Change, Anthony Tamez-Pochel, who currently resides in Chicago where the native population is large and spread out, however, despite this, they are a very supportive and close native community. Anthony brought awareness that getting our tribal people to vote can be challenging due to transportation and not being closer to one another. Anthony is very involved with many Native organizations around the country and promotes pol-icy making for the betterment of Native American Tribes. He concluded his well-informed message by stating that we as native people should embrace indigenous accountability and continue to stay involved with our respective callings.
It was a pleasure to listen to Theresa Sheldon compliment what Anthony shared. She expanded on the necessity of policymaking being sustainable and fair to Native interests. She elaborated on Federal Indian Policy with the message that we have to be heard and be active by voting for Indian Civics and policy change. I appreciate her passion for educating Native youth on voting and the Census. She went into great detail about the expectations that our Native youth must engage in to have a strong political front and sustainable tribal interest. She then set up a great discussion with Paulette Jordan.
Ms. Jordan shared with the listeners that Decolonizing Democracy means Rural America needs a strong voice for adequate representation and tribal interests. She echoed the three other panelists that Native Youth are heading in the right direction but must not let up. They must seek an education but also continue to stay active in their development. Tribe's will be left out if representation is not displayed by our Native Youth. She sees a promising future in our young adults and is optimistic in their success.
Again, I can't say enough about how impactful this panel was and how important it is for our Native Youth to embrace these words. Like many listeners, I am thankful for the Tele-Native series and all that are involved to bring awareness to tribal communities during the pandemic. This webinar was the right medicine for pertinent issues facing Native Americans and was an essential component of the Tele-Native webinar series. I personally am motivated each week from the webinars and I would like to encourage our listeners to find their outreach through learning from these important webinar topics.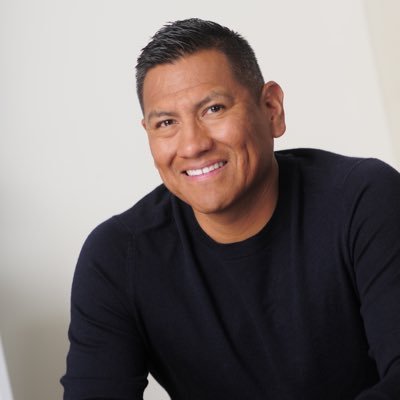 Chance serves as a consultant to tribes and organizations in reference to business, community outreach, staff trainings, and curriculum development. His passion for strengthening Native communities combined with his experiences led him to the development of Cloudboy Consulting, LLC. Chance travels throughout the United States and Canada to work with Native communities in efforts to inspire, heal, motivate, and energize. He has a talent for using his energy and humor to spread a simple message, "Use your personal talents to lead you to greatness." He promotes healthy living and lives his life alcohol and drug free.