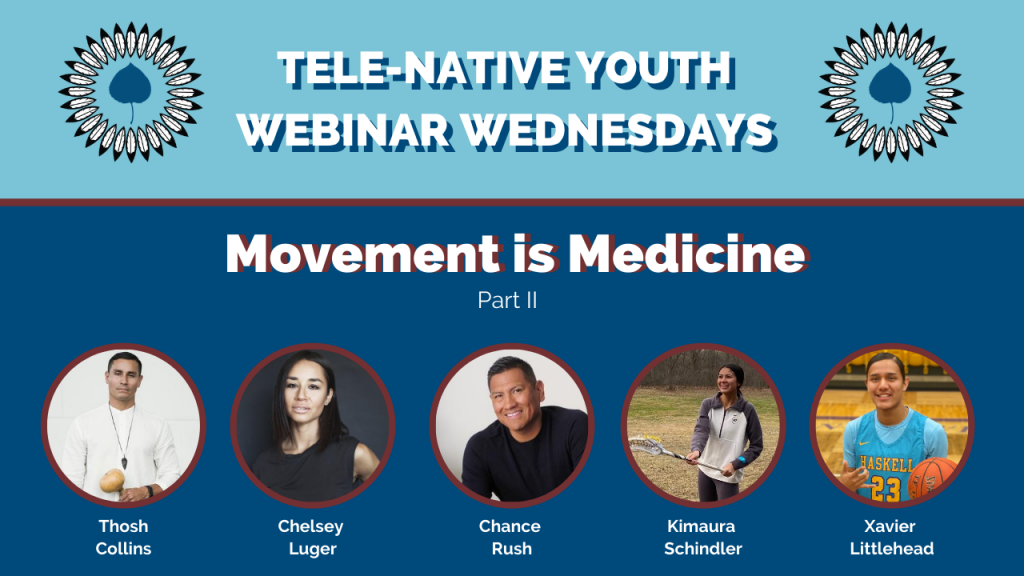 Movement is Medicine Part II
By: Chance Rush, Hidatsa, Arapaho, Dakota, Oneida, & Otoe, Cloudboy Consulting, LLC
It was a great honor to moderate Movement is Medicine Part II with Xavier Littlehead, Kimaura/Enahaogwahs Schindler, and Thosh Collins with wife Chelsey Luger. This line up brought a lot of energy and importance . What I enjoyed about this panel is that all of it was about uplifting and encouraging health choices and thinking. The panel did a great job of limiting the set backs and health disparities that we may face in our Indian communities. What I learned as the moderator what if you work on your health, you will want to eat and think healthy. It was a very productive webinar and we will all grow together from it.
Kimaura shared her love an responsibilities through lacrosse an show her and her community see the game as a way of life. She also talked about how she would like to get better as a player but also as a person playing lacrosse. She started out very young and is a 4th generation women's lacrosse player and had been competing in elite tournaments successfully and even was the youngest member on the Haundenosaunee National Women's Lacrosse team that won gold at the first ever 2019 Pan American Lacrosse Association qualifier. She shared with the listeners that we would like to teach her teammates about the true meaning of Lacrosse and they they play the game. She will be attending The Hill School a boarding school in Pottstown, PA and will be featured in the recent Nike N7 promotion campaign. Both her and fellow panelist Xavier talked about having a purpose both as an athlete and a role model.
Xavier is a member of the Men's basketball team at Haskell Indian Nations University and starts as a senior. His talk was interesting because he shared about what his culture, family, and siblings have done for him to make him want to be a better player and person. He is a men's fancy dancer and shared with the listeners that dancing has made him want to be better in other areas. He is the oldest of 4 siblings and knows he has the responsibility to be the example. He accepts it and honors it by saying alcohol and drug free, as well as spends time with his younger siblings. Movement is a way of life for Xavier and has open many doors for him. This being his final year playing for Haskell, Xavier is working out extra hard and is getting around the gym more and positioning himself for a great senior campaign. This Fall his younger brother will join him at Haskell as a member of the Men's Cross Country team as well as a basketball teammate.
Finally, I had the chance to learn from Thosh and Chelsey about their family values and how culture and wellness is tied together. Thosh talk about the importance of nutrition and understanding that our ancestors were great athletes and how health and wellness played a key role in our survival as tribal people today. He acknowledged that we have a responsibility to take care of ourselves and our communities. He gave us some powerful words and showed balance and partnership with his wife Chelsey. Listening to Chelsey talk about having the privilege to come from a rich culture and the ability each day to exercise made me realize how valuable I am to myself. The couple are co-founders of Well For Culture and have traveled nationally and internationally to consi;consult and promote being well for our culture. They, like many other married couples, do a great job serving our Native Communities by promoting healthy lifestyles and relationships. Chelsey gave great insight as a woman and mom about the importance of being yourself and taking a stand for your wellness.
I truly appreciated the the balance with our young students athletes and wellness specialist. He learned a lot during this webinar and motivated me to do a better job with my eating habit and drive to stay healthy. I would like to thank you panelist and excited to see them in action soon!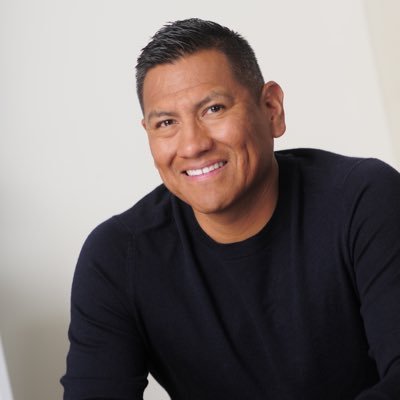 Chance serves as a consultant to tribes and organizations in reference to business, community outreach, staff trainings, and curriculum development. His passion for strengthening Native communities combined with his experiences led him to the development of Cloudboy Consulting, LLC. Chance travels throughout the United States and Canada to work with Native communities in efforts to inspire, heal, motivate, and energize. He has a talent for using his energy and humor to spread a simple message, "Use your personal talents to lead you to greatness." He promotes healthy living and lives his life alcohol and drug free.